The largest festival of its kind in B.C., Festival du Bois shines a spotlight on the Francophone culture and community in Maillardville, which was founded more than 100 years ago and is among the largest French-Canadian communities in B.C.
The 34th annual festival, taking place from March 24 to 26 at Mackin Park in Maillardville / Coquitlam this year, provides the perfect opportunity for folks to experience a range of exciting cultures, each as vibrant and distinct as the colourful sash worn by the Métis in the Metis Village Experience (a featured part of the festival).
"The festival represents and reflects a dynamic and enduring part of the community in Maillardville," says Gwen Kallio, marketing and publicity manager.
"People often talk about Festival du Bois being friendly, welcoming and accessible, and each year it broadens its reach and appeal, not only to include the community but further afield. Maillardville is at the core of this event, but it very much includes a diversity of artists - and invites people from all backgrounds, cultures and languages to attend."
Expect a full weekend of fun, laughter, and joie de vivre, with a dynamic line-up of musical talent, performances, dance, workshops, roving characters, artisan and exhibit booths, French-Canadian food and other delicious culinary options. Kids and families will enjoy the Children's Tent with Madame Diva, Will and Seeka, Robin Layne's world rhythms, Seeka Sings, and storyteller Véronique's Conte d'Afrique avec Mulungie.
Métis culture
Explore the Métis Village Experience, an immersive exposure to the Métis spirit, where you'll learn and appreciate the rich Métis history, art, perspectives and language.
"The festival is partnering with the North Fraser Métis Association to offer everyone a glimpse into the Métis experience, so people will get to know more about the richness and depth of Métis culture," explains Kallio. "We'll hear from elders, and experience dynamic music and dance, and so much more."
Lively entertainment, dance, food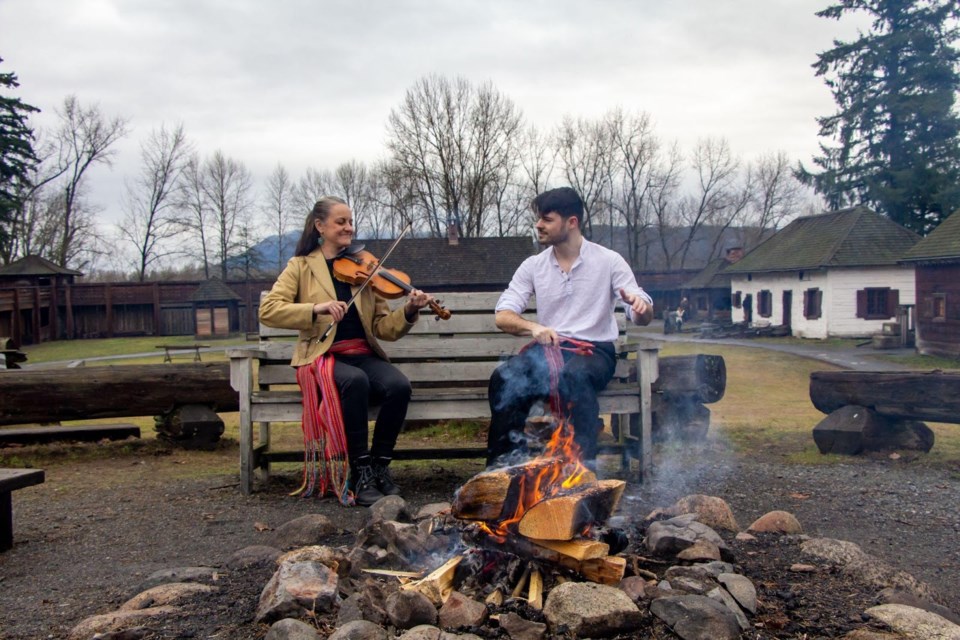 When you step on-site at the festival grounds in Mackin Park, prepare to experience a broad diversity of Francophone and world cultures and artistry, not just from B.C., but from Manitoba, Québec and Washington State as well.
The event kicks off with what has become a festival tradition - the contra dance. It's an "everyone-is-welcome", participatory social dance with caller Sherry Nevins and The Sybaritic String Band. It's easy for beginners to join in - and a whole lot of fun too.
Music permeates the festival site. You'll be stepping and swinging in the Grand Chapiteau (Big Tent) to brilliant performances of tradition-based Québécois music by Les Grands Hurleurs, (the "great howlers"), and from power trio, Genticorum, plus music and dance from B.C.'s own Métis Jiggers.
Experience the galvanizing rhythms of Senegalese soul-rocker Élage Diouf; Forró do Cana's hip-swivelling, Brazilian dance music; La Famille Léger's French-Canadian and Acadian tunes; the dynamic sounds and rhythms of Podorythmie; Manitoba-based Jocelyne Baribeau's stunning voice and song; and Maillardville's Francophone choir, Les Échos du Pacifique, celebrating their 50th anniversary this year.
"The festival is renowned for both the quality of talented artistry it presents, along with the wide range of great music on offer," says Kallio. "Tickets are affordable, as well - so the whole family can attend for a day - or even for the full weekend."
Indulge in some food truck fare with such French favourites as scrumptious poutine by Melt Town, crêpes and raclette plus tourtière and cuisine traditionelle in the Big Tent, along with a festival favourite - maple taffy on snow at the Sugar Shack.
"Three cheers to Joanne Dumas, our festival's artistic director and creative force of nature, for bringing the festival's vision to life every year," says Kallio. "It's just a very welcoming, open-armed festival, and we want people to come out and share in the experience."
For tickets and more information, visit festivaldubois.ca.