While many cruises only involve a couple of days at sea, a popular offering from Royal Caribbean Line (RCL) takes guests across the mighty Pacific to truly tropical shores.
Hawaii also offers a range of natural gems to explore on each of the islands as well as many places to dine, shop, and catch live shows. From the Mauna Kea Summit to the massive, approachable populations of manta rays, the rich history of Lahaina to the stunning Waikiki Beach, the islands ooze tropical beauty.
Vancouverites looking to travel to the Hawaiian Islands without boarding a plane have the option to sail on one of the biggest ships at sea this fall at a steal.
Soaring a whopping 18 decks high, the Ovation of the Seas is one of the Royal Caribbean's most impressive and largest ships.
The statuesque ship offers everything from casual bites to elevated, high-end dining experiences. There are even robotic bartenders at the Bionic Bar.
Also known for its impressive entertainment and extensive family-friendly activities, there's no shortage of things to do on board. There's complimentary, glow-in-the-dark laser tag for kids, a skydiving simulator, bumper cars at sea, a roller rink, a surf simulator, and a trapeze school.
Guests can also soak in the most breathtaking perspective at sea from the North Star — the highest vantage point on any cruise ship.
The cruise departs Canada Place cruise terminal on Oct. 6, 2023 and spends five days at sea before stopping for an overnight in Lahaina, Maui. After that, the cruise makes a stop on the Napali Coast in Kauai before making its final stop in Honolulu, Oahu on Oct. 15.
Cruisers can spend a few days in Hawaii or catch a one-way flight later that day back to Vancouver. Tickets for one-way flights cost just over $200.
Friday, October 6
Vancouver, B.C., Canada
8:00 p.m.
Saturday, October 7
At Sea
Sunday, October 8
At Sea
Monday, October 9
At Sea
Tuesday, October 10
At Sea
Wednesday, October 11
At Sea
Thursday, October 12
Lahaina, Maui, HI
7:00 a.m.
Friday, October 13
Lahaina, Maui, HI
7:00 p.m.
Saturday, October 14
Napali Coast, Kauai, HI
7:00 a.m.
7:00 p.m.
Sunday, October 15
Honolulu, Oahu, HI
7:00 a.m.
Vancouver cruise to Hawaii with Royal Caribbean
The cost for two people in the lead-in stateroom category (an interior cabin) for two passengers regularly costs a total of US$2,368. However, people who book now can shave a substantial chunk off of that price.
Three promotions can be applied to the nine-night Hawaii cruise, including the Flash Instant Sale Savings (-$50), the 30 per cent off every cruise ($-668), and the Fall and Winter Sailings Kicker ($-100).
With these promotions applied, the total cost of the stateroom works out to US$1,802.20 or US$901.10 per person. Based on the current conversion rate, that price works out to roughly C$2,431.27 or C$1,216.98 per person.
This cost works out to a per diem cost of C$135.22.
Not only does that cost include your transportation on a beautiful five-star vessel, but it also includes meals, entertainment, snacks, and lodging. The only thing it doesn't factor in is alcohol, but you may opt to purchase a drink package that can reduce the cost of your spending.
In Hawaii, most accommodations alone cost hundreds of dollars per night. It isn't uncommon for high-end resorts to tip costs past $1,000 per night.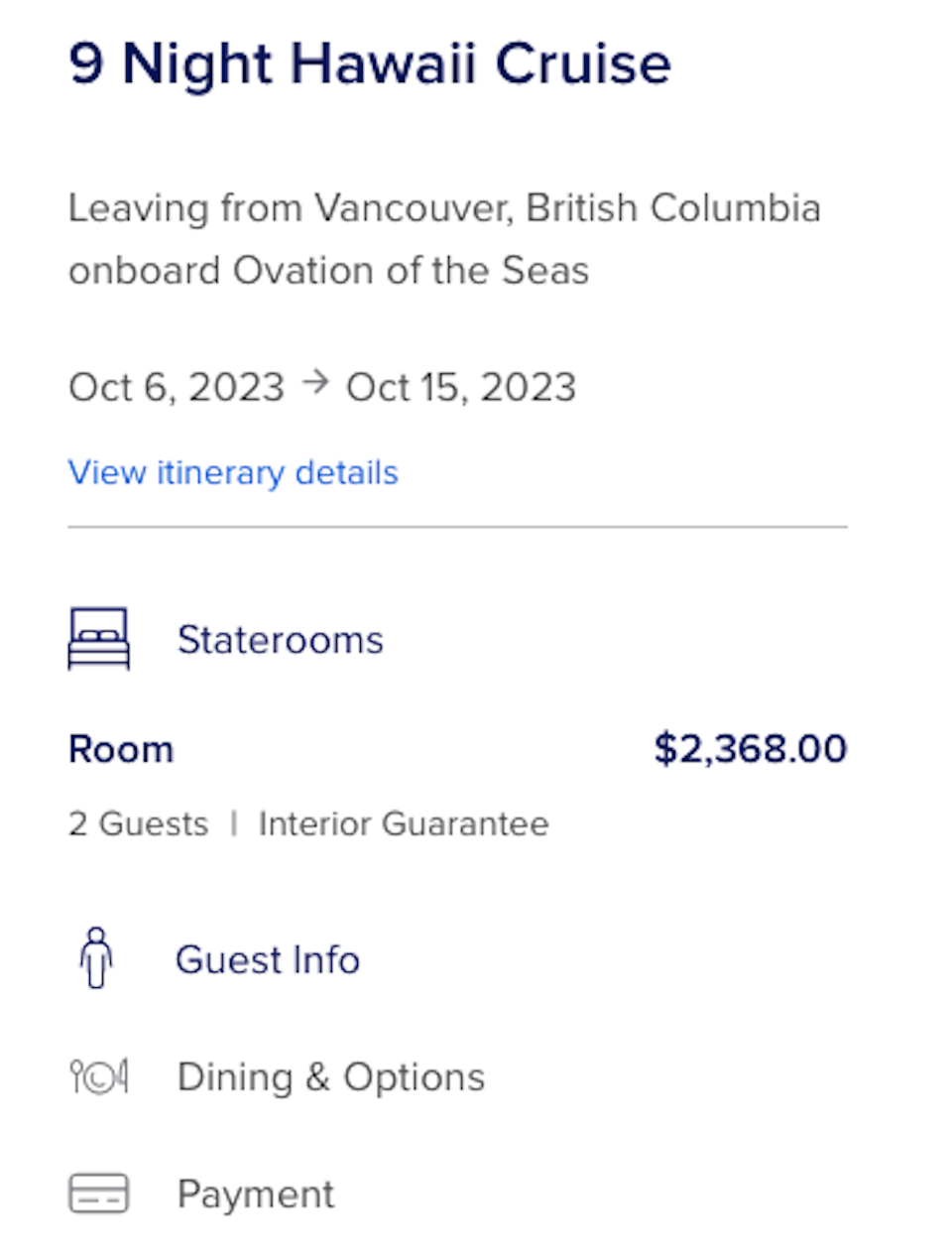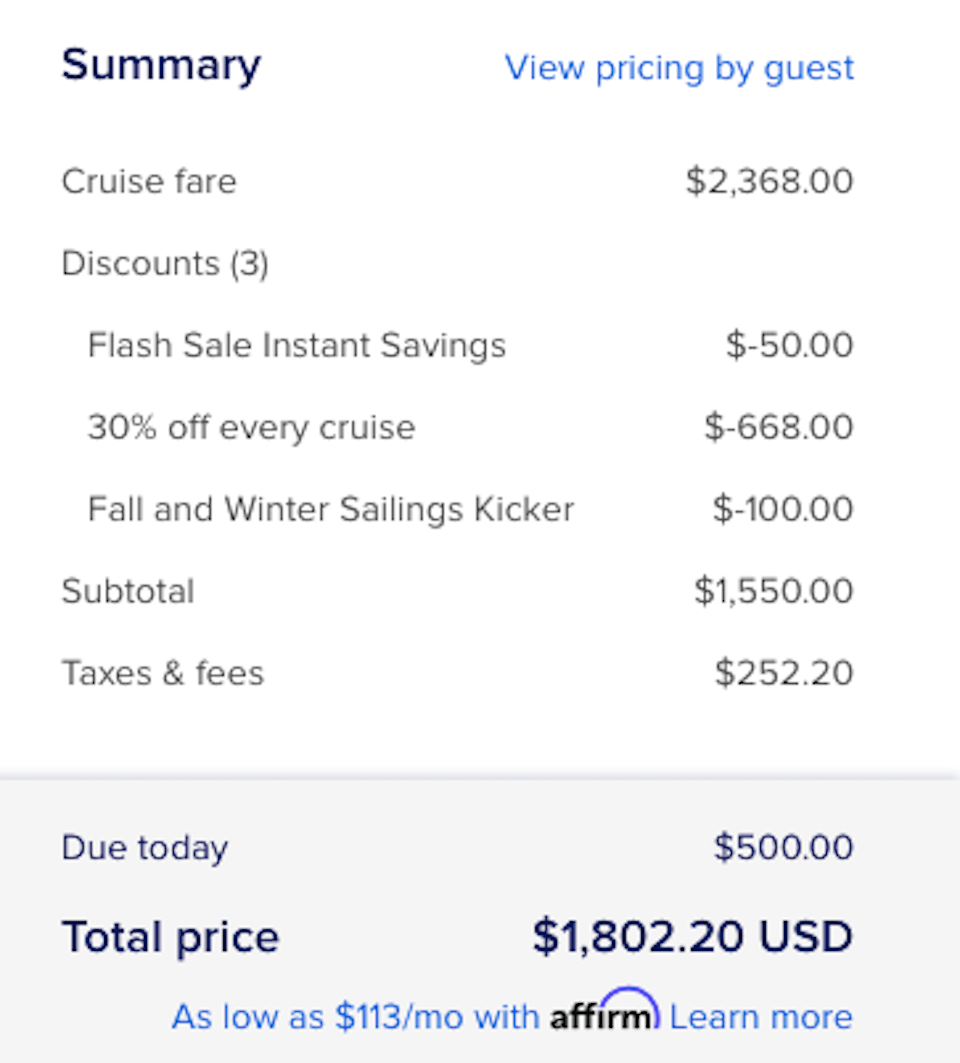 Book your cruise with Royal Caribbean Line.