Wondering how vaccine passports will be used for global travel in the future?
A recent survey found that more than seven in 10 British Columbians (73%) endorse the idea of a vaccine passport for international travel. However, some Canadians refuse to roll up their sleeves.
Beginning July 5 at midnight, fully vaccinated travellers who are permitted to enter Canada will not be subject to the federal requirement to quarantine or take a COVID-19 test on day-8. Additionally, fully vaccinated travellers arriving by air will not be required to stay at a government-authorized hotel.
But the relaxed rules have opened the window for scammers to offer fraudulent documents to unvaccinated Canadians.
British Columbians have been issued vaccine cards by their regional health authorities, but experts warn that con artists have found these documents easy to replicate.
Cyble is a global threat intelligence SaaS provider that helps enterprises protect themselves from cybercrimes and exposure in the dark web. CEO Beenu Arora told Vancouver Is Awesome that the company has seen a spike in demand for counterfeit vaccine documents.
"We see a growing demand for fake vaccine passports in the dark web, and several nefarious suppliers are entering the black marketplaces to address the needs," she explained.
In March, Cyble published some of its findings on the fraudulent documents appearing on dark web markets. In Russia, the company found that people were purchasing illegal documents to avoid isolation for unvaccinated citizens. A seller had advertised fake certificates "with deliveries available" to specified cities for "6000 Ruble, or [approximately] 79 USD."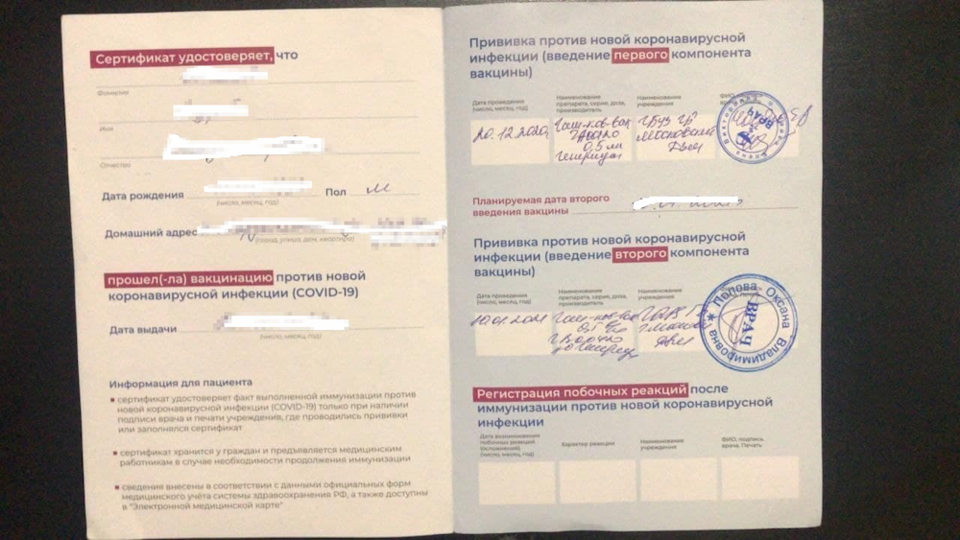 But the practice isn't only taking place overseas and prices may be extremely low.
"In our view, this is a dangerous practice as it would put the lives of other people at risk; we have seen criminals offering fake vaccination passports for as low as $12," said Arora.
Cyble also found people online who are looking for fake vaccination certificates. It noted that the demand for these falsified documents would likely "increase along with the easy availability of other spurious document delivery services on cybercrime markets."
In May, a bizarre and slightly concerning post has appeared on Craigslist in Metro Vancouver, apparently asking for a health professional to issue a false record of COVID-19 vaccination.
And in early June, photos shared online showed counterfeit U.S. vaccination cards were being sold on Amazon.
Now Amazon is selling counterfeit COVID-19 vaccination cards https://t.co/GgqaopXqyy pic.twitter.com/B9mcHhao4f

— Olivia Little (@OliviaLittle) June 7, 2021
What will Canada do to verify the legitimacy of vaccine cards?
The Canada Border Services Agency (CBSA) notes that fully vaccinated travellers who wish to be considered for the reduced public health measures "must meet all criteria, including the electronic submission of their vaccination documentation into ArriveCAN prior to arrival in Canada."
However, spokesperson Jacqueline Callin told V.I.A. that the CBSA is "aware that there is no global standard for vaccine documentation, and that some travellers may attempt to use fraudulent documentation when seeking entry to Canada."
The CBSA will continue to work with "domestic and international partners to detect and intercept such documents as early as possible in the travel continuum," she said.
And the penalty for forging a document comes with a hefty fine of up to $750,000 or six months imprisonment or both.
Callin added that uploading relevant documents to ArriveCAN prior to arriving at the border "is just one step in the screening process to ensure that all documents provided by travellers are valid."
Border Service Officers are also trained in "examination techniques and use indicators, intelligence, and other information to determine a person's admissibility to Canada as well as making a determination that travellers are being truthful and that their documents are authentic," she said.
People have also tried to present misleading COVID-19 tests upon entry to Canada. Transport Canada has fined several passengers for presenting false or misleading tests and for making a false declaration about their health status.
IATA Travel Pass
To improve air travel efficiency, the International Air Transport Association (IATA), the trade association for the world's airlines, has created the IATA Travel Pass: a mobile app that helps travellers to store and manage their verified certifications for COVID-19 tests or vaccines.
IATA spokesperson Kalliopi Lazari tells V.I.A. that the pass allows travellers to create digital identities with government-issued documents, such as passports.
"This is based on global Digital Travel Credential (DTC) standards developed by the International Civil Aviation Organization (ICAO) which match biometric passport data and images taken by the passenger using their phone camera, including a requirement for the passenger to move as an extra security precaution," she said.
This process then creates "a Type 1 digital travel credential in line with ICAO standards" that Lazari noted will provide airlines and governments with "confidence in the test/vaccine results both from a content and identity perspective."
Avoid vaccine passport scams.
In April, the Better Business Bureau (BBB) warned Canadians that vaccine passport scams would likely be on the rise. As with any change, "scammers always find ways to take advantage of the confusion and anxiety," noted a news release.
The BBB has provided the following tips to avoid vaccine passport scams.
Be skeptical of any vaccine passport app that claims to be from the U.S. federal government. Right now, the U.S. federal government has no plans to create a national vaccine passport. Email, calls, text messages that claim the government is requiring such a passport are likely scams.

Flying or attending an event? Check with the company directly. You may need to show proof of a negative COVID-19 test or vaccine to attend an event or board a flight. As with all things related to COVID-19, policies are frequently changing. Be sure to check with your your airline, sports team, event venue etc. beforehand to get the latest details.

Don't buy fraudulent vaccine cards. Don't support scammers and undermine the vaccine effort by buying a black market vaccine card. Misrepresenting yourself as vaccinated means you put yourself and others around you at risk of contracting COVID-19.
Research carefully. If you receive an invitation to download a COVID-19 vaccine passport app, be sure to do your research before entering your personal information. Scammers are very creative, so be skeptical of anything that seems too good – or crazy – to be true. Double check any information against official news sources and company websites.

Guard your government-issued numbers. Never offer your Medicare ID number, Social Security number, health plan information, or banking information to anyone you don't know or trust. Don't post your vaccine card on social media.

Think the link may be real? Double check the URL. Scammers often buy official-looking URL domains to use in their cons. Be careful to ensure that the link destination is really what it claims to be. If the message claims to be from the government, make sure the URL ends in .gov (for the United States) or .ca (for Canada). When in doubt, perform a separate internet search for the website or call the source directly.
With files from Mario Canseco and Alan Campbell