While health officials are still unsure exactly what symptoms are most common in the recently-identified Omicron variant, B.C. has changed its guidance on when people should go for testing.
Provincial health officer Dr. Bonnie Henry told reporters in a press briefing on Tuesday (Dec. 21) that the recently identified strain poses a threat to public safety—but not everyone should visit a testing facility.
"Right now, there are a number of respiratory viruses circulating. And COVID is one of them," she said. "If you're vaccinated [and] you have mild symptoms, self-isolation and self-monitoring and caring for yourself... are important things that you can do.
"You don't necessarily need to get a test."
In particular, asymptomatic individuals should not be going for testing, emphasized Henry.
Naturally, many people expressed confusion over what would be considered "mild symptoms." The BC Centre for Disease Control (BCCDC) updated its testing instructions to reflect the new guidance.
Now, the BCCDC has released new guidance for people who are experiencing symptoms of COVID-19 and wonder if they need to get tested.
Symptoms that require testing
People who do not know if they were in contact with someone who has COVID-19 need to take a test if they have new or worsening symptoms.
If you have one or more of these key symptoms, seek testing as soon as possible:
Fever or chills
Cough
Loss of sense of smell or taste
Difficulty breathing
If you have two or more of the symptoms below for more than 24 hours, and they are not related to any other pre-existing conditions, seek testing. These symptoms are:
Sore throat
Loss of appetite
Extreme fatigue or tiredness
Headache
Body aches
Nausea or vomiting
Diarrhea
If you have only one of these symptoms, or a symptom that is not on this list and you are able to manage the symptoms at home, stay home until you feel better.
If you have any questions, or the symptoms don't go away, contact your health care provider or call 8-1-1.
The BCCDC notes that people should seek care for other medical conditions as needed, even if it's not related to COVID-19.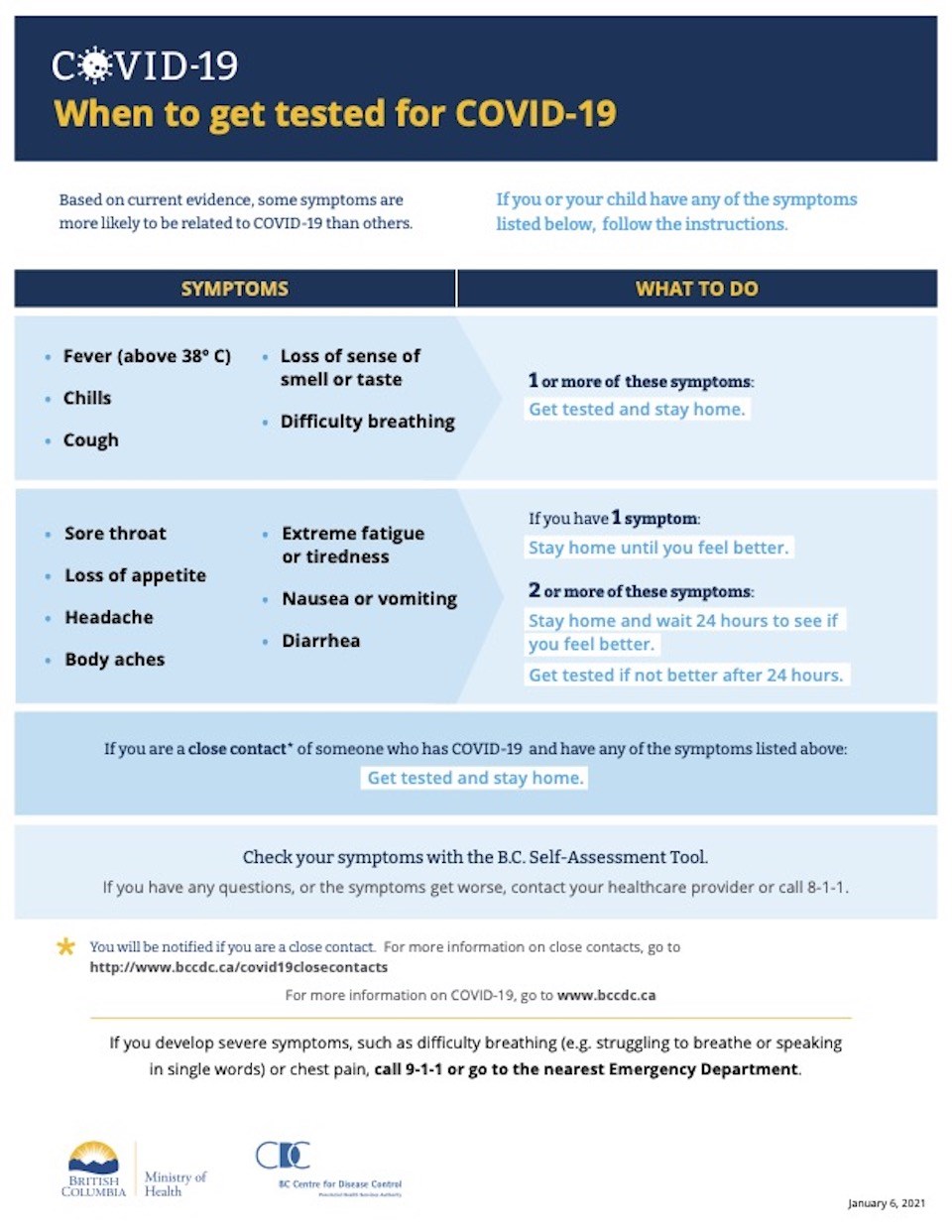 What you need to know
Use the B.C. COVID-19 Self-Assessment Tool to see if you need to be tested for COVID-19
A COVID-19 test is recommended if:

you had contact with someone who tested positive for COVID-19 and have any one of the symptoms below
you are experiencing symptoms as described below

If you feel unwell and are unsure about your symptoms, contact your health care provider or call 8-1-1
There are some private pay clinics that offer testing for a fee to people who require asymptomatic testing for reasons that fall outside of B.C. public health recommendations such as for travel or employment.
On Wednesday (Dec. 22) B.C. reported another all-time high number of daily COVID-19 cases, with 1,474. Health officials say the recently-discovered Omicron variant will become the dominant strain in the province—and it appears to be spreading rapidly in the Vancouver Coastal Health region.