Metro Vancouver's board of directors has approved a motion to re-work its budget and lower the rising tax burden for the region's 2.8 million residents.
The motion, approved Wednesday, gives staff a mandate to overhaul its 2024 budget and move toward a plan that would lower Metro fees for single households by more than 16 per cent between 2022 and 2026. The plan would also increase development cost charges levied to developers when they build new buildings.
Port Coquitlam mayor and Metro finance committee director Brad West said there's no question big infrastructure projects need to move ahead. What's being questioned, he said, is what's the fairest way to pay for those increases.
"It is just the height of unfairness to have your individual Metro Vancouver resident bearing the brunt of these costs, while the development that is necessitating the projects, is not contributing their fair share," West said.
The regional body forecast hundreds of dollars of increased utility fees over the coming years, largely due to multiple capital projects to upgrade water and sewer infrastructure across the region's 21 municipalities, one electoral area, and one treaty First Nation.
Initial estimates forecast average Metro fees could spike to $1,021 in 2026 from $594 in 2022. The latest proposal would see that annual fee increase drop more than 16 per cent to an average of $851 per household by 2026.
Metro Commissioner Jerry Dobrovolny said the motion passed Wednesday would shift the regional body on a path toward "growth paying for growth."
"This is the licence for us to start doing that work," he said.
Staff will come back to the board in October to approve a new financial plan.
Fee increases come amid record capital spending
The planned fee increases come amid rising inflation, ongoing debt obligations and billions of dollars in infrastructure planning across a region housing nearly half of B.C.'s population.
Metro Vancouver's two biggest costs — and arguably the most important services it provides its members — come through the provision of drinking water and sewage treatment services.
Metro is currently building or upgrading three wastewater treatment plants. The largest of those is the Iona Island Wastewater Treatment Plant, a project designed to fall in line with new regulatory requirements and meet the needs of a growing population.
Metro says the facility will also reduce greenhouse gas emissions, restore nearby salmon habitat, and be more resistant to the effects of rising sea levels and earthquakes.
Other major capital projects include a massive upgrade to the regional body's more than 500 kilometres of water mains — a series of projects meant to keep up with population growth and to have a better chance of providing reliable drinking water after a serious seismic event or severe weather made worse by climate change.
"We would never plan today to be rebuilding four or five sewage treatment plants all at the same time," Dobrovolny told the board. "It doesn't make sense. However, those are the cards that we've often dealt with."
In early 2023, Metro Vancouver's board convened a Financial Plan Task Force to reassess how rising costs should be passed down to the region's households between 2024 and 2027.
Initial expectations forecast annual increases to Metro households of between 12 and more than 14 per cent over the four years. West said those kinds of hikes are not anywhere in line with the income of most residences.
"I get there are costs that increase. I get that there's a need for revenue to meet needs. But… that's just not sustainable. Nobody's getting those types of wage increase," he said.
"People are finding it harder and harder to make ends meet costs of everything else is going up."
At a board meeting Wednesday, Metro staff presented the task force's recommendation to drop those fee increases to 12 per cent in 2024, 11 per cent in 2025, and five per cent in 2026 and 2027.
Some of Metro's board of directors questioned whether the plan to reduce fees to residents was financially sound.
"It looks like we're trying to finance the capital without looking at the economic viability of this," said Vancouver city councillor Sarah Kirby-Yung.
Coun. Paul Albrecht of Langley questioned whether it was shortsighted to lower fees at the expense of further delaying needed infrastructure projects.
"We can't be kicking the can down the road," said Albrecht. "We are in uncertain times."
Burnaby Coun. Sav Dhaliwal said Metro's historic underinvestments in infrastructure had been made worse by the COVID-19 pandemic, during which the regional body took extra measures to keep taxes down.
Now, he said, the situation "is catching up with us."
"We can't afford not to do this," added District of North Vancouver Coun. Lisa Muri. "We should have done this 30 years ago."​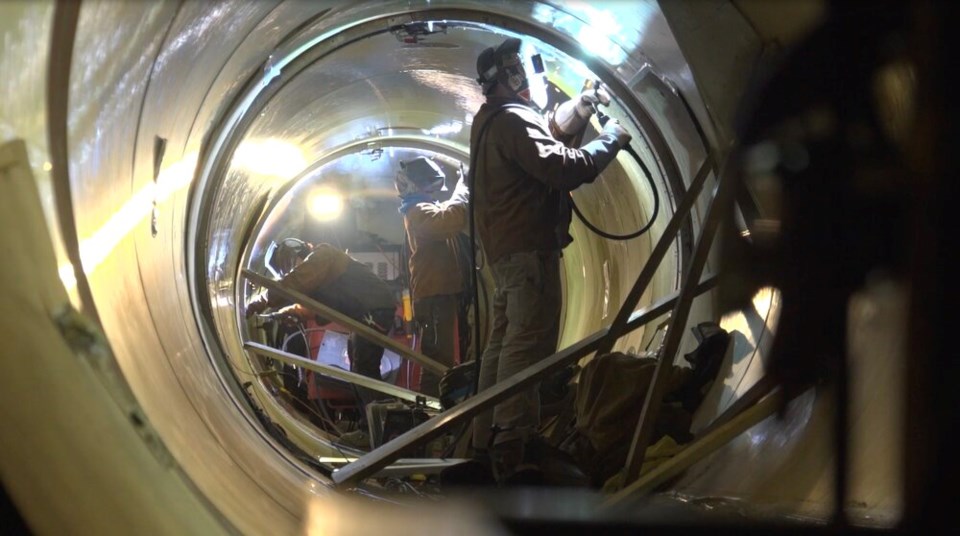 A race against population growth, climate change
Metro Vancouver forecasts a million more residents will settle in the region by 2040. Much of that will come from immigration, either from other places in Canada or overseas.
Immigration already accounts for nearly all of Canada's labour force growth, and by 2032, the federal government projects newcomers will make up 100 per cent of the country's population growth.
In response, last year, the federal government released a plan to boost immigration to 500,000 new arrivals per year by 2025.
West said he accepts those targets, but if Ottawa is going to facilitate an increase in urban populations across Canada, he said the federal government should also back municipal bodies trying to settle all those new people.
"I think the provincial and federal government need to come to the table in a much bigger way than they have to help," said the Port Coquitlam mayor. "Much of those [infrastructure] projects are necessitated by the record high level of immigration that the federal government has created."
"Fair enough. But then you come to the table, and you help finance the needs that your decision has created."
Despite his concerns, West joined several other Metro board members in describing the proposed reduced fee increases as a reasonable plan to help share costs between businesses and individual taxpayers.
Commissioner Dobrovolny acknowledged Metro Vancouver is facing tough decisions going forward, but if costs can be fairly shouldered by all sides, the expansion of infrastructure across the region offers a local response to chip away at big global challenges on the horizon.
"Somewhere on the order of two billion people are going to move because of the war, temperature, sea level rise," said Dobrovolny. "There's so much uncertainty in the world today around climate adaptation, around resilience.
"We're designing things very different now than we did even five years ago… So it does present a tremendous opportunity for us, but also major costs."