A Canadian couple's bucket list trip turned into a nightmare after Air Canada lost their custom wheelchair en route to their destination.
Jim Hamilton, 63, and his wife, Kathie Hamilton, 67, have always enjoyed travelling together. But their life was "completely turned upside down" in 2021 when Jim suffered a severe stroke that left the right side of his body completely paralyzed.
While it took a couple of years to get comfortable with the idea of travelling, the Toronto couple felt confident about their next big adventure: a multi-week trip to South America that included a two-week cruise down to Antarctica.
Wendy Elliot, who is Kathie's daughter and Jim's stepdaughter, tells V.I.A. that her mother selected a travel agent who uses a wheelchair because Jim has been dependent on one since he had the stroke. She also called Air Canada well in advance of travel to ensure that his wheelchair would be reunited immediately with him after he got off the plane.
While Jim uses a motorized wheelchair at home, it was too heavy to take on the plane and he brought his standard one instead. Air Canada told Kathie that he would stay in his own wheelchair until they got to the door of the plane and then he would be transferred to a smaller one. And then his own wheelchair, which had a baggage tag on it, was going to be checked, Wendy explains.
While the couple was supposed to have priority boarding, Jim was actually one of the last people on the plane. Their flight was originally scheduled to depart from Lester B. Pearson International Airport in Toronto on Sunday, Jan. 15 at 10:55 p.m. but it was delayed until 11:46 p.m.
Checking a wheelchair in Air Canada baggage
When the couple arrived at Arturo Merino Benítez International Airport (SCL) in Santiago, Chile the following day, the airline said Jim's wheelchair had been lost during the journey.
Air Canada issued the Hamiltons a $300 credit and gave them a "loaner" wheelchair but its arms did not move up and down, preventing Jim from moving himself onto and off of it.
Kathie, who is about five-foot-four, isn't able to move Jim, who is six-foot-two. If he sits in the wrong chair for too long, he will develop sores. Also, there is a risk of falling from a chair he can't be safely transferred in or out of.
"She started crying at this point because she was literally distraught. She didn't know what she was going to do," Wendy says.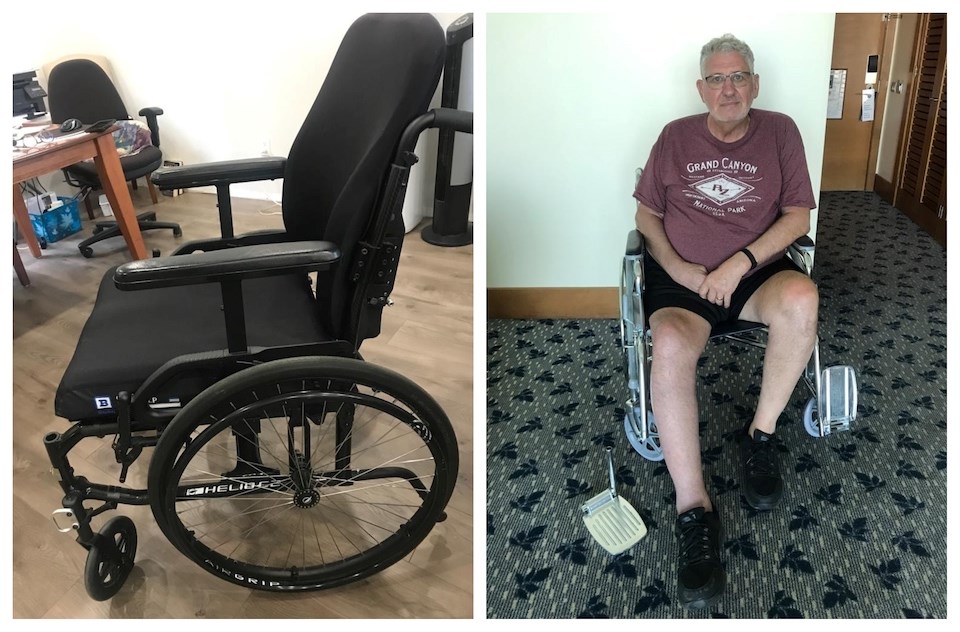 An Air Canada representative brought the pair to their Santiago hotel and told them he would "personally call Toronto" when he got back to the airport and would follow up with them.
"[They] never heard from him again," she notes.
The couple were unable to contact the wheelchair rental company from Chile and so Wendy tried calling it from Toronto. When she did, however, the company said that Air Canada had not filed the necessary information.
On Tuesday morning, Air Canada informed the exasperated couple that the wheelchair would be on a flight departing from Toronto in the evening. While it is slated to arrive in Santiago, the couple is now in Viña del Mar so the airline will have to transport it there after it arrives. What's more, their cruise departs from Chile on Friday.
"You cannot treat a wheelchair like it's a piece of luggage. It's not a piece of sporting equipment. It's not an accessory... it's his legs," Wendy says.
V.I.A. has reached out to Air Canada for comment.