Four months after the deadliest weather event in modern Canadian history, the BC Coroners Service is shedding new light on where and how people died due to extreme heat.
Updated preliminary data indicates at least 595 people died when temperatures soared across the province in late June, breaking an all-time Canadian record just shy of 50 C in the Village of Lytton. When heat deaths peaked June 29, 231 people died over a single 24-hour period.
Zooming out over 25 days, the heat wave accounted for nearly a quarter of all deaths in the province.
B.C. chief coroner Lisa Lapointe said in a written statement that the service will continue to gather information to help prevent a repeat in the future.
"I extend my sincere condolences to all of those who lost a loved one as a result of last summer's unprecedented heat dome," she said.
"By identifying patterns and factors in the tragic deaths that occurred unexpectedly last summer, our province will be in a better position to prevent future similar tragedies."
In September, BC Centre for Disease Control's scientific director Dr. Sarah Henderson said more people died under the heat dome in low-income areas, where people lived alone and with little green space.
A Glacier Media investigation also reported unpublished emergency room data showing working-class neighbourhoods of South Vancouver saw double the number of heat-related hospitalizations compared to the more affluent neighbourhoods of Point Grey, Dunbar and Shaughnessy.
On Vancouver's Downtown Eastside, Canada's poorest neighbourhood, hospitalizations tripled, with more people admitted to emergency rooms due to heat than anywhere else in the city.
The BC Coroners Service recorded the most deaths due to heat in Vancouver (99), followed by Surrey (67), Burnaby (63) and New Westminster (28).
Per capita, the Fraser North region of Metro Vancouver was hit hardest, which includes the municipalities of Burnaby, New Westminster and the Tri-Cities.
Nearly all the deaths (96 per cent) occurred inside people's residence, which include shelters, single-room occupancy hotels, rooming houses, seniors' and long-term care homes and hotels.
Workers toiling long hours in hot conditions usually face bigger risks when heat waves hit. But so do physically disabled people or those with mental health problems — anyone who has trouble helping themselves.
Pre-existing health conditions, drug and alcohol use and obesity also make people more vulnerable, says Dr. Tom Kosatsky, medical director of environmental health at the BC Centre for Disease Control.
One of the biggest factors determining how vulnerable someone is to heat? Age. B.C.'s experience was no different: more than two-thirds of heat deaths (69 per cent) in late June were in people aged 70 or older.
A silent killer, death due to heat is notoriously hard to establish. That's because extreme heat can often turn pre-existing medical conditions into crises, leading coroners to such questions as: do we blame the heart attack or the heat that triggered it?
According to the coroner, a heat-related death is declared when a body's temperature or the environment where it's found is consistent with hyperthermia. When there is no direct temperature record, coroners look to the individual's medical history, circumstantial evidence or other signs found near the body that might point to heat death.
Those definitions matter when crafting a response to future extreme heat events, expected to strike hotter and more often as climate change warps what we think of as normal summer temperatures.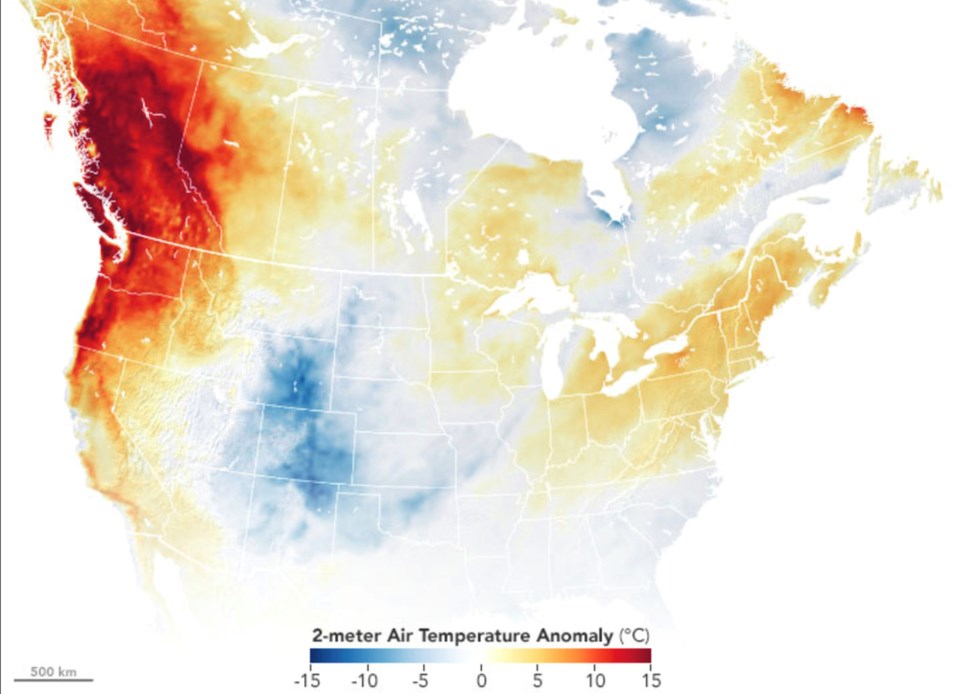 In the weeks after the heat wave, a team of leading international climate scientists concluded the heat wave was made 150 times more likely due to climate change. By the 2040s, they say such punishing heat could return every five to 10 years.
"While we expect the findings of the death review will significantly contribute to efforts to increase public safety, we must take steps to prepare for future extreme weather events now," said Lapointe.
"The effects of climate change are both real and unpredictable. Having a plan to regularly check in with loved ones who live alone, being aware of cooler and air-conditioned areas in your neighbourhood, and heeding early warnings about extreme weather are simple steps that will help ensure we are all properly prepared and safe."
The BC Coroners Service said it expects to finish an investigation of each of the 595 deaths by early next year. Those results will inform a "death review panel" made up of experts in the field who will come together to make recommendations on how to avoid such a high death toll next time. Those findings will be publicly released in late spring 2022.