2,100 acres of blueberry fields.
82 acres of raspberry crops.
And one aspiring saffron farm.
On Thursday, the scale of flood impacts on farmers in British Columbia's Fraser Valley became a little clearer.
Last week's floods are now thought to have affected 57 berry producers in the Fraser Valley — and with many of the crops still underwater, they'll almost certainly have to be "ripped out and replanted," said Minister of Agriculture, Food and Fisheries Lana Popham.
Popham refused to provide an update on the number of livestock killed in the flooding "for the next few days," citing the mental health of farmers.
"To tell you the truth, they don't really want to go there right now," she said. "They're still in the emergency and dealing with these events."
Earlier this week, the minister estimated 500 cattle had died in the floods. Popham said the province is helping to relocate animals evacuated from floods and is supporting farmers with the cost of feeding and housing them.
In the Sumas Prairie area, at least 20 herds were relocated. On Nov. 24, City of Abbotsford Mayor Henry Braun announced a "Do Not Use Water Advisory" after it was found floodwaters contaminated with fuel, dead animals and plants, and fertilizer had penetrated a water main through several breaches.
For Karl Meier and his family-run dairy farm, that meant dumping 7,000 litres of milk a day after they were unable to safely clean processing equipment.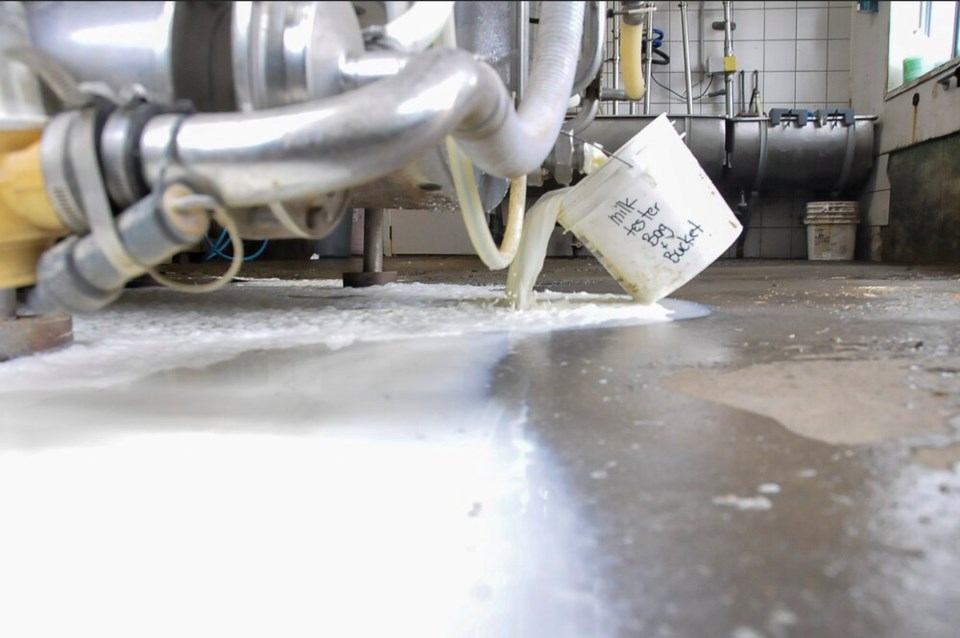 A further 420 acres of unharvested field crops have been lost in the floods, most in Fort Langley and the Sumas Prairie area of Abbotsford. That represents about 4,000 tonnes of stored and unharvested field vegetables, with some of the hardest-hit crops including cabbage, cauliflower, brussels sprouts, carrots and leeks, Popham said.
Two flower growers in the Fraser Valley have lost roughly 250,000 plants in nurseries; and in two land-based fish farms hit by floods, Popham said all tilapia and barramundi fish are presumed lost.
And in another unique loss, two Abbotsford brothers who recently said they finally found a way to grow saffron in B.C. after five years of trying — all their 250,000 bulbs are buried underwater.
Meier said he spoke to Popham Tuesday when she visited Sumas Prairie.
"She's like, 'Yeah, there's funding coming.' But you know, like, we kinda have no money now," he told Glacier Media.
When asked whether the government would help impacted farmers manage mortgage payments, Public Safety Minister and Solicitor General Mike Farnworth said his government was working with the federal government to fill funding holes.
"We recognize there are gaps," he said.