By the summer of 2022, more than half of adult Canadians had been infected by COVID-19, a level of infection 20 times higher than the first year of the pandemic, a new national health survey from Statistics Canada has found.
The results of the study, published Monday, indicate the number of infected Canadians since the beginning of the pandemic "would likely be higher" because antibody response is not always detectable and can decrease over time.
"This report really isn't that surprising because in 2022, there was just a ton of COVID," said Angela Rasmussen, a virologist at the University of Saskatchewan's Vaccine and Infectious Disease Organization.
Rasmussen said that's because of the arrival of the highly infectious Omicron variant — which affected a large proportion of the population — and because people's behaviour changed as public health measures were loosened.
Sally Otto, a professor in the department of zoology at UBC and member of an independent COVID-19 modelling group, said the numbers of infections are consistent with surveillance carried out on blood donated to Canadian Blood Services.
"That's good news in terms of surveillance," she said.
The percentage of Canadians who have been infected with COVID-19's Omicron strain has risen from around 50 per cent in the summer to 77 per cent as of February 2023, according to the COVID-19 Immunity Task Force.
"I'd say that's at a minimum," said Otto. "We're not catching a vast majority of these cases."
Some faced heightened risk, many never knew they were sick
By last summer, many people already had some form of immunity through vaccination or a pre-existing infection, leading to less hospitalization and death, said Rasmussen.
"There are still people who are at risk regardless of vaccination status," she added. "And when a lot of people get infected, a lot of those people are potentially going to be affected too."
For millions more, their infections went unnoticed. By the summer of 2022, more than 40 per cent of Canadians didn't even know they had been infected with the SARS-CoV-2 virus, despite testing positive for antibodies from an infection, Statistics Canada researchers found.
Older Canadians, and those living with a disability or chronic illness were less likely to have antibodies from a past infection, "possibly because these individuals were more likely to follow public health recommendations (such as wearing a mask and physical distancing)," noted the study.
On the other hand, COVID-19 infected certain racialized Canadians at higher rates than the rest of the populations: those who identified as Black, Arab, Filipino, and Latin American were found to have the highest proportion of infections.
Through vaccination, previous infection or a combination of both, by the summer of 2022, the survey found 98.1 per cent of Canadians had antibodies against the virus. Statistics Canada said more in-depth studies into the pandemic's impact on Canada is expected in the coming months.
COVID-19 origins still unsolved
Where and how the pandemic began has received growing attention in recent weeks after the U.S. Department of Energy reassessed the possibility that COVID-19 could have escaped a Chinese lab. The position, first reported by the Wall Street Journal, assessed escape from a lab was the most likely scenario but based on "low confidence" intelligence.
Previous studies have strongly suggested otherwise, including two landmark studies published in July 2022 that concluded there is overwhelming evidence the SARS-CoV-2 virus spilled over from animals into humans at a live animal market in Wuhan, China.
One of the studies looked at how some of the earliest cases of COVID-19 clustered around Wuhan's Huanan Seafood Wholesale Market; the other, dug into the genetic history of the virus, pinpointing when and how it made the leap from animals to humans.
Earlier this month, Rasmussen was part of a high-profile team of scientists that published an un-peer-reviewed analysis of genetic data from several locations inside the Wuhan market. What they found was molecular evidence that some of the animals there — including Malayan porcupines, greater hog badgers, Amur hedgehogs and Siberian weasels — were susceptible to SARS-CoV-2 infection.
"In one sample in particular, we found a ton of raccoon dog genetic material, and almost no human genetic material that was positive for the virus," said Rasmussen.
"So that more strongly suggests that the raccoon dog was the source of that virus than a human or another animal."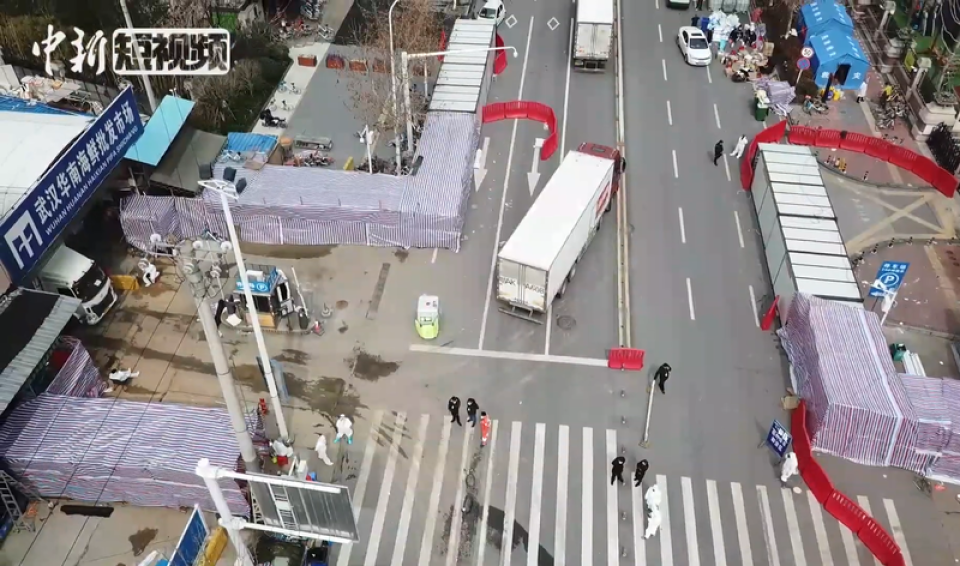 Rasmussen and her colleagues downloaded the genetic data from environment samples Chinese officials had collected from inside the market. But shortly after Rasmussen's group downloaded the data, Chinese officials removed it from the open source website, she said.
At a World Health Organization press conference earlier this month, infectious disease expert Maria Van Kerkhove said Rasmussen and her colleague's study provides more clues but unfortunately, "doesn't give us the answer of how the pandemic began."
Van Kerkhove added that more studies — studies that "have been recommended over many years" — still need to trace the source of the animals in the market in order to find intermediate hosts and look at any breaches in biosafety.
"These studies have yet to be conducted and until they are conducted, until we have the data, we aren't able to conclusively say how this pandemic began," she said at the March 17 press conference.
The World Health Organization has since called on China to once again share the samples with scientists from around the world.
Two paths to a dangerous COVID-19 mutation
In many places across the world, public health agencies have rolled back their emergency responses to COVID-19. Vaccinations, says Otto, have delayed infections, and significantly reduced the number of hospitalizations and deaths. But that doesn't mean that people still aren't getting sick.
"If our immunity were super strong, COVID would have gone away," she said.
The UBC researcher said she's seeing cases where people with compromised immune systems face sustained infection for up to a year, and suspects there are tens of thousands of new cases like that every month around the globe.
"They're not mounting an immune reaction," she said. "They can't kick the virus."
The longer a strain of coronavirus stays in a host, the more chances the virus has to replicate and select for new variants. The effect, says Otto: "We're basically giving COVID as many opportunities as possible."
Rasmussen says persistent infections in immuno-compromised people is one of two ways we could see the emergence of new more powerful versions of COVID-19 (it's also one of the hypotheses for how we ended up with Omicron and a good reason to continue monitoring wastewater for other new variants).
The other path, says Rasmussen, is that the virus could potentially "get into animals, which has also happened numerous times during the pandemic, and evolve in those animals and then spill back over into the human population," Rasmussen said.
To understand and monitor that threat, Rasmussen is leading a lab at the University of Saskatchewan to make a short list of wild animals susceptible to COVID-19 infection.
Wild animal COVID-19 surveillance 'haphazard'
COVID-19 has already been found in wild white-tail deer and red fox populations. Rasmussen and her colleagues are now going systematically through a list of other species to understand what else might be a reservoir for the virus.
"We do have some surveillance programs for known animal pathogens like avian influenza, but COVID is really haphazard," she said. "And when you think about it, there's thousands of different species, just of vertebrate in North America."
Rasmussen's containment level-three lab is testing one animal cell at a time to understand which species can be infected with the virus. She says they're focusing on those that live close to cities and towns or are otherwise most likely to trigger a spillover of the virus back into humans.
So far, some Canadian wildlife that has proven susceptible to COVID-19 infection include cougars, some species of badger, several foxes, and weasels and ermines.
Rasmussen said she still needs to look at coyotes and raccoons and how they interact with some of the more recent SARS-CoV-2 strains.
Research into next pandemic more important than ever
Like millions of other people around the world, it's inflicted a toll on the researchers.
"I work on SARS-2 every day and I'm sick of it," said Rasmussen. "I think a lot of people are sick of thinking about it."
"But I don't think we should ever count evolution out."
Outside of a public tired of hearing about COVID-19, Rasmussen said the theory that the pandemic started with a lab leak has set off a motivated political movement to cut off virus research more broadly.
"That is the most counterproductive thing I can think of," she said.
"Because if we don't have virus research, we don't have vaccines, we don't have antiviral drugs, we don't have knowledge of these pathogens that might be coming next."