Vancouver ranks among the top destinations for solo travellers in North America, according to online search data.
Explore Worldwide, a small group adventure travel company, says the hashtag #solotravel has garnered nearly four billion views on TikTok, indicating a growing interest in folks looking to travel on their own.
The company compiled Google search terms used over the last two years for solo travel destinations, revealing the top spots in North America and around the world. The team analyzed the cities that saw the "biggest uplift" in searches compared to the previous year to determine the ranking of the most sought-after cities.
"From the shores of Lake Ontario to the mouth-watering food in Guadalajara [to] the night lights of the Big Apple, independent travellers are showing a desire to explore a heady mix of North American destinations," write the report's authors.
Cities from the Great White North dominated the top spots for North American solo travel, with Toronto claiming the top spot for Google searches. Year-over-year, Canada's largest city saw a staggering 167 per cent increase in interest for travellers on their own.
Another Canadian city saw a significant uptick in interest, with searches for solo travel in Montreal surging by 133 per cent. In fact, searches for the province of Quebec rounded out the top three, with searches for the French destination increasing by 100 per cent over the past year.
The highest-ranking U.S. destination was New York, which claimed the fourth spot with a 90 per cent increase in solo searches year-over-year. Mexico City came fifth, with searches increasing by 83 per cent.
Vancouver climbed into the sixth spot, with searches up 68 per cent for solo travel. Another Mexican city, Guadalajara, placed seventh, with searches up 54 per cent.
A third Mexican city took the eighth spot, with searches for solo travel in sunny Cancun up 53 per cent year-over-year.
A couple of balmy U.S. destinations rounded out the top 10, with states Florida in ninth and Georgia in 10th.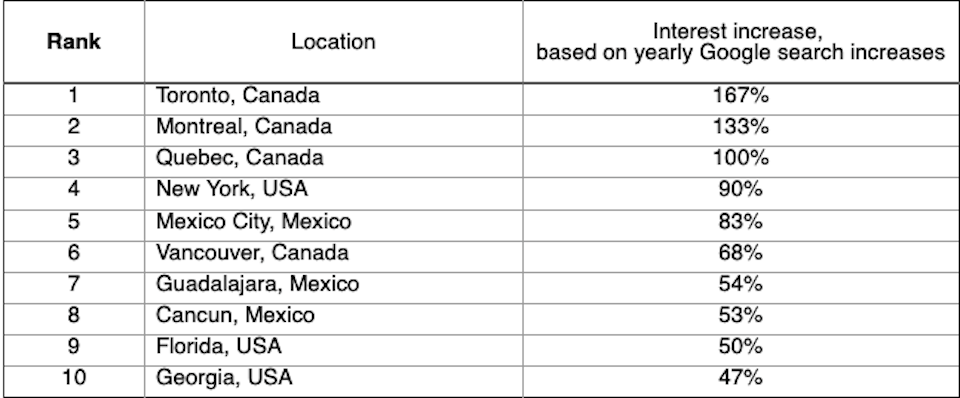 Solo travel around the world
Globally speaking, Asian cities, including Hanoi and Taipei, emerged as new hot spots for solo travel.
Interest in independent travel to Hanoi saw a jaw-dropping 946 per cent increase, while Bangkok saw an equally impressive 816 per cent uptick.
Taipei rounded out the top three with a 692 per cent increase in interest, while Seoul landed in fourth, with a 533 per cent increase in interest.
Phnom Penh rounded out the top five, with a 500 per cent increase in interest.