A Coquitlam woman will be able to keep on sewing masks and offering them to the community from her front yard, even as the fall and winter rains set in.
On Wednesday, volunteers from the United Way's community builder team installed a "little mask shop" in the front garden of Susan Walter's home on Gabriola Drive. The peak-roofed structure was crafted by handymen from the Coquitlam Men's Shed Society.
The little mask shop is fashioned after little libraries that have popped up in front yards throughout the Tri-Cities. 
But instead of being able to collect a free book or donate one, visitors will be able to collect one of Walter's hand-sewn masks in exchange for a donation to her favourite causes. She is hoping to raise money for the Share Food Bank or the Port Moody chapter of Days for Girls, a group that assembles feminine hygiene kits for young women in developing countries.
Walter, 64, started sewing the masks last April, after public health officials recommended them as a way to help prevent transmission of the novel coronavirus that causes COVID-19. She placed them in plastic sandwich bags and pinned them to a clothesline in front of her house, where anyone passing by could help themselves.
Walter said it was a way to stay connected to her community as people heeded public health directives to stay home as much as possible. It was also a project that helped her diminish the years of surplus fabric she'd accumulated as a hobbyist sewer.
In September, Walter completed her 1,000th mask.
But with the rains of fall and winter quickly approaching, she worried how she'd be able to continue as the plastic baggies offered little protection to keep the masks dry.
That's when Nicole Blades of the United Way reached out and facilitated the connection to get Walter's mask shop constructed and installed.
"This is exactly what I've been hoping for," Walter said.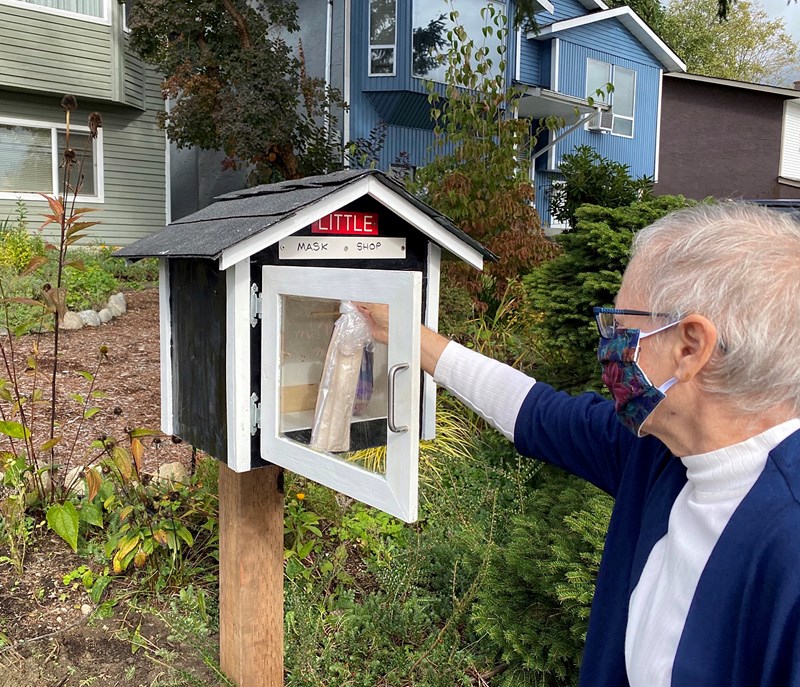 She estimates her efforts so far have raised more than $1,400 for Days for Girls as well as considerable funds for the food bank. 
And with cases of the viral infection on the rise again, Walter said she has no intention of stopping her endeavour for as long as her fingers will let her.