Indigenous artists, volunteers and residents of the Tri-Cities gathered at Noons Creek Hatchery Saturday, April 27, to join together in painting a canoe in traditional Coast Salish style.
The event, held in the same spot where the Tsleil-Waututh village Saymahmit once sat, is part of a series of Coast Salish events organized by the Noons Creek Ecological Society and held under the banner of the Welcome Post Project.
Now in its second of five years, the program looks to restore Coast Salish presence in the Tri-Cities.
Last year, the program raised the House Post, the wooden pillar rising to the crown of the roof of the hatchery's gazebo and bearing the Coast Salish eye, a drop of water with concentric ripples radiating outwards.
In what she describes as building community around reconciliation, program organizer Tasha Faye Evans said that by 2022, when the project is complete, she expects to raise four welcome polls around the Port Moody Inlet.
This year, the program is focusing on connecting Tri-City residents with water "as a relation," according to Faye Evans, who also sits on Port Moody's arts and culture committee.
When it's finished, the canoe will be installed as a planter at Queen's Street Plaza, part of the city's plan to revitalize the public space.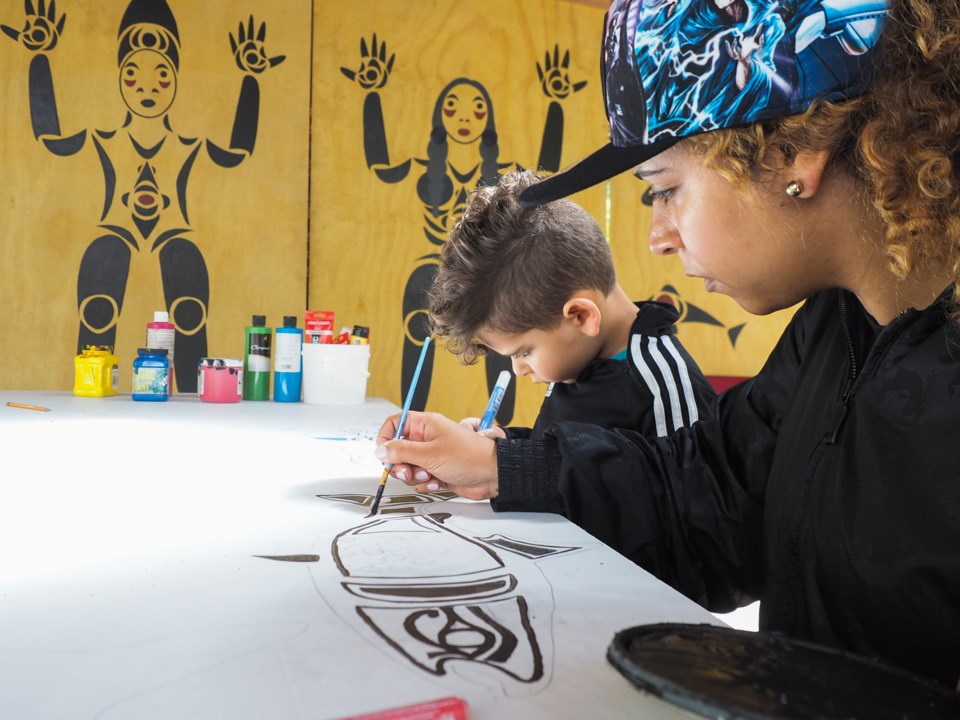 Over the next two months, several more Coast Salish cultural events are planned as part of Stakw, including cedar weaving, a night of hip-hop poetry with artist Ronnie Dean Harris, and a guided tour on how to collect wild plants to make traditional teas.
The series will come to a head on June 21, National Indigenous Peoples Day, when several traditional Coast Salish canoes will launch from Rocky Point pier in Port Moody and paddle up the Burrard Inlet for a water blessing ceremony.
Each of the events, said Faye Evans, is a small but important step towards reconciliation with the Tri-Cities' Indigenous peoples.
"I see a real disconnect between current residents and the residents that have been here since time immemorial," said Faye Evans, herself a Port Moody resident with familial ties to the Coast Salish people on Vancouver Island.
"We all have a sacred responsibility to restore these Coast Salish lands and waters," she added.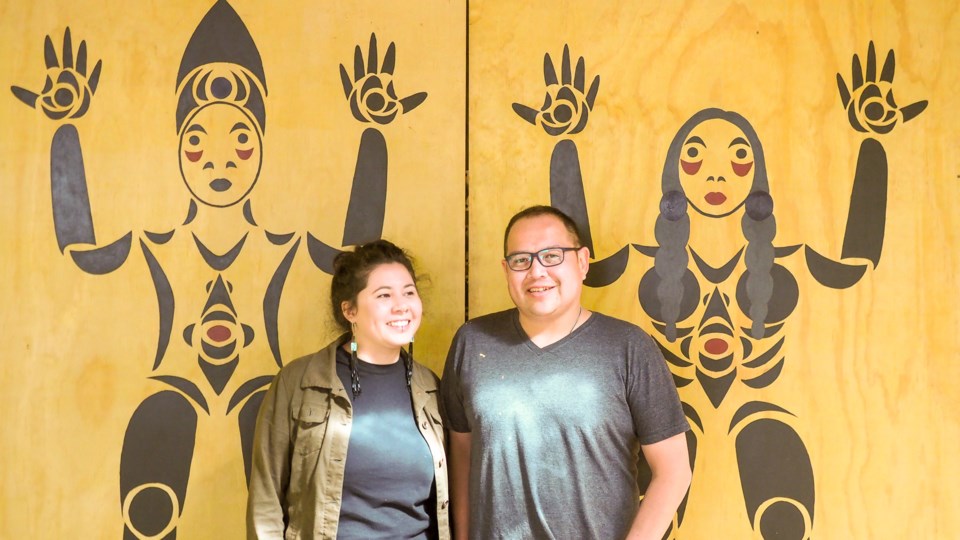 On hand to lead the painting were two Indigenous artists, Brandon Gabriel from the Kwantlen First Nation — who for several years has worked in Metro Vancouver schools to help students engage with Indigenous communities — and Ocean Hyland, who has returned for a second stint as Noons Creek's Indigenous artist-in-residence.
After priming and adding a thick coat of white, artist-grade mural paint, Gabriel applied several handmade stencils both to teach people about Coast Salish art and so participants wouldn't feel intimidated about expressing themselves.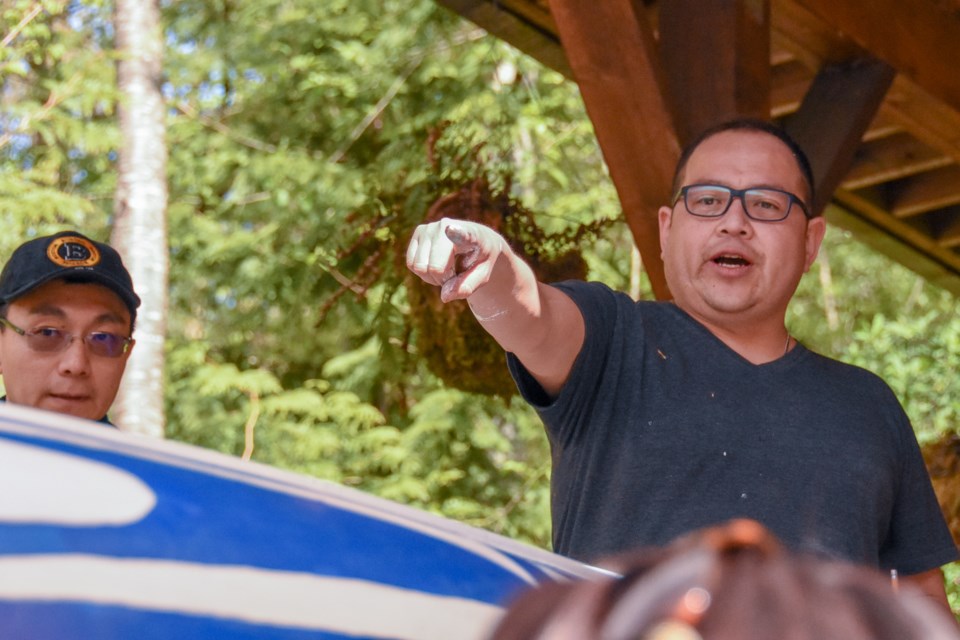 Throughout the day, dozens of people came and went, some to watch, others to contribute their piece to the canoe. By the end of the afternoon, the final design —the head, neck and torso of a blue heron transforming into a salmon from prow to stern — was complete.
"The heron is semi-nocturnal, it travels at night," said Gabriel, explaining the animal's symbolism. "Herons watched over the people, made sure living things were safe. This is a simple way of expressing that idea and spirit."
In all his experiences engaging non-Indigenous people with Indigenous art and culture, Gabriel said he sees the most success where there's a long-term vision put in place.
"It's one step at a time," he said. "I see that here."