Ridge Park
Rating: easy
Time needed: 2 hours
Length: 4.3 km
Elevation gain: 280 m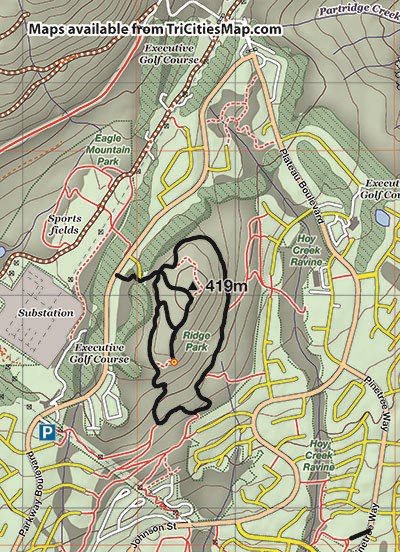 Ridge Park is a compact area of forest parkland at the top of Westwood Plateau and supports a network of easily accessible woodland trails. There is one significant viewpoint that affords impressive views out over Coquitlam, Burke Mountain, Mt. Baker and the Fraser Valley.
This hike does a circuit of the park and ends by climbing to the viewpoint, where you may want to spend some time admiring the views. For simplicity, the route is described as accessing the trail network from the west side but the route can be just as easily accessed from all sides (see map).
There is also a conveniently located parking lot on the southwest side of the park just off Parkway Boulevard.
Start by finding the eastbound alleyway just south of the pedestrian crossing on Parkway Boulevard. This soon turns into a fenced-off path that cuts through the executive golf course.
After the fencing stops, you will reach a four-way intersection with a trail sign. Memorize this crossroads location as you will be visiting it three times on this walk. Turn right and follow the undulating path as it contours above the fairways.
After a while, the trail will start descending quite steeply, passing over a small creek with a rope handrail. As you circle counter-clockwise around the hill, there will be several paths heading out right towards the houses. Ignore these to keep on the path that completes the loop.
The low point will be reached about 1.3 km into the hike, after which it's just over another kilometre of steady climbing back to the four-way intersection.
Turn left uphill at the intersection and follow the trail to a T-junction, where you'll turn right. After seeing another trail on your right, keep on the less distinct trail that continues straight on. Follow this up and then down to the viewpoint, which presents itself as an open rocky ledge. Be careful near the edge as there is a steep drop-off.
Return the same way as far as the first junction, where you will turn left downhill towards the loop path. Turn right at the loop path and then left when you reach the four-way intersection.
Steve Chapman is a Coquitlam Search and Rescue volunteer, a member of the Burke Mountain Naturalists and the creator behind a detailed new map of Tri-City trails. More info on safe hiking: www.coquitlam-sar.bc.ca.