The excitement of video games mixed with engineering, building and computer programming is making robotics competition one of the fastest growing sports at Heritage Woods secondary in Port Moody.
Some 40 students in all four grades have joined the robotics club overseen by teachers James Zhuang and Angeline Lee, and the students are vying for the right to call themselves robotics champs.
On the afternoon The Tri-City News visited, more than a dozen students were tinkering with machines that look like Meccano toys of old but with complex wiring and brains that, when programmed by a computer and steered with a controller, can move and do complex tasks.
They were preparing for a Vex Robotics qualifying competition at Gladstone secondary school in the quest to get to the provincials.
"We want to share our story with the community, we are looking for sponsorship and mentorship to help us grow," said Zhuang about the program.
It's not surprising that sponsorship is needed. Depending on the type of competition, robots can cost thousands of dollars. Last year, Heritage Woods got a $5,000 grant from Microsoft to participate in the FIRST Robotics Canada (FRC) competition in Calgary. To duplicate that feat for this season, the club needs at least another $2,000 on top of parent advisory council and grant funds, extra money the school doesn't have.
In that competition, teams compete under strict rules and a six-week time frame to build and program an industrial-sized robot to play a challenging game against tough competitors in an arena half the size of a basketball court.
Heritage Woods students put together a machine they called Lord Business — a nod to The Lego Movie because of its design — that was able to "climb" a rope using a winch, a velcro wheel and other electronics, gadgets and gears.
When the smoke cleared after a couple of days of competition, the rookie team was in the top five of 11 B.C. teams and 37th out of the 50 international teams that participated.
If sponsorship and support from a local tech company can be found, the students hope to do even better in 2018.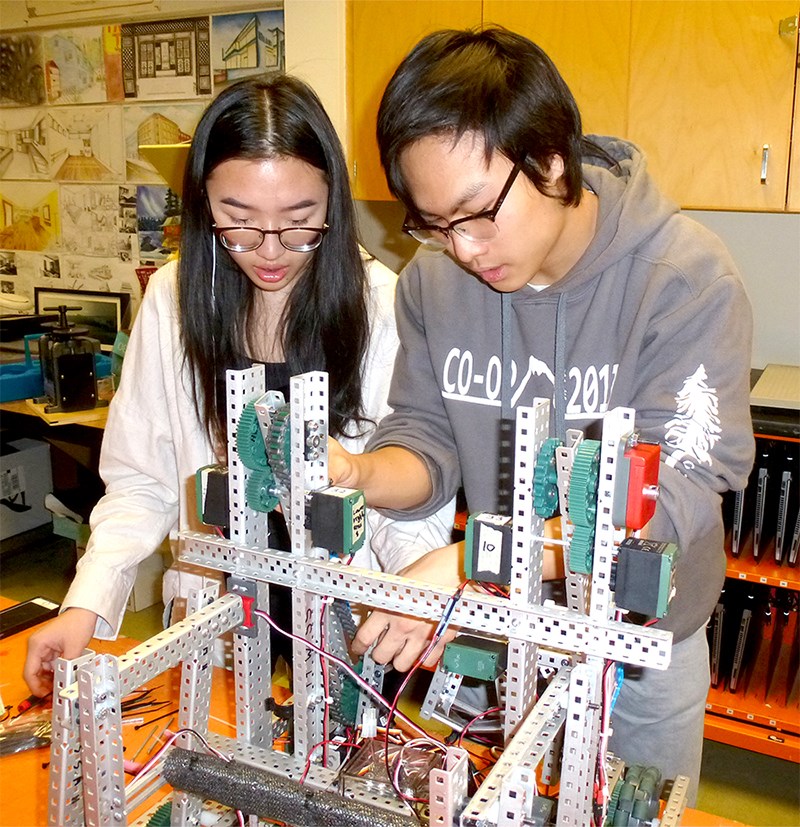 Meanwhile, the smaller VEX Robots cost about $2,000, with $1,000 needed for replacement parts annually, and are somewhat more affordable to build for competition. These robots are constantly upgraded by the students to be able to do different skills to win points, and ultimately bragging rights for the team.
During The Tri-City News' visit, Victor Wong, Grade 12, and Kelly Yee, Grade 11, were fine-tuning their VEX based on a new design created by Yee.
She wants the machine to be able to do more tasks, such as moving and placing cones in a large arena, and for the team to win points for driving, programming and building skills.
"My biggest joy for this is seeing that you have built something that works out of all these scraps of metal," said Yee, who plans on being a lawyer when she graduates.
Wong, who helps build but also does the "driving" — using a controller that looks the same as one used for a video game — says the experience is "very intense."
Zhuang is impressed with the enthusiasm and the dedication of the students in the robotics club and hopes the school can mount a bid for the FRC competition, which starts in February, as well as win a competition in the VEX Robotics playoffs.
He is somewhat amazed at the growth of the club in the last three years but credits success among the participants, as well as more interest in STEM (science, technology, engineering and mathematics), for prompting the influx.
• For more information visit https://teamsyntechs.wordpress.com/? or to sponsor, email jzhuang@sd43.bc.ca