Port Moody fire chief Remo Faedo said farewell to the firehall last week and, in keeping with tradition for retiring chiefs, was chauffered home in a fire truck. He started as a volunteer smoke-eater in 1989; he was named chief in 2011.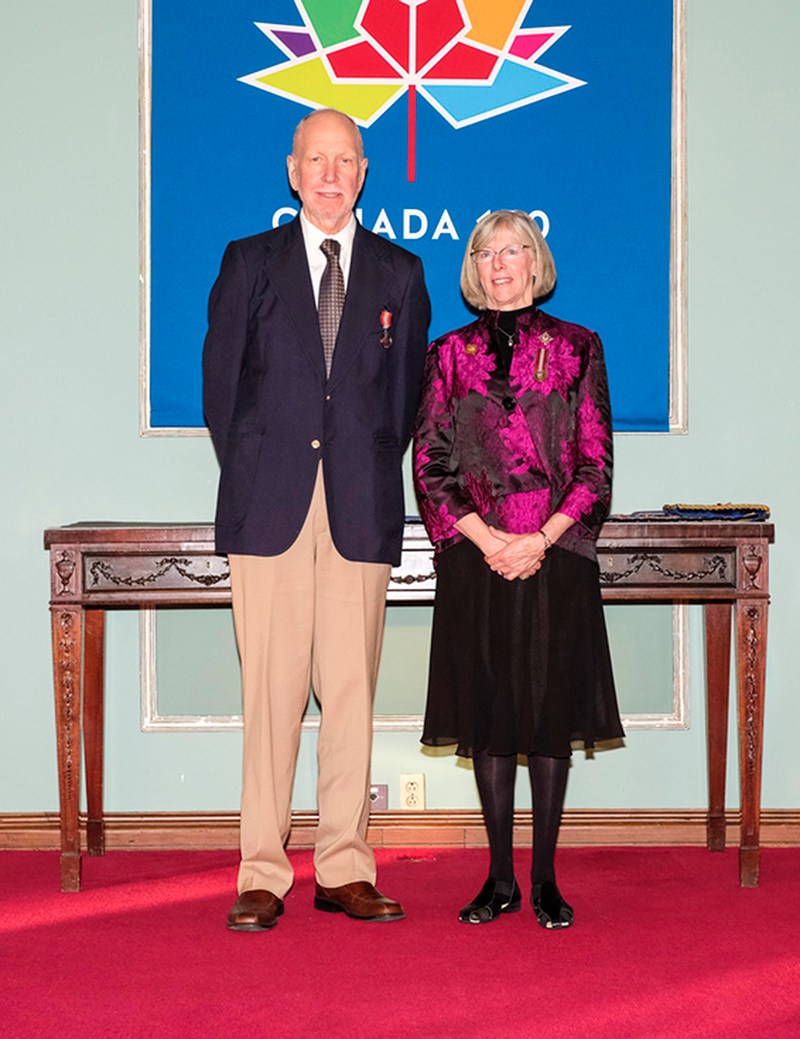 SOVEREIGN MEDAL
Coquitlam's Sandy Burpee was one of 31 British Columbians last week to be honoured with a sovereign's medal for volunteers. Presented by Lt.-Gov. Judith Guichon, the accolade recognizes Burpee's efforts with helping the less fortunate.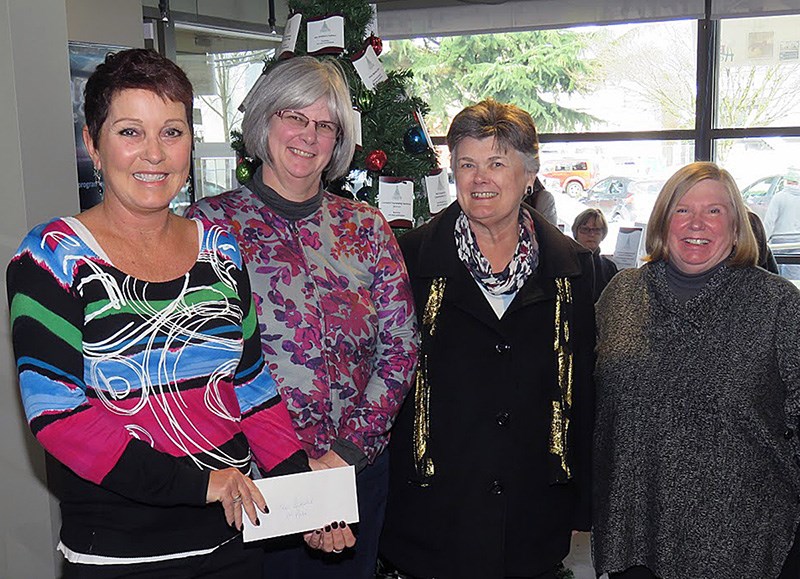 TREE FEST WRAP
PoCo Heritage wrapped up its annual Christmas tree festival last Saturday at the Leigh Square Community Arts Village, with participants enjoying the decorated trees including by TOPS and sponsor realtor Sandra Craig.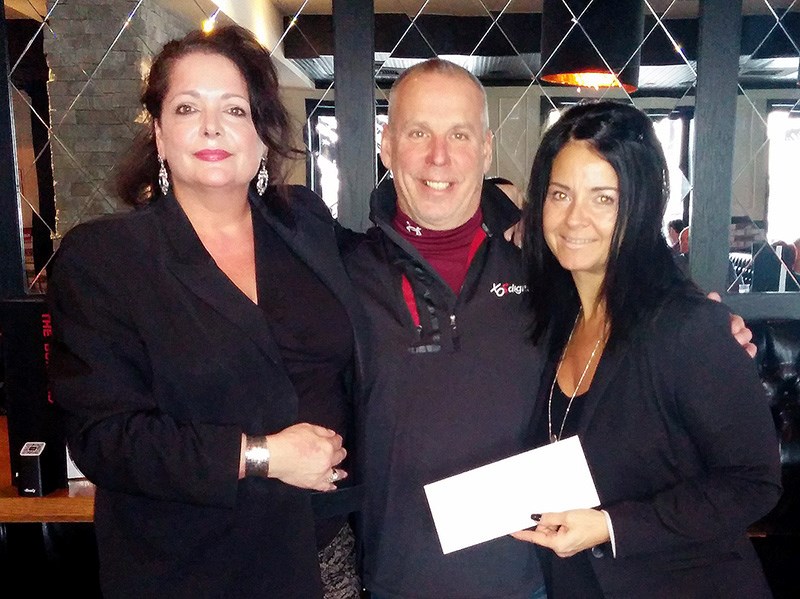 CROSSROADS SCORE
Crossroads Hospice Society scored $1,280 from a burger and beer feast, hosted last month by the Port Moody Oldtimers Hockey Association, at Burrard Public House. The cash benefitted the Crossroads Inlet Centre hospice.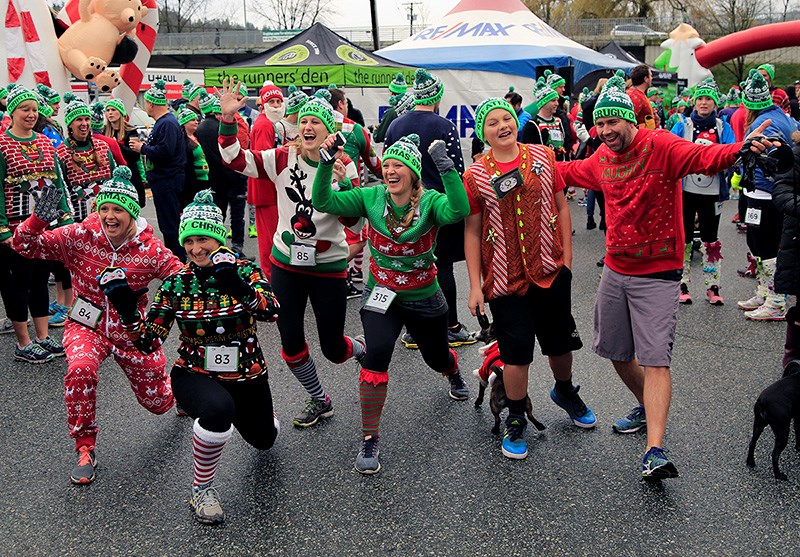 UGLY KNITS, GREAT CAUSE
The annual Ugly Sweater Dash in Port Moody last month brought out 425 participants and raised about $5,000 for the Children's Wish Foundation of Canada. The run was hosted by the Now That's Ugly Society of Port Moody.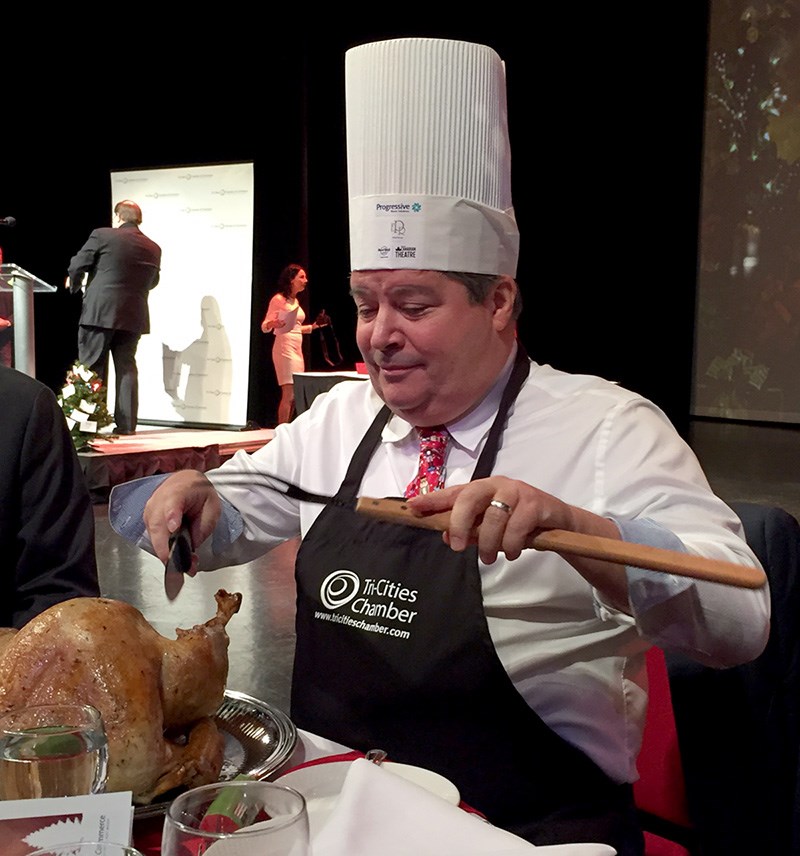 BIZ LUNCHEON
Ken Richardson, managing partner of EPR Coquitlam, carved up a turkey at last month's Christmas luncheon hosted by the Tri-Cities Chamber of Commerce, at the Hard Rock Casino. The event was sponsored in part by The Tri-City News.
LORAN FINALISTS
Three Tri-City high school students are finalists for the Loran Award, an undergraduate scholarship given to Canadians who show strength in character, service and leadership.
Kieran Cyphus (Heritage Woods secondary), Jamie Fajber (Gleneagle secondary) and Anna Yang (Dr. Charles Best secondary) are among the 84 students across the nation — and 17 in B.C. — shortlisted for the prestigious accolade. The trio has already been interviewed and, next month, will attend the Loran Scholars Foundation's national selections in Toronto.
Up to 32 Loran scholars will be picked and receive $100,000 over four years including a $10,000 annual stipend, tuition waivers from one of 25 Canadian universities, mentorship, summer internship funding, a weeklong orientation expedition in Algonquin Park and other perks.
Finalists are also eligible to win $3,000.
Port Moody's Cyphus has run the school badminton team and has increased its membership. He also started a tutoring program and, as a volunteer at the public library, helps community members learn to use technology. Cyphus plays viola in the school orchestra and is a member of the volleyball team. 
Fajber, a Coquitlam resident, co-founded his school's spoken word poetry club. He started teaching taekwondo at the age of 13 and developed a martial arts and character development program for youth. As well, he plays in the jazz band and is a cross-country runner.
And Yang, also of Coquitlam, co-founded and coaches a middle school debate team, volunteers with an anti-poverty organization and co-chairs a 500-delegate Model United Nations simulation conference. She manages the finances for a book donation non-profit and has helped the local federal constituency office. Yang is also captain of the badminton team. 
ECO-TEAM
For the second year in a row, students at Port Moody secondary and teacher Marina Mehai will take part in the BC Green Games, a digital eco-storytelling contest hosted by Science World.
The project-style, inquiry-based program allows for scientific exploration, storytelling, media arts and advocacy. 
Among PMSS' projects include an electronics drive, school garden planting and maintenance, school clean-up, adopt-a-trail initiative, fundraising for a water-filling station, creating improved signage for recycling and compost stations, and planning and implementing an eco-fair. The winners are announced April 4.
NO BULLIES
The leadership class at Port Coquitlam's Terry Fox secondary has designed anti-bullying t-shirts in the lead up to Pink Shirt Day on Feb. 22. This year's garments have the message "I Choose Kindness" and will build awareness and raise funds for KidSport Tri-Cities. To order a t-shirt for $10, email dwhitson@sd43.bc.ca.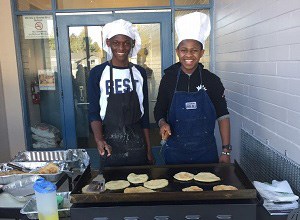 EXCHANGE STUDENTS
Students Allan Waithira and Denis Chege are back home in Kenya after a two-month stint in the Tri-Cities last fall. 
The pair was picked as part of the Butterfly Effect, an independent study course where they do projects and support other online learners. It has a cultural exchange component under PA-MOJA, a grassroots non-government organization that partners with schools across North America. 
While at Dr. Charles Best secondary, they also attended Maple Creek middle and Kilmer and Mary Hill elementary schools to share their culture and learn about Canada. 
The pair blogged about their experiences via kenyallancanada.wordpress.com and kenyachegecanada.wordpress.com.