TRES BIEN
A student at École des Pionniers-de-Maillardville won $5,000 — plus another $1,000 for her Port Coquitlam school library — in a national poetry contest.This week in Vancouver, Gabrielle Nebrida-Pepin took first prize in the bilingual stream of Poetry In Voice recitation competition after earning the best combined score of one poem in English and one poem in French. Also pictured are second and third prize winners in the category: Alyssa Howard of the Lower Canada College in Montreal and Ji They'venard of the Kitchener-Waterloo Collegiate & Vocational School.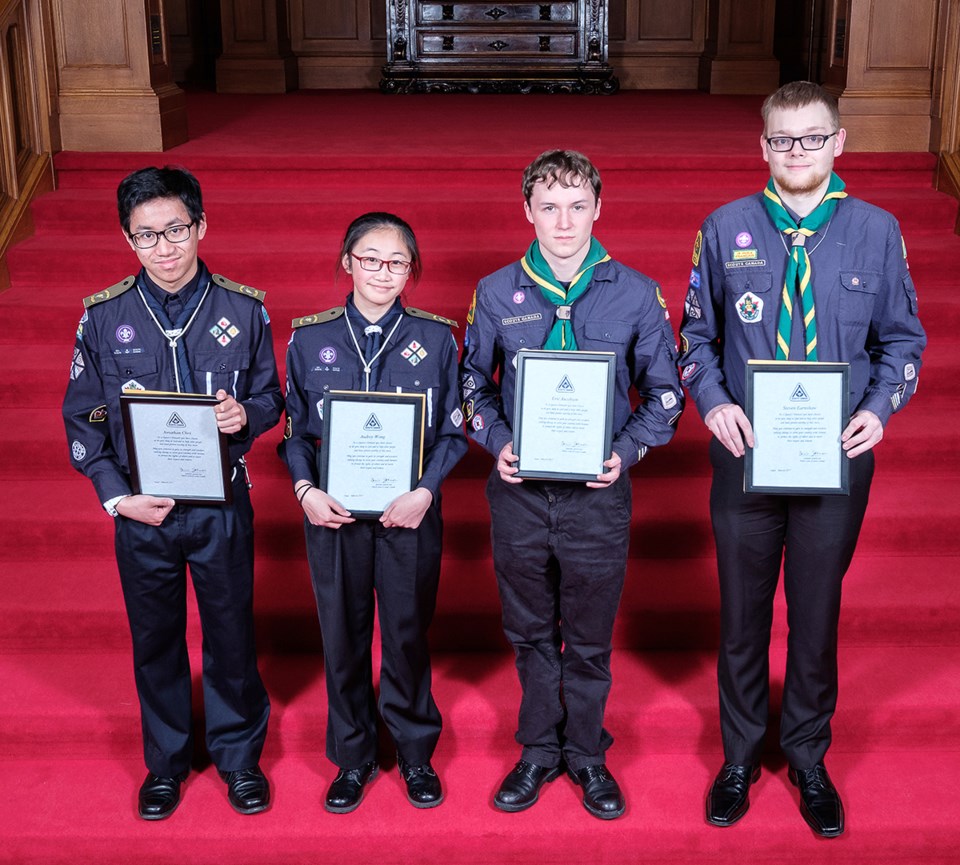 QUEEN'S AWARD
Tri-City Scouts Jonathan Choi, Audrey Wong, Eric Jacobsen and Steven Earnshaw received their Queen's Venturer Award last Saturday at Government House in Victoria. The accolades were presented by Lt. Gov. Judith Guichon.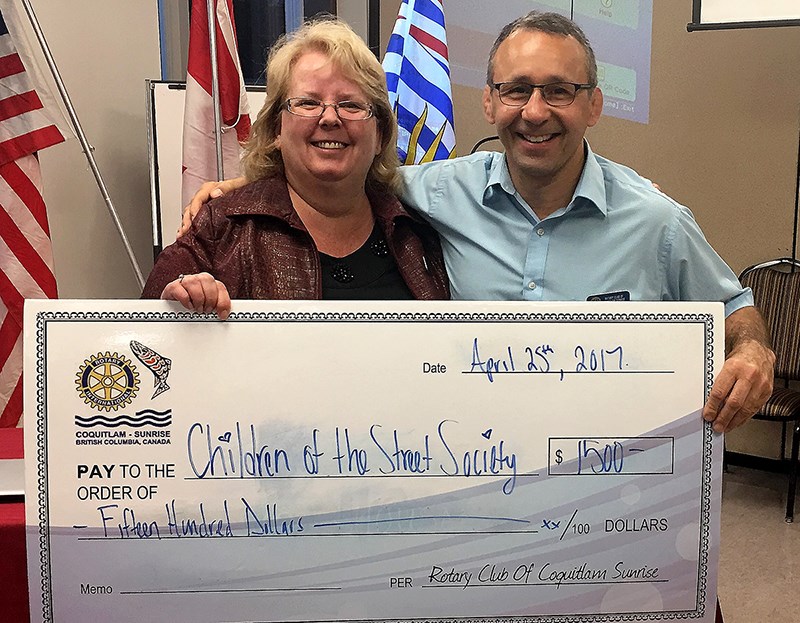 THANKS, ROTARY!
Maura Fitzpatrick of Children of the Street Society thanked Coquitlam Coun. Chris Wilson, president of the Rotary Club of Coquitlam Sunrise, for its $1,500 donation for school workshops to prevent sexual exploitation.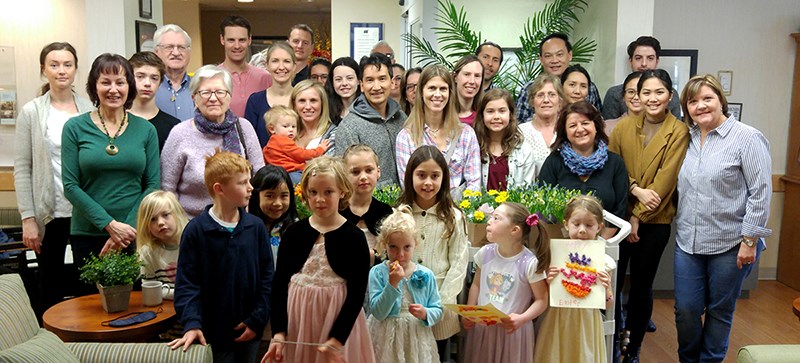 EASTER GIVING
Parishioners with St. Clare of Assisi in Coquitlam handed out Easter flowers at Dufferin Care Centre. St. Joseph's Parish in Port Moody also took part in the spring giving, at Eagle Ridge Manor on April 15. The plants were donated by Art Knapp Plantland in Port Coquitlam.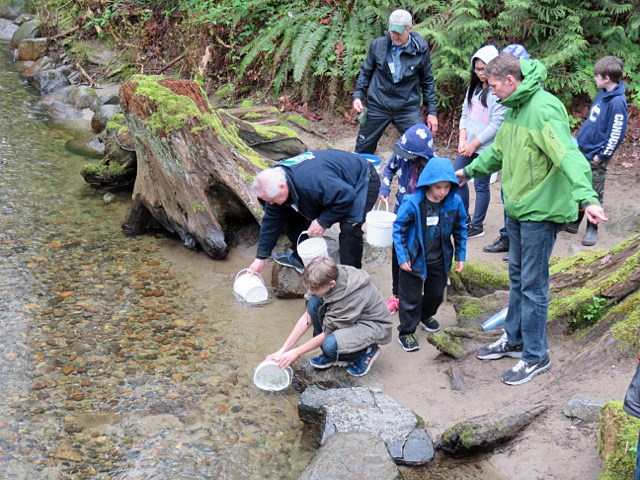 FISH BE GONE
The annual salmon release at Port Coquitlam's Hyde Creek hatchery last Saturday drew hundreds of visitors. Earlier, 60 students from Central elementary moved 7,000 chum fry from the tanks.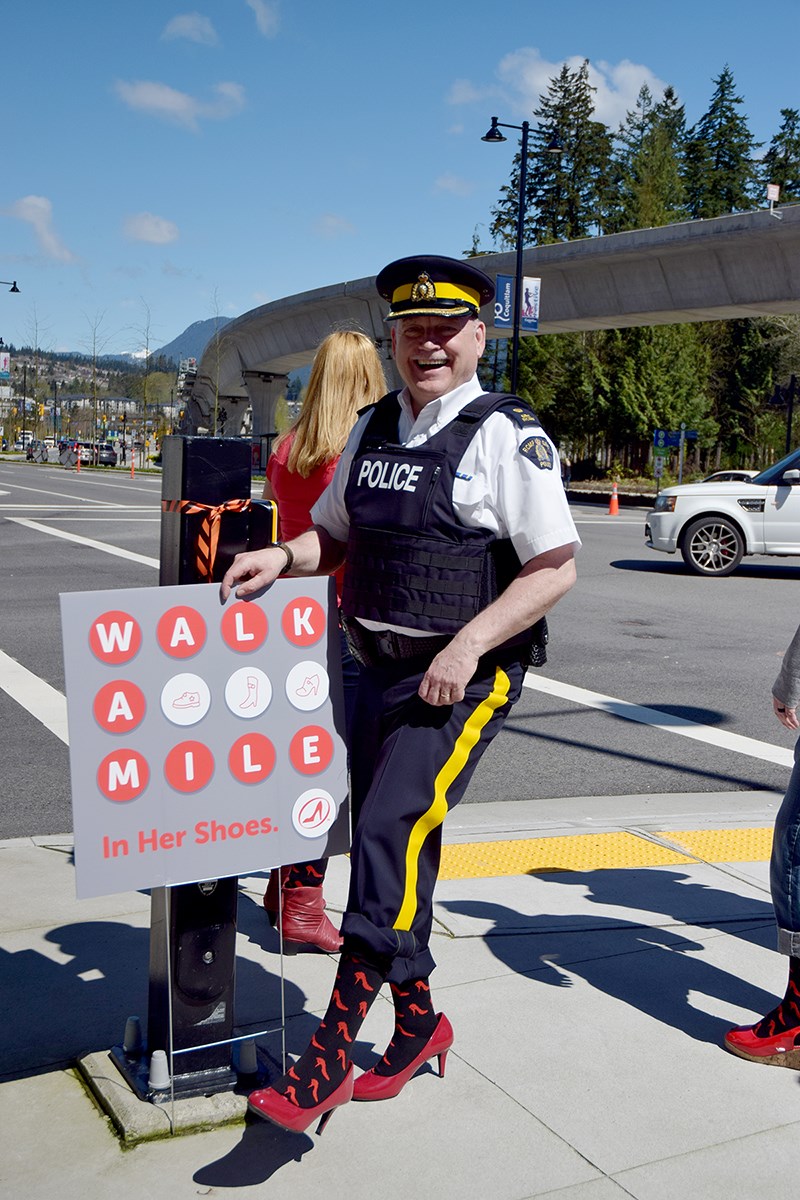 PUMPED UP
Coquitlam Mounties — including Insp. Bryon Massie — slipped on high heels last Friday for the Walk a Mile in Her Shoes fundraiser at Coquitlam Centre mall. The event, organized by the Soroptimist International of the Tri-Cities, saw more than 200 men and women take part.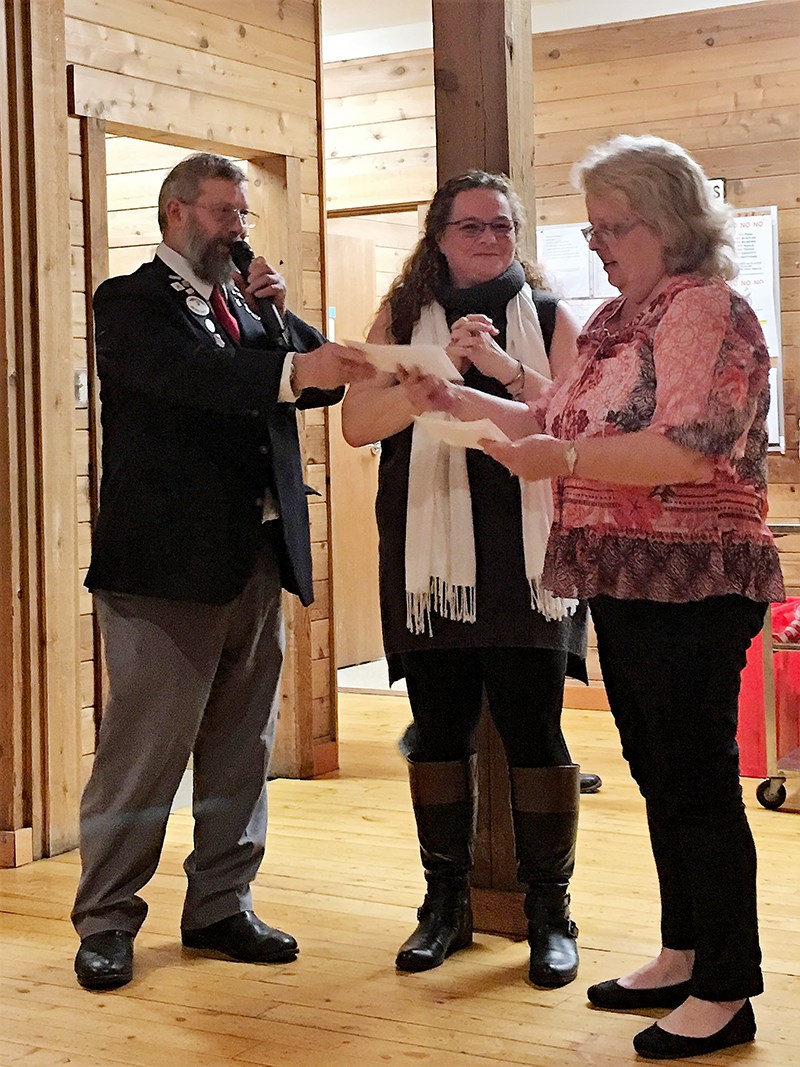 EAGLES CASH
Eric Phillips, president of the Maple Ridge Eagles #2831, and Romi McMullen, who presides over the branch's ladies' auxiliary, handed $3,500 to Maura Fitzpatrick this month to support the Children of the Street Society. Of the donation, $3,000 came from the auxiliary through its fundraising activities. 
EVERGREEN PRIZE
An annual engineering gala this month saw an award handed out for the Evergreen Line Rapid Transit Project. The Association of Consulting Engineering Companies British Columbia (ACEC-BC) presented the accolade to the line's owners, the province of B.C. and the ministry of transportation and infrastructure. Consultants SNC-Lavalin, WSP Canada Inc., McMillen Jacobs Associates and Tetra Tech EBA worked on the $1.3-billion rapid transit line to Coquitlam Town Centre.
Please send Spotlight items to jcleugh@tricitynews.com.