For centuries, cultures around the world have had festive ways to celebrate and honor brides, including through pre-wedding rituals. These traditions offer thoughtful details, clarity, and meaning for the bride-to-be. In whatever form they take, bridal showers provide family and friends with precious moments in the bride's life to connect, hope for the future, and learn from the wisdom of generations.
In India (and also carried out in other cultures in the eastern part of the world), during the mehandi ceremony (also sometimes spelled "mehndi"), intricate henna designs are applied to calm, beautify, and bless the bride. In Moroccan culture, milk baths in a hammam are a pre-wedding cleansing ritual. In Chinese culture, a hair-combing ceremony takes place the night before the wedding to cleanse and bless the bride.
The practice of preparing a bride for a new stage in life has evolved with time. The origin of the bridal shower dates back to 16th- or 17th-century Holland—it developed as an alternative to the dowry system—when a young girl's father refused to consent to a marriage because the groom did not have the means to support his daughter. As a result, friends gathered together to give the young couple gifts to start a home.
In the United States, bridal showers became popular in urban areas during the late Victorian era among the upper-urban middle class. By the 1930s, it spread to rural areas. Nowadays, bridal showers are often lavish, tailored affairs.
As we step into a season so inherently rooted in tradition, Giggster compiled a list of five things you need to know before planning a never-to-be-forgotten bridal shower. Here's how to prepare and celebrate the next season of a bride's life to create meaningful experiences that last a lifetime.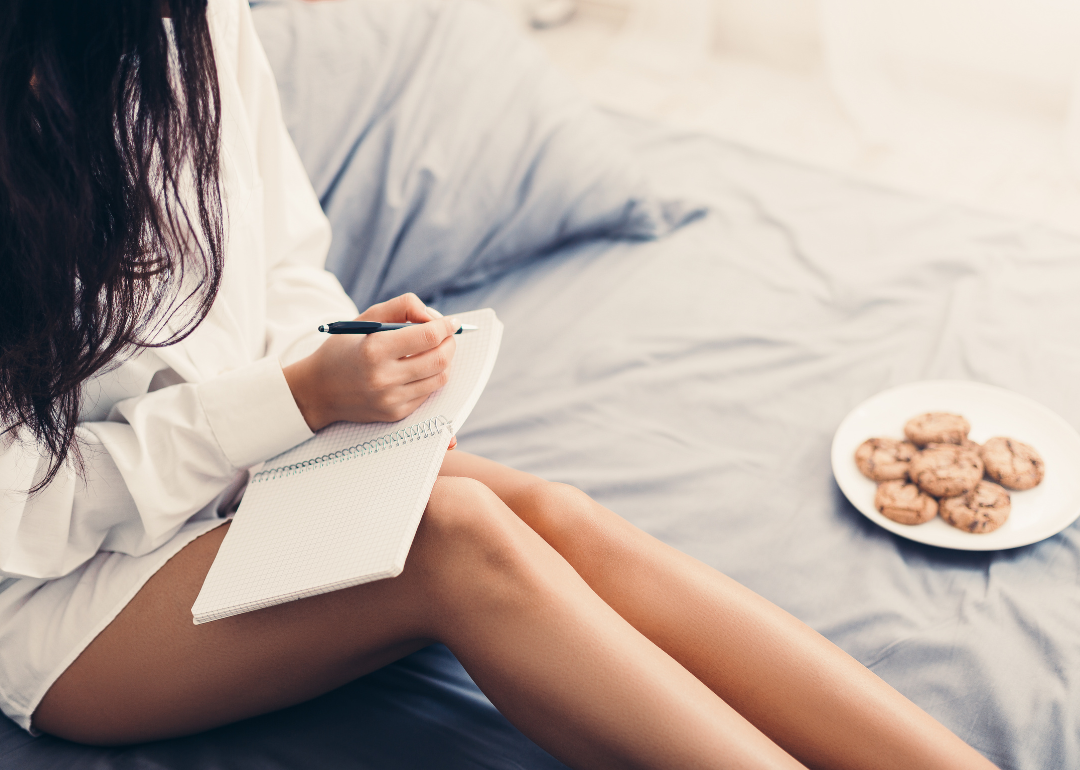 Canva
Make a list and timeline. Check it twice.
To ensure everything is in order and to add a sense of calm for those more prone to worry, create a timeline and checklist to ensure the day is memorable and stress-free. Although bridal showers typically occur two to four months before the wedding, it's best to begin planning at least four to six months before the big day to offer plenty of time to coordinate with important guests and family members to avoid scheduling conflicts. This stage is when you should sort out a guest list—usually consisting of the bridal party, the bride's closest friends, and family.
Google Sheets is an excellent tool for creating a checklist and efficiently managing a budget, guest list, to-do list, timeline, and ideas. Sharing your document with multiple people can help you plan and organize the shower.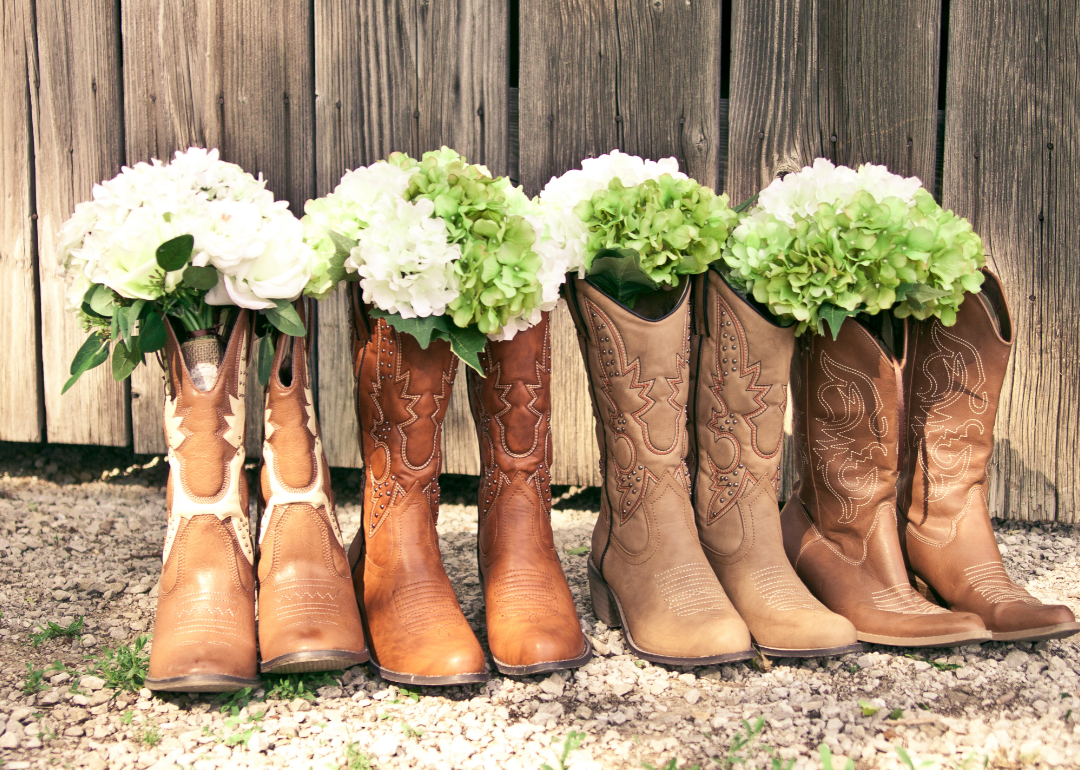 Canva
Pick a bride-inspired theme or mood.
This is where you can get as creative or stay as simple as you like. The theme should be reflective of the bride and their personality. A mood board on Pinterest can be a great starting point and a helpful way to keep the event cohesive.
Instead of a traditional bridal shower, consider a Julia Child-inspired event for a gourmand bride where guests can partake in a cooking demo and fill out recipe cards for the future newlyweds. If you want something sweet and simple, an outdoor or indoor movie night in the theme of your favourite film might spark some memorable moments.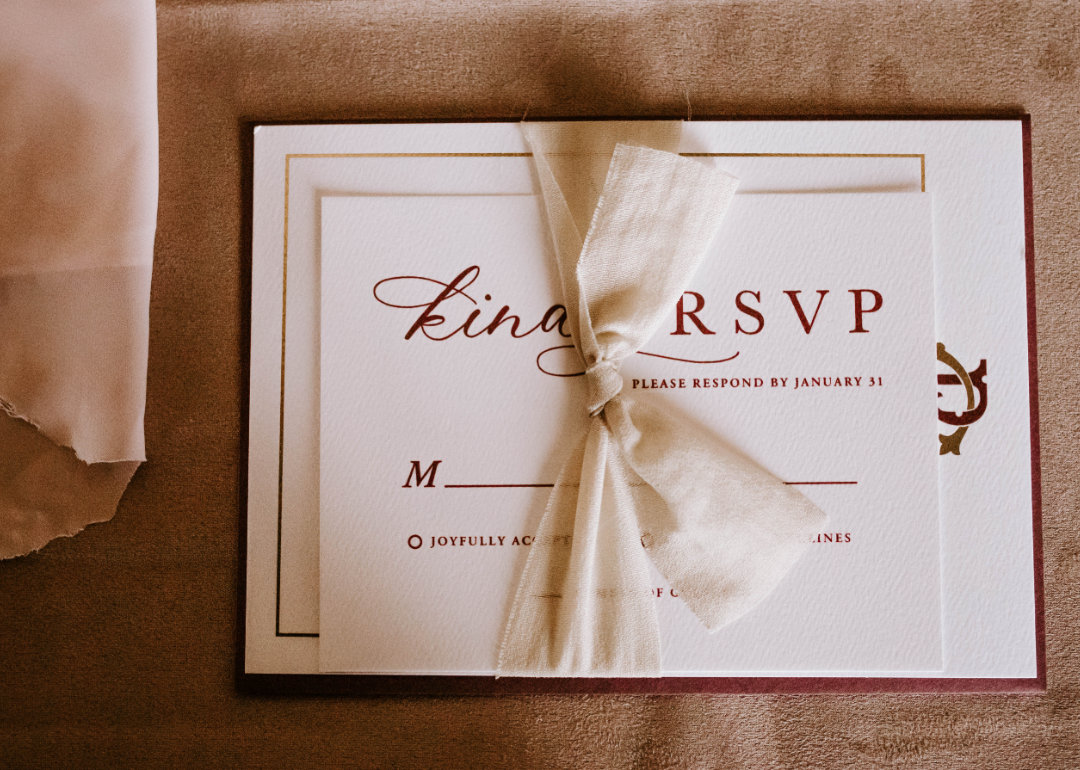 Canva
Send the shower invitations. Don't forget the registry.
Create a guest list consisting of the bridal party, family members, and close friends with the desired size of the event in mind. Once you have that squared away, send out invitations six to eight weeks before the bridal shower (regardless of whether invites are sent digitally or by mail).
Invites should relate to the theme and include essential details such as date, time, place, dress code, and contact information for RSVPs. Don't forget to direct guests to the wedding website or registry should you have one, even though it's not quite yet the big day. Some guests might like the extra time to consider what gifts to give. It's considered proper etiquette only to invite people who are also invited to the wedding.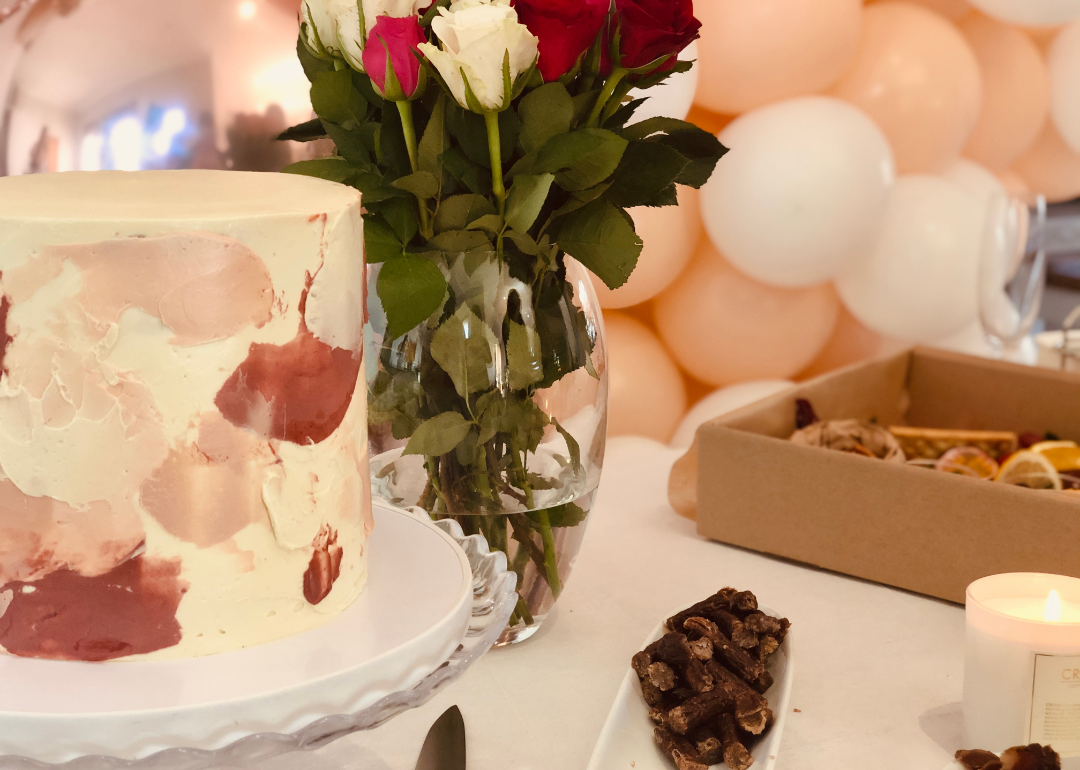 Canva
Have fun with the bridal shower decor and game alternatives.
Pick decor and games that speak to the theme and have fun with them. You don't have to go all out to create a personalized experience for the bride—unless you want to, of course. A photo backdrop can provide a focal point for snapshots to capture the special day. The couple can also use it for the wedding should it fit the motif.
Get creative with DIY decorations to turn out unique customized party details. Those looking for alternatives to playing bridal shower games can opt for a group activity like paint and sip or asking guests for words of advice or ideas for a date night to be written and placed in a jar.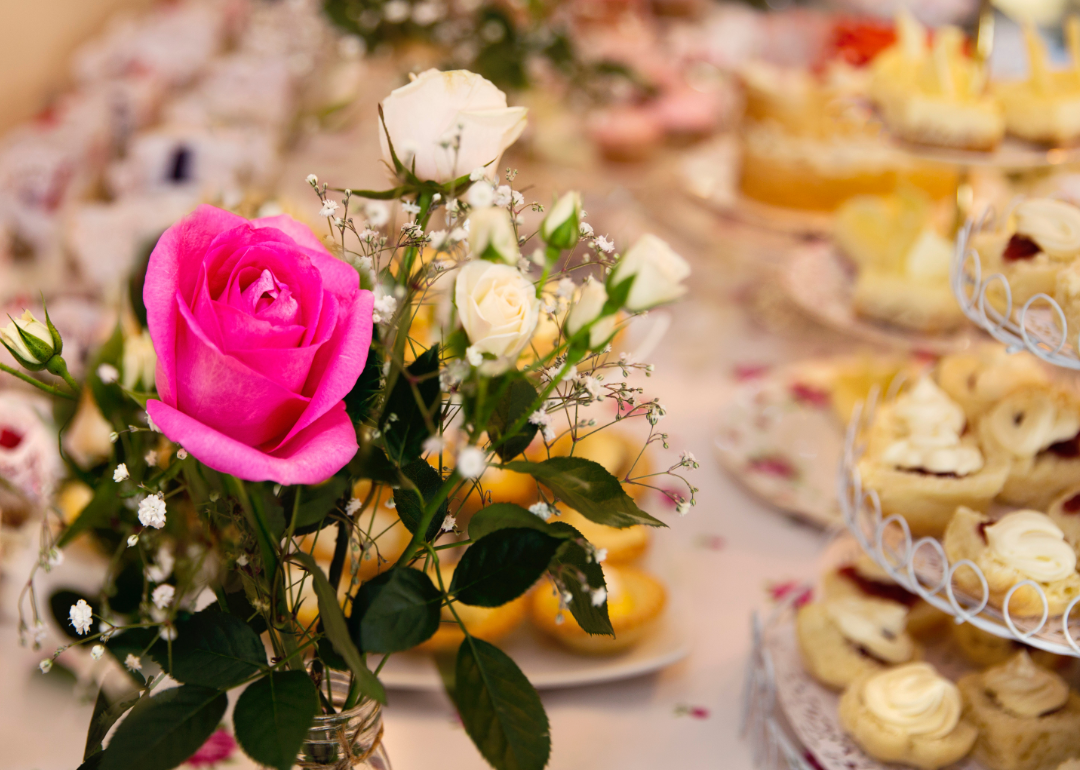 Canva
Create a menu for everyone.
Regardless of the theme and location of the event, you'll want to provide food and refreshments that takes the varied needs of your guests into account. You can't go wrong with a charcuterie board—or any type of grazing table for that matter—not only are they beautiful displays, but there's something for everyone.
When it comes to libations, a signature cocktail is a nice touch, but Champagne is a classic option, too. Mocktails are also a thoughtful gesture that ensures everyone can join in the fun, which in the end, is all that a bride-to-be wants.
Story editing by Carren Jao. Copy editing by Kristen Wegrzyn. Photo selection by Lacy Kerrick.
This story originally appeared on Giggster and was produced and distributed in partnership with Stacker Studio.