For over 135 years, savvy shoppers have been stretching their dollars by using coupons to save on everyday purchases from food to clothing. The first single-product coupons, aimed at getting buyers to try new items, expanded to store-based coupons in the 1940s as grocery store chains tried to lure shoppers from smaller local businesses. By 1965 half of Americans were using coupons. The trend continued to grow over the next few decades, peaking in 1992 with 7.9 billion coupons used that year.
Although coupon use has declined in recent years, most consumers still take advantage of these cost savings. Nearly 90% of U.S. shoppers surveyed by Statista in 2020 reported using coupons at some point. Furthermore, an astounding 79 billion coupons were distributed in the first half of 2022, 375 million of which were redeemed, according to a June 2022 study conducted by Vericast. The digital coupon market is particularly active, with an estimated global value of over $4.6 billion in 2020.
CouponBirds compiled a list of things you didn't know about the rich history of couponing from a variety of news outlets and reports. Keep reading to learn about 11 milestones that helped make couponing what it is today.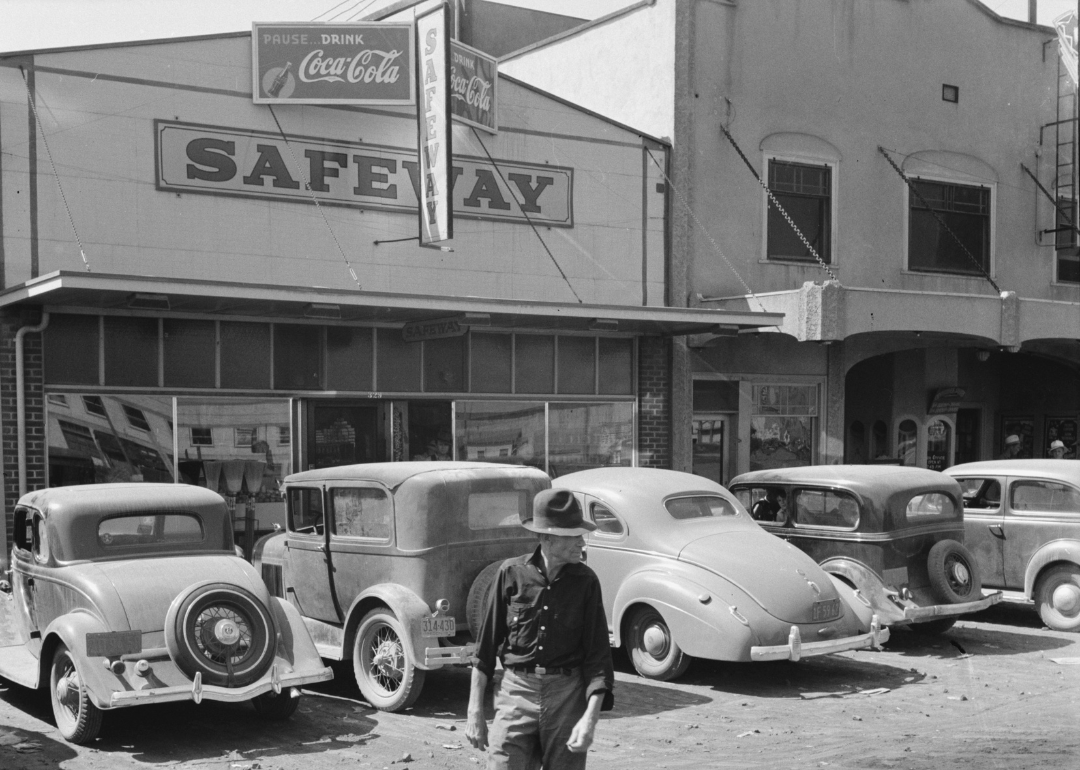 Heritage Art/Heritage Images // Getty Images
Coca-Cola introduced the first coupon in 1887
Coca-Cola is a well-known brand in households across the world today, but that wasn't always the case. Invented by John Pemberton in 1886, the soda initially only sold about nine glasses each day at 5 cents apiece. This all changed the following year when co-owner Asa Candler had a groundbreaking idea: handwritten tickets—now known as coupons—that allowed consumers to try the drink for free. Candler's innovative marketing strategy was a huge success, helping the brand grow over the next eight years. By 1895, Coca-Cola was sold in every state in the U.S., and by 1913 an estimated 8.5 million free drink coupons had been redeemed.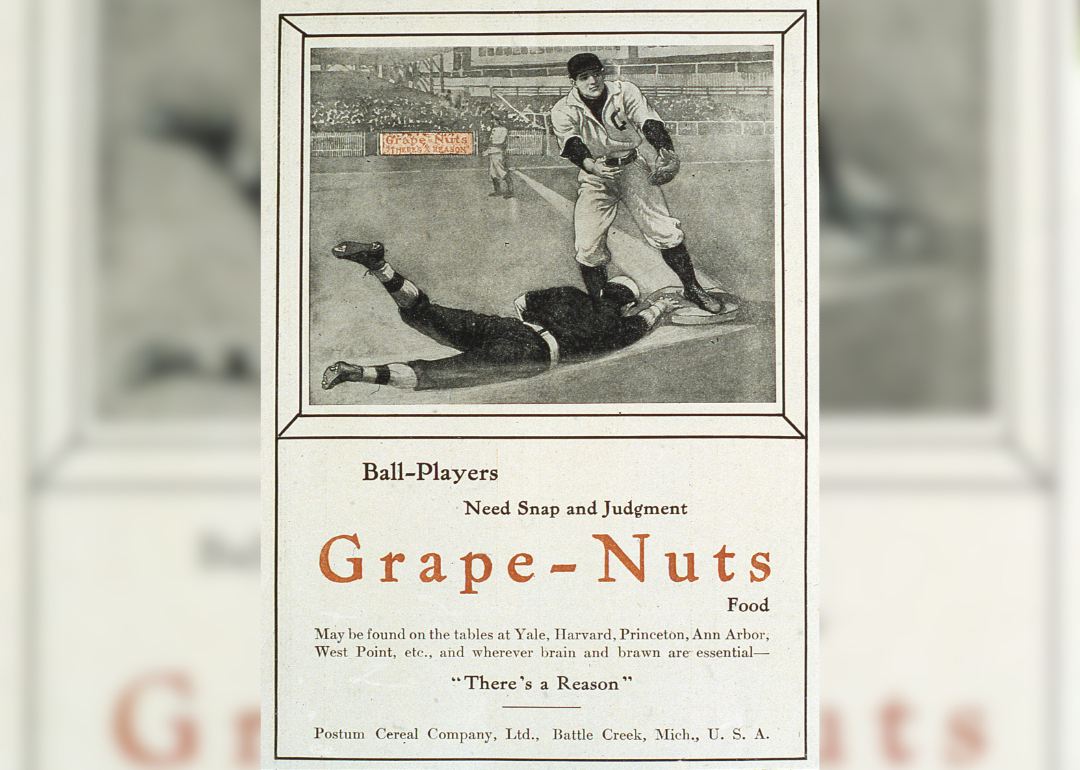 Transcendental Graphics // Getty Images
Grape-Nuts released the second known coupon in 1909
Grape-Nuts was another new grocery item working to grow its brand around the turn of the 20th century. This healthy cereal was developed by C.W. Post in 1897, although the name may be misleading—there are no grapes or nuts in it. Instead, the breakfast staple is made with wheat and barley, providing 100% of the recommended daily amount of whole grain in each serving. Over two decades after Coca-Cola launched its free coupon for soda, Post decided to piggyback on this idea. In 1909, Grape-Nuts released the second known U.S. product coupon, offering 1 cent off each package of cereal.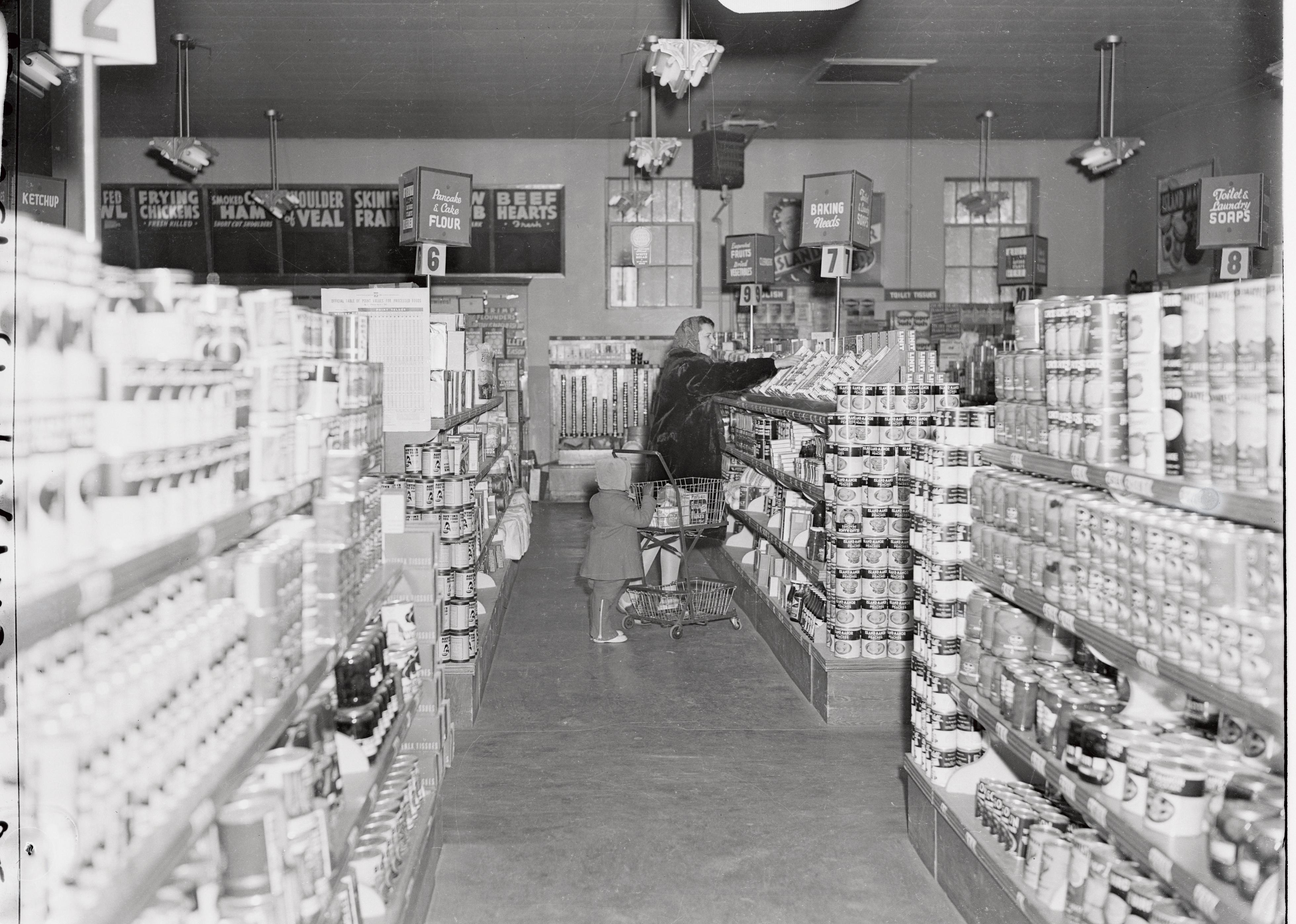 Bettmann/Contributor // Getty Images
Coupon use grew exponentially during the Great Depression from 1929 to 1941
Lasting over a decade, the Great Depression marked the longest, most significant economic downturn in U.S. history. The stock market crashed, banks failed across the nation, unemployment rates rose, and families struggled to make ends meet. Although prices for food items fell, many still struggled financially and feared losing what little money they had left. One penny-pinching strategy that grew greatly during this time was using more coupons to help cut grocery costs. This practice continued even after the Great Depression ended, as frugality and couponing became an ingrained lifestyle for many Americans.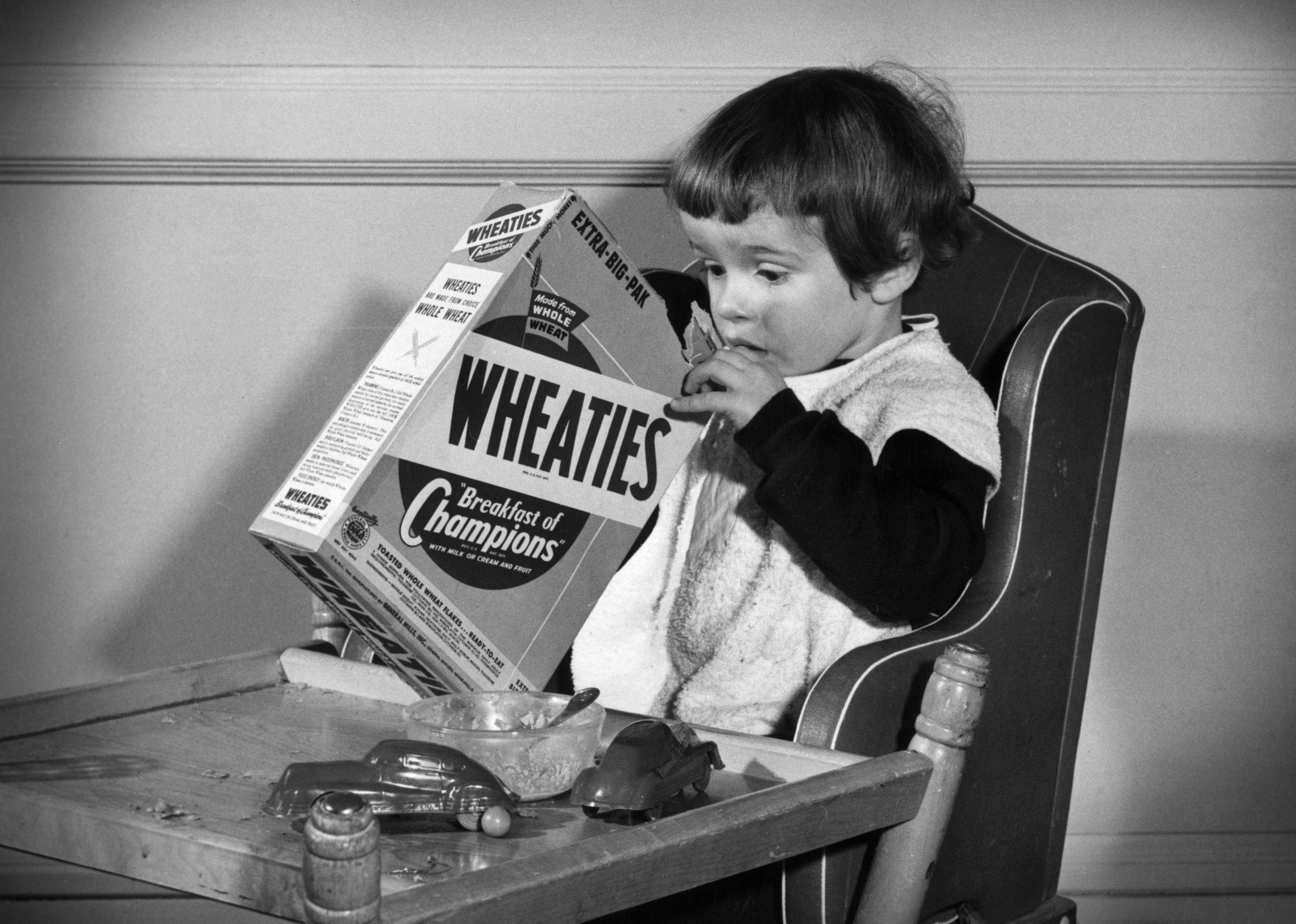 Frederic Hamilton/Hulton Archive // Getty Images
General Mills launched their long-running loyalty program in 1931
During the Great Depression, General Mills introduced a new strategy to increase sales. Their loyalty program began in 1931 when the company included a coupon for a free teaspoon in packages of their Gold Medal flour and Wheaties cereal. This offer was a great success, and by 1937 General Mills was printing coupons on Cheerios boxes, Hamburger Helper packages, Betty Crocker baking mixes, and nearly 200 more product packages.
From there, the program evolved into a full catalog in 1962 and took on the well-known moniker "Betty Crocker Points" in 1989. Loyal shoppers continued to save and redeem their coupons to purchase everything from cookware to toys at a reduced fee until the program ended in 2006.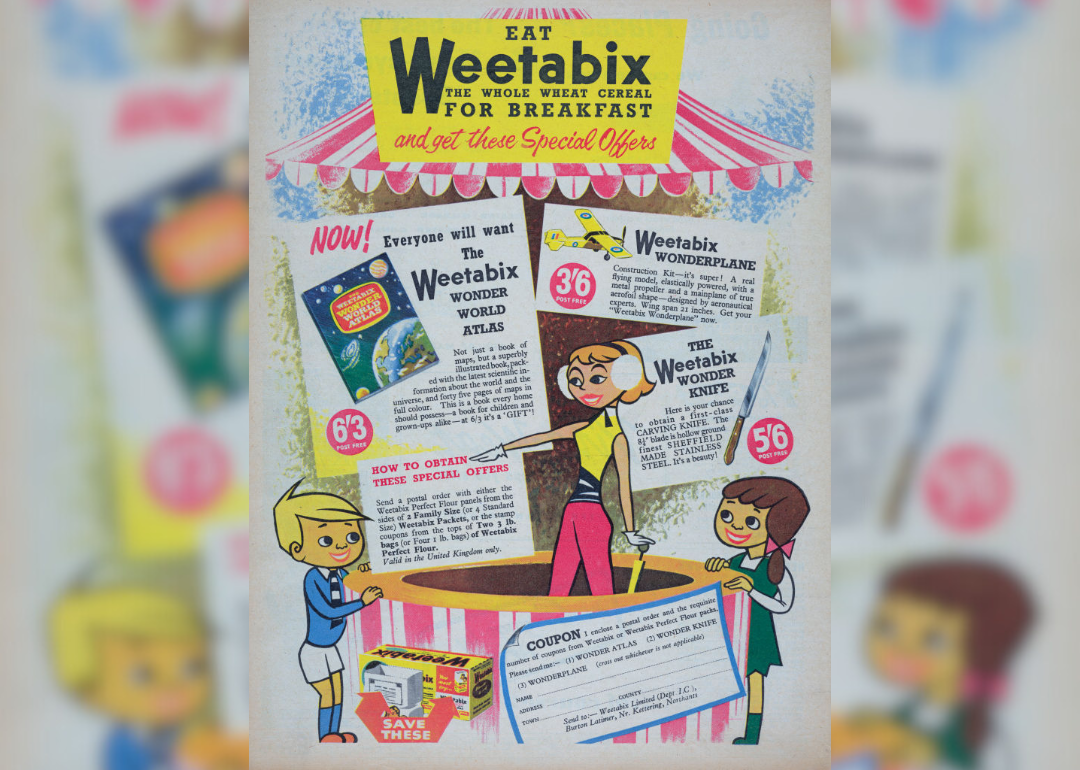 Picture Post/Hulton Archive // Getty Images
Nielsen Coupon Clearing House was established in 1957
As coupon use continued to grow throughout the mid-20th century, it became evident that a new system was needed to quickly and accurately process these tiny pieces of paper. In 1957, marketing research company Nielsen created the first coupon clearinghouse in the U.S. to help meet this need.
What does a coupon clearinghouse do? First, retailers submit all the coupons redeemed by their customers, which the clearinghouse organizes by manufacturer. The clearinghouse then totals up the coupons and invoices of each manufacturer to ensure retailers are appropriately reimbursed. For their hard work, the clearinghouse earns a set amount per coupon processed, along with applicable shipping and handling fees.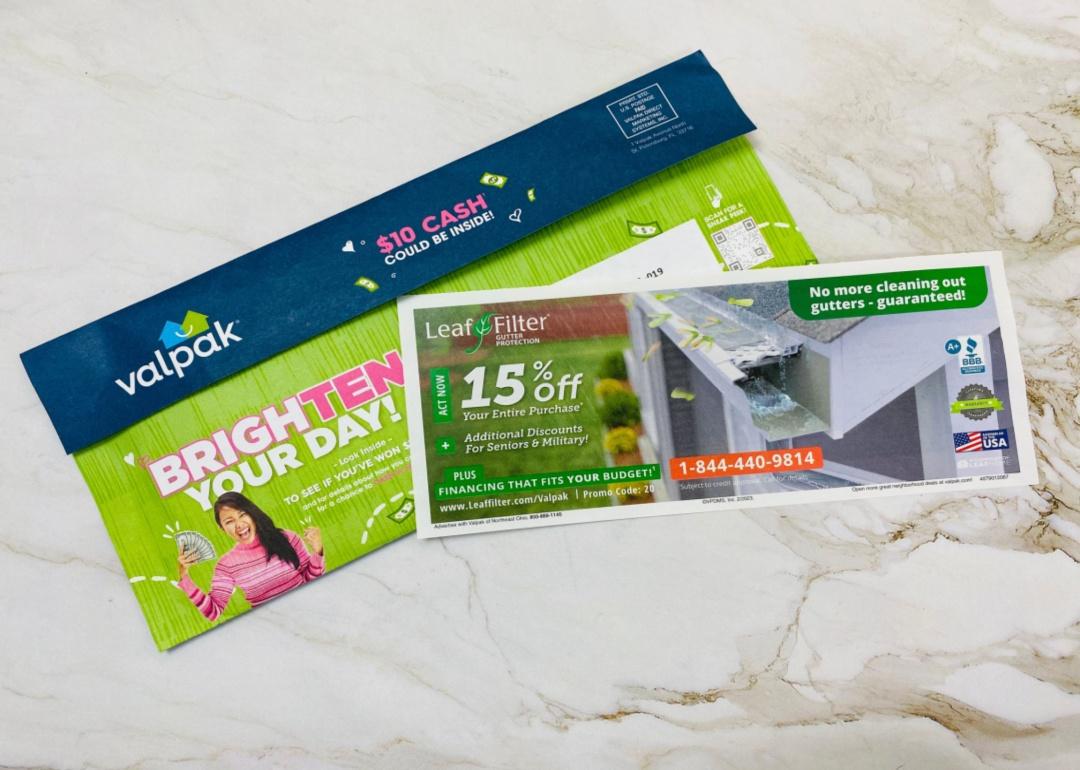 rchat // Shutterstock
Valpak introduced coupons via direct mail in 1968
In the late-1960s, Valpak founder Terry Loebel came up with a creative new way to get coupons in the hands of consumers: direct mail. The first mailing consisted of 14 coupons sent out to just 20,000 residences in Clearwater, Florida. This direct marketing approach was well-received and has grown tremendously over the decades. Valpak now has 140 offices operating in 42 states. Each month over 41 million of the company's signature blue envelopes—filled with advertisements and savings for local and national businesses—are mailed to homes across the U.S.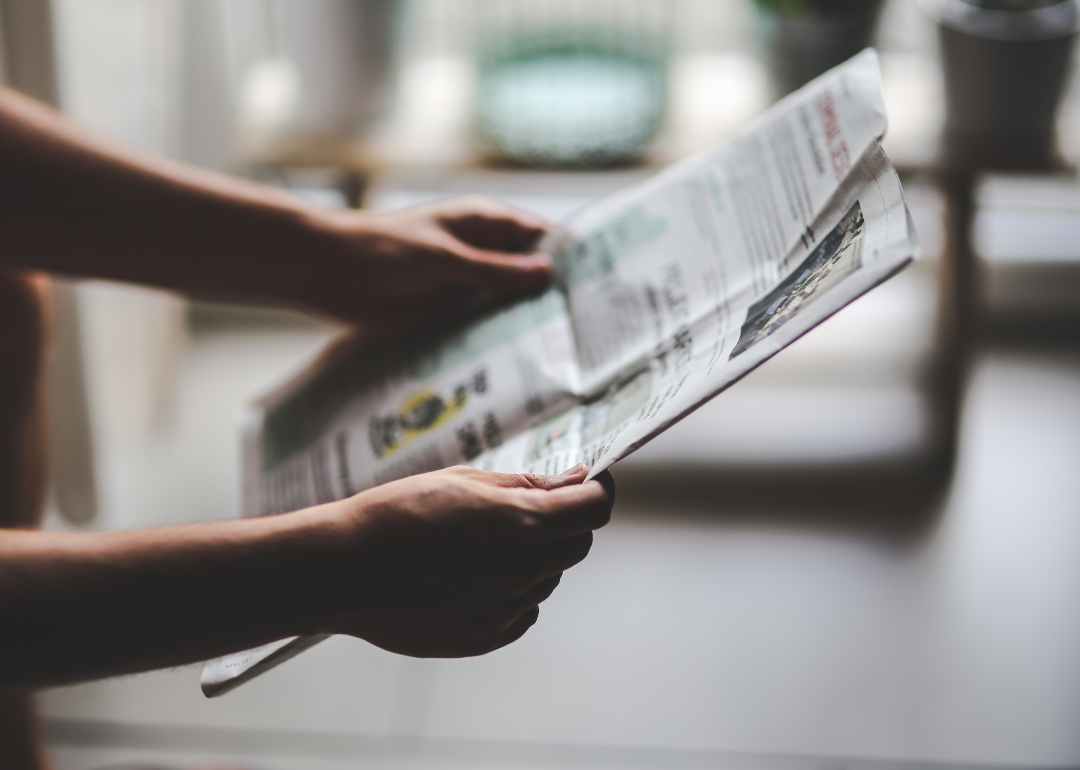 Canva
The first newspaper coupon inserts appeared in 1972
In the early-1970s, George F. Valassis created a new way to share product savings more broadly across the country: inserting coupons into newspapers. This marked the first time manufacturers had a consistent publishing date and means of distributing their coupons on a weekly basis.
While Valassis certainly popularized the concept of multiple brand coupons in one package, other printing business owners did come up with similar concepts on a smaller scale, such as Ted Isaac of Kansas, whose Isaac's Consumers Circulation Company would mail out an envelope stuffed with coupons or "flagwaver" inserts—which were heavy-stock paper featuring four coupons cut along the side of the page that waved like flags—in the late 1960s. Valassis remains a successful business today. The marketing company is also keeping up with trends in technology by offering e-coupons in addition to their Sunday newspaper inserts.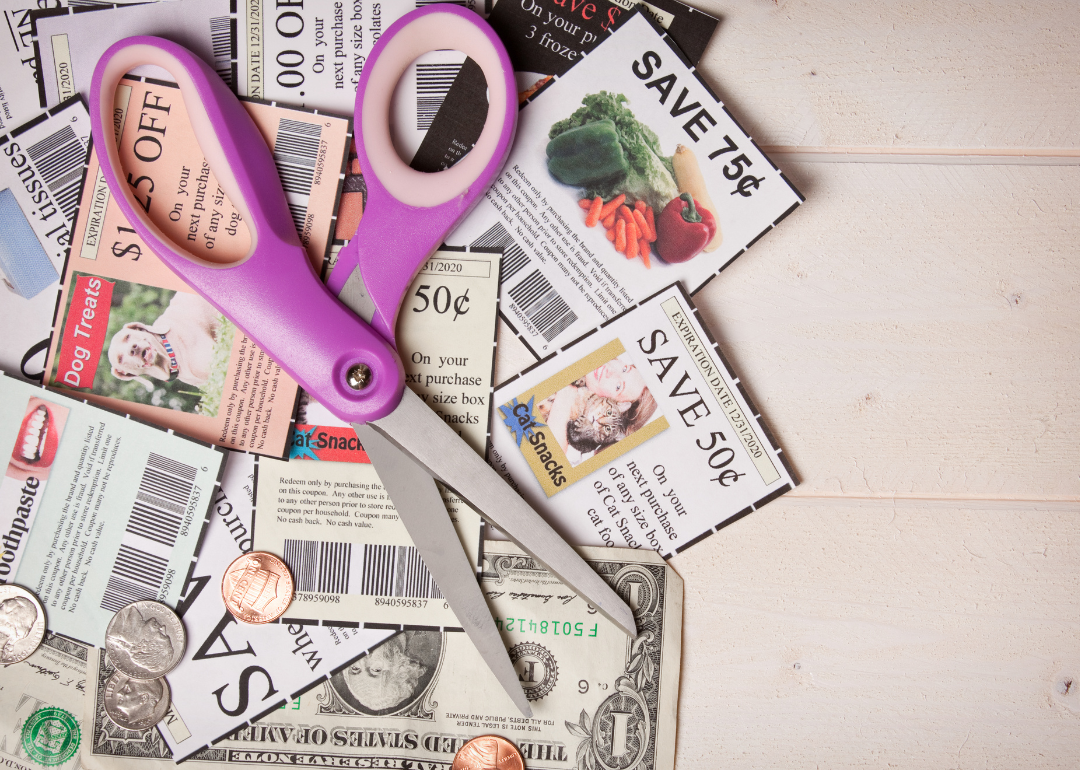 Canva
The first National Coupon Month was celebrated in 1998
Couponing is a year-round activity, but did you know there is a specific month dedicated to celebrating the craft of saving money? In 1998, the Promotion Marketing Association wanted to try a new approach to increase coupon awareness and use. As a result, September was declared National Coupon Month. Throughout the month, various manufacturers and coupon sites offer special promotions, like high-value coupons, that are not normally available during the rest of the year. This makes September a great month to watch for deals on everything from groceries and drug store items to restaurants.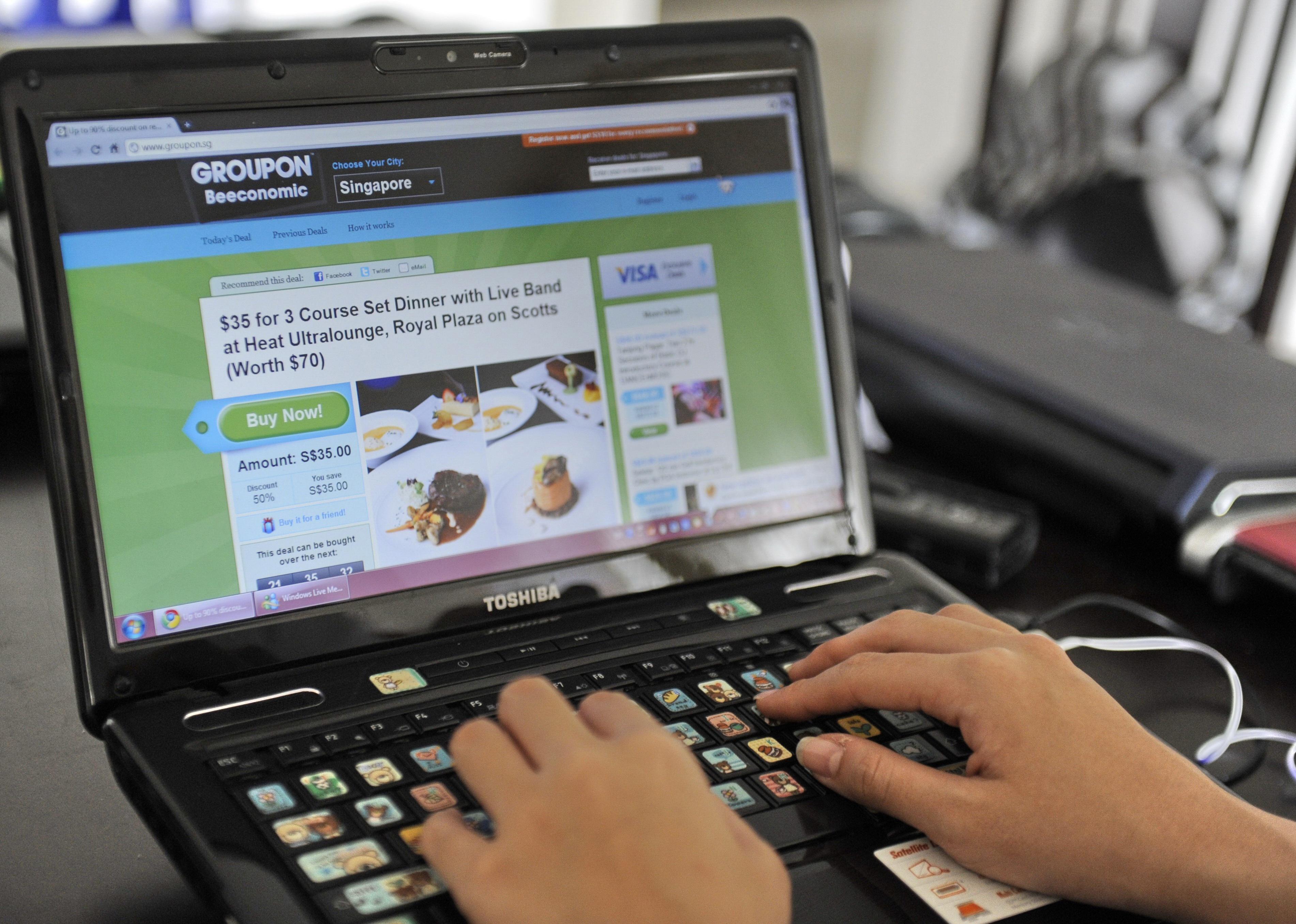 SIMIN WANG/AFP // Getty Images
Coupons went digital in 2010
As the internet grew during the 1990s, printable coupons and coupon codes emerged, giving savvy shoppers more options for saving. The rise of cell phones during the next decade then took couponing to a whole new level. In 2010, Target became the first national chain store to offer mobile coupons.
To redeem a mobile coupon, customers simply present their phone at checkout for the cashier to scan a barcode displayed on the screen. Mobile coupons remain an easier option for many shoppers than cutting coupons from newspaper inserts or printing them online. Some retailers also allow these digital savings to be combined with paper manufacturer coupons—or "stacked," in couponing lingo—for double the savings.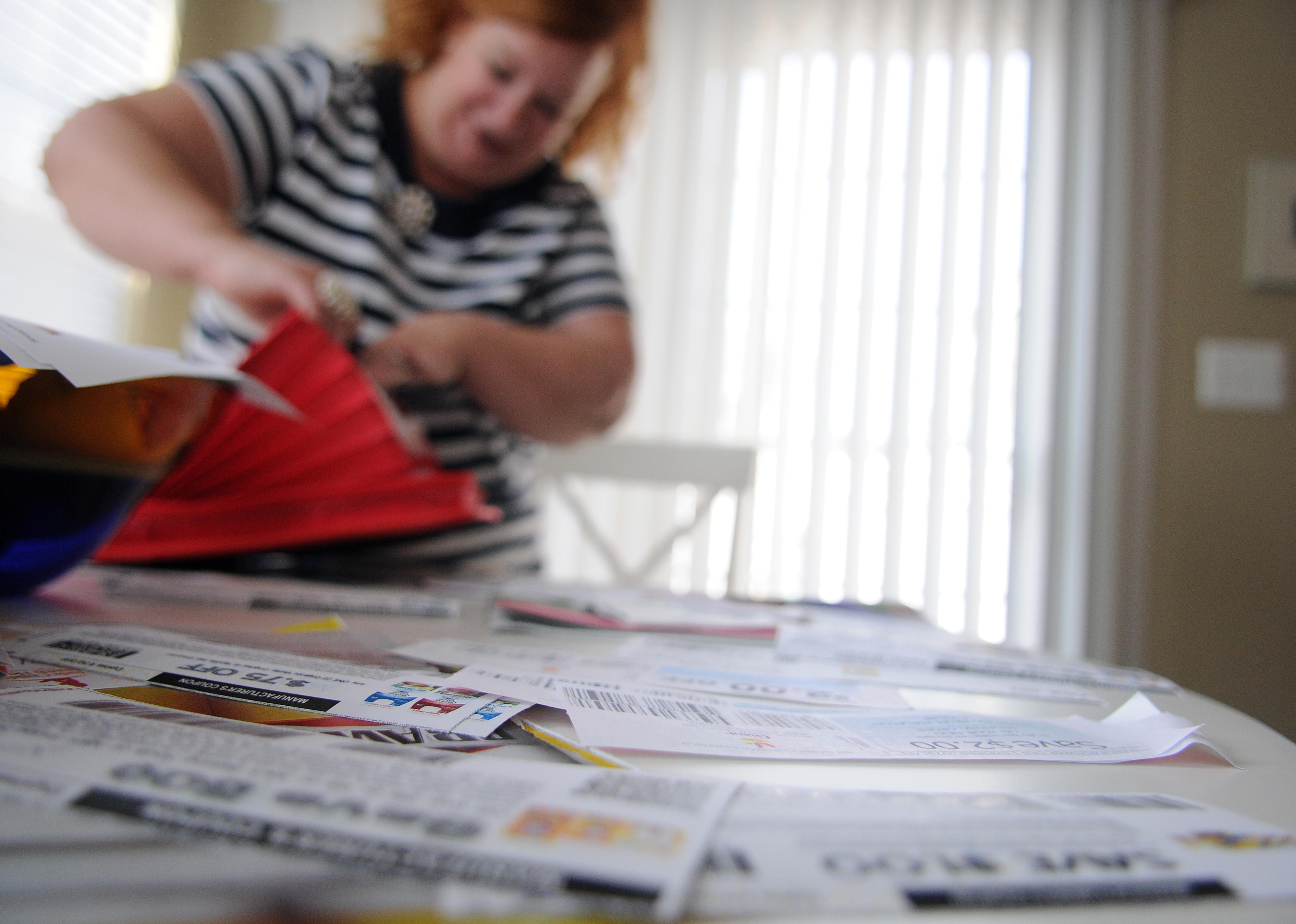 ASTRID RIECKEN For The Washington Post // Getty Images
Couponing became a nationwide craze with TLC's 'Extreme Couponing' in 2011
Riding the wave of popular reality TV shows and docuseries, "Extreme Couponing" debuted on TLC in April 2011. For five seasons, the show featured couponers scoring big supermarket hauls for little to no money and showing off their enormous product stockpiles at home. The show did a decent job of teaching couponing basics to the general public, from how to obtain and organize coupons in binders to strategies for buying based on sales cycles and store policies.
However, the shoppers' hauls often looked too good to be true—and that's because they were. Since the series aired, it has come to light that fake coupons were used by many shoppers, and both store and coupon policies were not followed on some of the shows.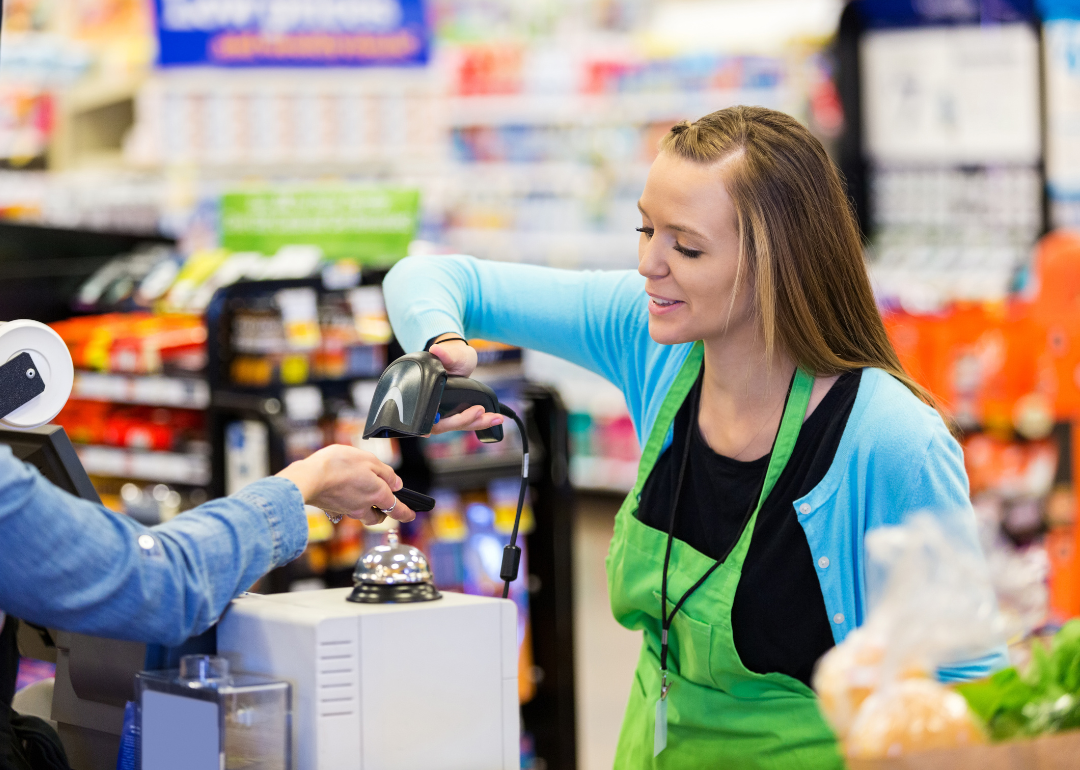 Canva
Interest in couponing increases in 2022 due to inflation
Prices for goods rose 9.1% from June 2022 compared to the year before—the highest increase in the last four decades, according to the Bureau of Labor Statistics. While inflation has cooled down somewhat to 4.9% in April 2023 versus a year prior, consumers undoubtedly still feel the pinch, which is why many reached for the handy coupon to save a little here and there. A July 2022 survey by U.S. News & World Report found that more than two-thirds looked for digital coupons while shopping and more than half looked for coupons at least once a week.
Social media apps like TikTok have also made couponing cool. A search for #coupons on the platform yields videos viewed 1 billion times collectively from accounts like torok.coupon.hunter (2.8 million followers), couponwithkayla (2.2 million followers), and citycouponmom (1.2 million followers). As the economy continues on its rocky road, more and more consumers will certainly be looking for ways to save, and coupons are proving to be a more than one-century-old option that continues to stay relevant.
Data reporting by Jared Beilby. Story editing by Carren Jao. Copy editing by Tim Bruns. Photo selection by Lacy Kerrick.
This story originally appeared on CouponBirds and was produced and distributed in partnership with Stacker Studio.