The fairytale started two years ago with an artist's residency on the Italian island of Sicily, in the Mediterranean Sea.
Then, west coast painter Joanne Hastie and her husband were in Graniti — a small, mountainous town on the island — that hosts domestic and international creators for a mural making program.
Hastie instantly fell in love with Graniti Murales and asked its director if she could return with a group of fellow artists.
Back home in Vancouver, Hastie contacted 13 women in her art circle she knew might be interested, including Port Moody's Melanie Ellery.
And, to her surprise, all but one agreed to the invite.
Last fall, after brainstorming and fundraising via social media, the women — Hastie, Ellery, Deborah Bakos, Morgane Billault, Jenn Brisson, Rosemary Burden, Angela Gooliaff, Tannis Hopkins, Sheree Jones, Alison Keenan, Carol McQuaid and Lori Popadiuk — boarded a plane for their group residency, each taking a month to design and install their giant artwork.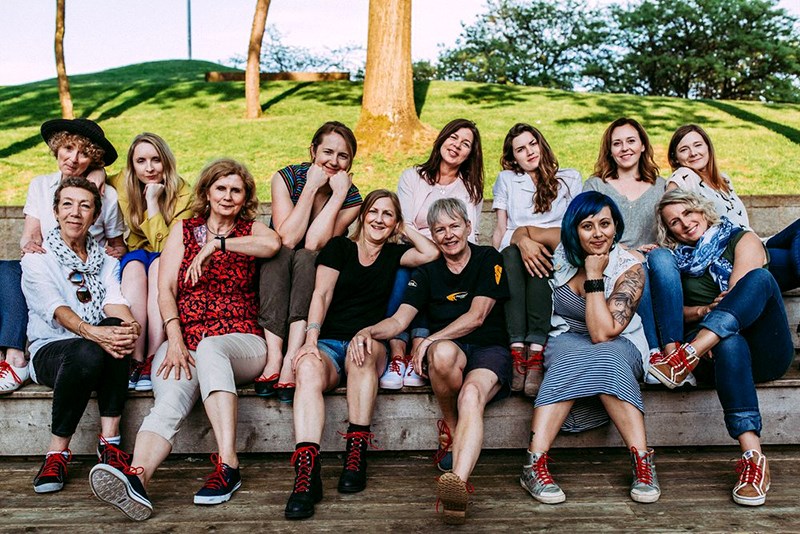 Ellery said it was the first time she had used an ancient wall as a canvas. "I had never done a mural before," she told The Tri-City News last week.
Buoyed by their adventure, which concluded with a walking tour for the public, the women flew back to YVR and promised to stay in touch.
But after a few weeks, "We felt something was missing," Ellery said. "It was such a magical experience to share with other people that we wanted it to continue in some way. We were still on a high."
In January, the artists met again to plan their next steps.
They formed the 13 Feet off the Ground Collective, aimed at exhibiting their individual work around Metro Vancouver in group settings.
Thursday, 11 of them will have their paintings and installations up at the Port Moody Arts Centre (2425 St. Johns St.) for a new show titled From Where We Stand; the opening reception is from 6 to 8 p.m. 
It will be followed by an artists' talk on July 19 at 7 p.m. (visit pomoarts.ca to save a seat) as well as illustrated lecture in August at the Harmony Arts Festival, in West Vancouver and a talk at a Richmond gallery.
"We've got a busy summer," Ellery laughed.
Having an all-female crew is empowering and energizing, she noted. Each week, on her Instagram page (@elleryart) and via #artcrushwomen, Ellery features images from female painters she admires. "I'm a real proponent of supporting other women artists," she said, adding, "I've realized there's so much competitiveness in the world and women have to stand together."
"Amazing things can happen when you support your sisters."
* Also opening Thursday night at PMAC are Pescadería and Être Fleur Bleue by faculty members Agata Teodorowicz and Malory Tate; the latter is the facility's ceramic artist in residence. Tate's artist talk is Aug. 9 from 6:30 to 8:30 p.m.
jcleugh@tricitynews.com