If there's one thing the City of the Arts is lacking, it's more space for artists to create.
That's the sentiment of Port Moody Coun. Zoe Royer, the municipality's arts and culture committee chairperson who's championing a new proposal for more artist studios in Moody Centre.
Last week, a day after Gallery Bistro and the adjacent vacant grocery store caught fire, Royer — the owner of Silk Art Gallery, which also had smoke and water damage from the blaze — was meeting with property owners to tour potential artist studio sites.
Royer said she was so buoyed by what she saw, she had the item added to her committee meeting agenda that night (draft minutes have yet to come to city council for approval).
"We know in the City of the Arts that we have many, many dozens of people looking for space and potentially, in the Tri-Cities, it's hundreds," she told The Tri-City News last Tuesday, noting committee members are enthused by the idea and "very much on board."
The concept, which will likely come before council next month for consideration, involves temporary artist studios at four Spring Street locations that are poised for redevelopment in the next 18 to 24 months.
All are zoned M1 (light industrial) and range in size from 4,200 sq. ft. to 10,000 sq. ft.:
• 3006 Spring St., Unit C (4,200 sq. ft., mezzanine with a front loading bay);
• 3008 Spring St. (5,500 sf. ft., with office space, a front loading bay and potential display space at front);
• 3020 Spring St. (8,000 to 10,000 sq. ft., mezzanine with loading at back);
• and 3088 Spring St. (eight units on second floor).
None of the property owners is named in the committee document and city officials declined to respond to requests for comment, saying the proposal is in its early stages.
Still, the committee agenda states the aim is to formalize an arrangement between the city and property owners by Culture Days, Sept. 27 to 29.
"Property owners are eager to see this happen," the agenda states.
Currently, the city owns and rents 11 private studios at 2709 Esplanade Ave. to emerging and professional artists.
However, the wait list for one-year leases is long, Royer said. Those studios aren't suitable for musicians as they're not sound proof.
If city council sanctions the idea — and the safety assessments and permits are OK'd — Royer envisions an area similar to Parker Art Salon, located at 1000 Parker St., where 152,000 sq. ft. was turned into 110 studios for 227 artists.
That warehouse is now a four-storey landmark for Vancouver, promoting its artists online and through studio tours and group exhibits. "Obviously, we would like something permanent in Port Moody like that," Royer said.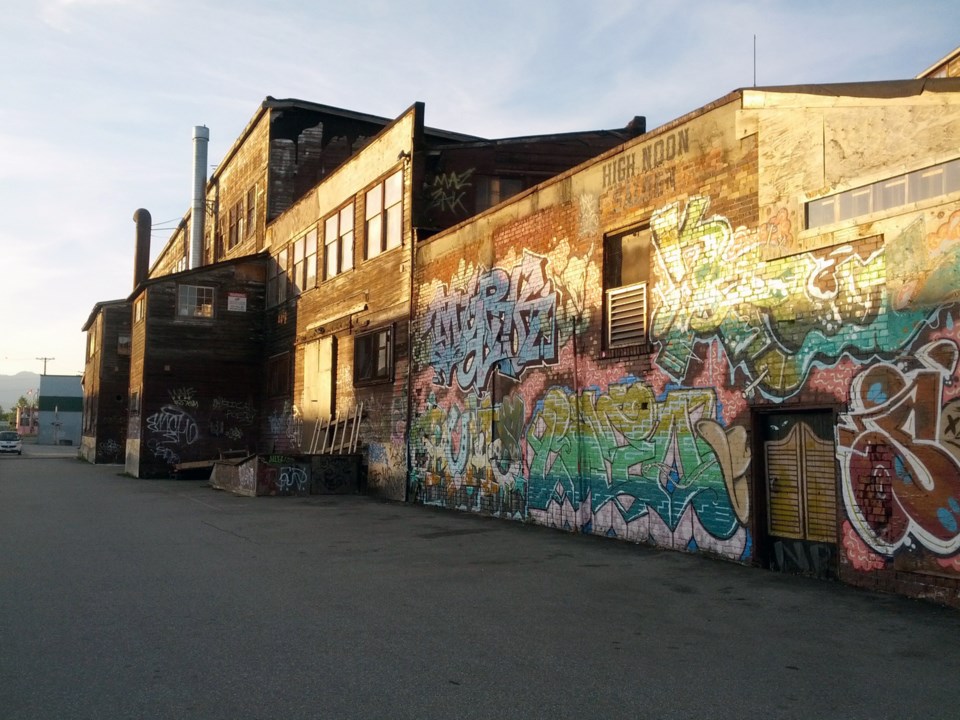 Parker Art Salon at 1000 Parker St. in Vancouver hosts 227 artists in 110 studios over 152,000 sq. ft. It's a model for a Moody Centre proposal to come before Port Moody city council next month. PHOTO: Parker Art Salon