COVID-19 and its subsequent lockdown have changed how many artists are seeing the world.
Rather than creating a single narrative in their works, artists are now discovering new perspectives that give rise to a variety of voices — sometimes clashing for attention, or fighting for space on platforms.
"It's confusing," said Coquitlam artist Leanne Christie. "For all of us, our paradigm has shifted…. I don't think I'll be able to paint the same way again because of the way I relate to things now."
Christie, whose work and studio space are highlighted this month — for the eighth year — in the Eastside Culture Crawl in Vancouver, has a handful of large-scale oil paintings in a new group show at Coquitlam's Evergreen Cultural Centre, opening Nov. 14.
Some paintings were made before the pandemic hit while others were created after the provincial health emergency was declared.
In her piece titled Coquitlam Centre, which Christie painted two months ago, her brush strokes and colours remain bold; however, her imagery is more in conflict than with previous works, she said, and that allows for richer discussion with the viewer.
The retail landscape has also changed because fewer people are out shopping, leaving many shops empty.
Christie, who is originally from South Africa, sees the commercial real estate vacancies as she travels through Burnaby and Vancouver, too, to reach her Chinatown studio.
"We're in this place where everything is on pause. There's a lot of sighing going on."
Still, Metro Vancouver was in flux before the health crisis hit, and Christie reflects on that view in four of her "rezoning" series paintings, on show at the Art Gallery at Evergreen.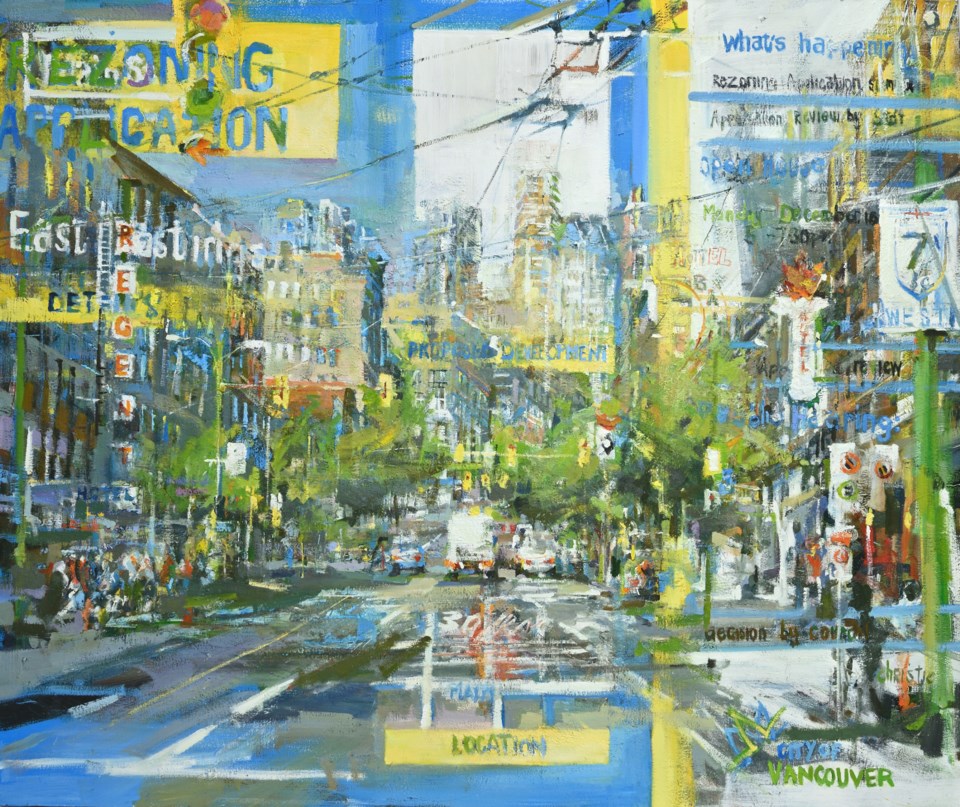 Rezone Hastings, 2019, oil on canvas (courtesy of the artist).
Visual arts manager Katherine Dennis also tapped Port Moody artist Sara Graham and Devon Knowles of Vancouver to be part of the curated display, titled Wayfinding, that explores urban environments through art.
Graham, Port Moody's inaugural artist in residence, unwraps modern cities with diagrammatic drawings, sculptures and photos while Knowles experiments with glass and other materials to dissect architecture and spaces.
Their exhibit ends Jan. 31, 2021.
Meanwhile, Christie will live-stream from her studio in the BC Artscape Sun Wah building this and next weekend as part of the 24th annual Eastside Culture Crawl, a Vancouver festival that runs until Nov. 22 and is modified due to COVID-19 to include both in-person and virtual programming (go to culturecrawl.ca/artist/3043)
Nearly 250 artists are in this year's Crawl.