Steve Sainas is forging a new musical path for himself.
And he wants the road to be as smooth — but also as powerful — as possible for his listening audience.
Late last month, the veteran singer-songwriter and Juno award-winning MusiCounts teacher at Port Coquitlam's Terry Fox secondary released his fifth full-length album titled Simple As This — a follow-up to his 2011 recording at the legendary Sun Studios in Memphis.
Available on CDBaby, the new work takes a new tack for Sainas, honing in on contemporary roots, country and R/B genres rather than his standard Delta Blues sound.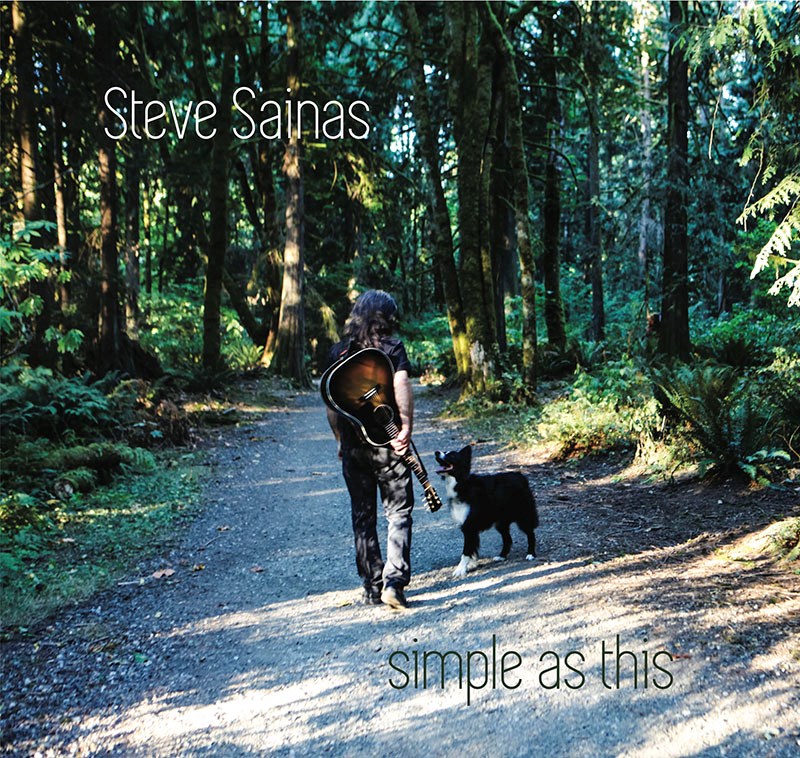 Sainas composed 10 tracks for the album, penned over three years, "most of them written while floating down the Coquitlam River," reflecting on the human condition and the simplicity of the solutions, he said.
"It's a songwriters' album but it's also an album with a personal message," he said while listening to the album after school, in its entirety, with The Tri-City News last week.
To keep with the simplicity theme — and a stripped-down production that's lyric-heavy, with shades of Bob Dylan, John Mellencamp and Pete Seeger — Sainas used only five instruments on the album to keep the melody going. It's his vocals, and guitar and mandolin playing; however, he also recruited Kelly Stodola for drums and Chad Matthews on a five-string bass to fill out the bottom. No keyboards or backup vocals were needed, he said.
With fewer sounds, Sainas said, listeners could hear the stories being told in the songs.
And there's plenty to chew on with his lyrics — much of it concentrated on the state of Canadian and American politics and the rise of human rights to counter the current swell of social injustices.
The album starts with the title track, Simple As This, and ends with a satirical poke at the so-called Alt. Right with a tune called Everything's Gonna Be Alright.
There are also songs dedicated to two friends he lost recently to cancer: Ruby Joanne Elizabeth Olson, of Maple Ridge, and fellow Fox teacher Leonard Wyatt, both guiding lights to Sainas who dedicated his CD in their memory. 
Already, Sainas has plans to promote his new album, hiring Toronto music publicist Sarah French to gain radio play and lining up acoustic gigs around Metro Vancouver including on Saturday at 8 p.m. at Orrange Kitchen + Bar in Port Coquitlam. 
He also appears on:
• Nov. 17 and 18 at 7:30 p.m. at Gillnetter Pub in PoCo;
• Nov. 19 at 6:30 p.m. at the Witch Craft Pub in Maple Ridge; 
• and Nov. 24 at the St. James Well in Port Moody, courtesy of Musos Entertainment.
(The physical CD can only be bought at his shows while the digital tracks can be downloaded via CDBaby.)
Still, the upcoming gigs aren't the only thing on his mind. Sainas has until Friday to get his application into the Juno awards committee to compete for the Contemporary Roots Album of the Year prize, a category clinched this year by Winnipeg singer-songwriter William Prince for his debut album Earthly Days.
Next year's Juno ceremony takes place in Vancouver. 
"The last time I was at the Junos, in Hamilton, was for teaching," he said. "That was a huge honour but to be there as a nominated artist would be a very, very special thing, too."
jcleugh@tricitynews.com