Many people dream of writing a children's book but one local woman is taking her dream to the next step — and would like the help of the community.
Sweetheart Bakery Press, the latest venture of Zoe Royer, owner of Silk Art Gallery and a Port Moody city councillor, is a collection of stories, recipes and toys for children six to seven that will teach them about baking — and kindness.
"I think there is something very celebratory about baking, and baking is something that is beautiful, and it's something to be shared," Royer said.
Royer started working on the idea 23 years ago when her daughter Charlotte was born, and the characters are based on a beloved plush toy piglet and the family cat, as well as the family's love of baking.
"It's a distillation of our family life," said Royer.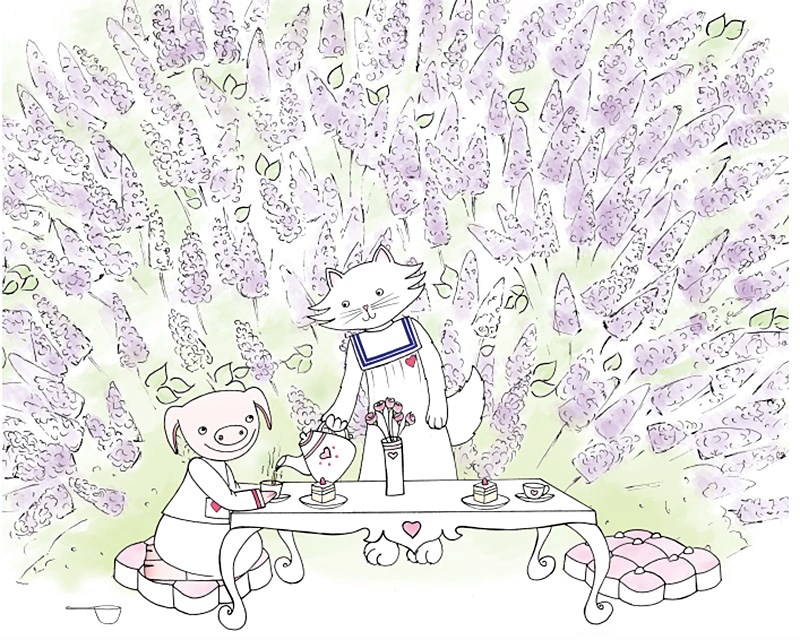 But there is another message as Royer's comic book stories promote kindness and resourcefulness. The girls have adventures, solve problems and then, to celebrate, they bake a cake.
The setting is Blossomdale, an "idyllic place where the characters interact and they are really modelling kindness and resourcefulness," Royer said. 
She hopes children are inspired by the stories while also learning to make their own food, a skill they will benefit from for the rest of their life.
See below for the video
Monday, Royer launched the Sweetheart Bakery Subcription Box on Indiegogo, a crowd-funding website for start-up companies. Donors or "backers" to the project on the website can get "perks," depending on the size of the contribution, from sticker collections to monthly subscriptions, toys and original artwork.
And while this isn't Royer's first children's story — in 2017 she wrote A Cup of Sugar — it's an exciting new venture, she said, aided in part by the efforts of her team, including an artist from Iran who goes by the name Baran.
"I'd love for this to be something that our whole community gets behind because it's homegrown and assisted by local artists and folks along the way."
The program also enables donors to gift a child of a month's subscription. For $27, donors can make gift boxes available to girls between the ages of four and seven.