Before the Green Arena turns into a heap of rubble — making way for a new downtown community centre in Port Coquitlam — there'll be a send-off to remember its history of hosting graduations, dances, teen skates and sports games over the years.
"The Last Dance at the Old Rec Centre" is the name for the homecoming, a bash organized by the Port Coquitlam Events Society that will see 500 tickets sold to guests wanting to take a trip down memory lane before the second phase of the rebuild starts this fall.
And the party on May 4 will feature sounds from two bands known for their gigs around town: 24seven, which takes the stage at 8 p.m., followed by Talk Nerdy to Me.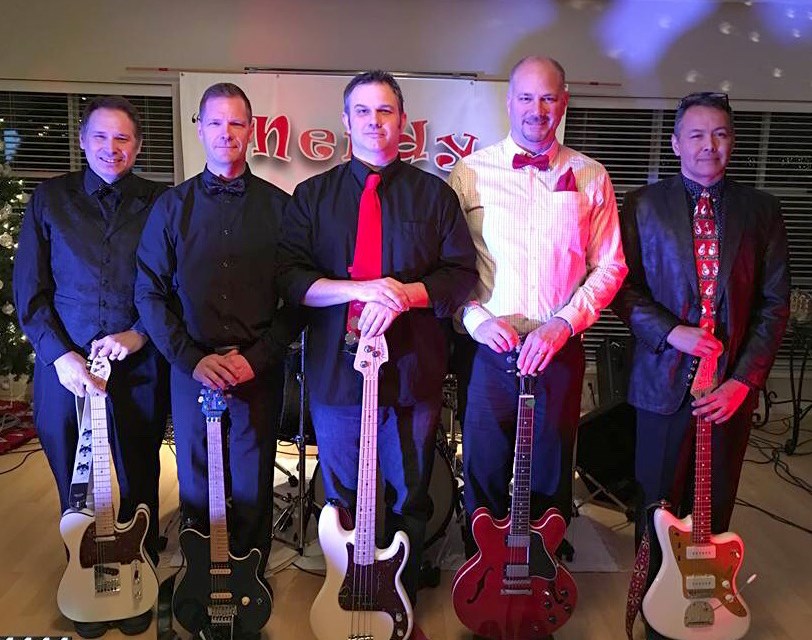 Talk Nerdy to Me — Alan Cragg (guitars/keyboards); Bill Poirier (guitars); Alex Stronach (bass guitar); Roy Van Den Broek (vocals); and Fraser McKean (drums/percussion) headline at 10 p.m. 
Jeff Garrett, who plays keyboards in 24seven (formerly AWOL), said his group was pleased to be invited to the goodbye: In the past, its members have played the rec centre for special occasions — vocalist Jeff Blair performed to a packed rink at the national ringette tournament in 1983 — and they have strong connections through sports.
Its dance set list will be a blast from the past — mostly Canadian anthems from the 1980s.
"We are a PoCo band with so many local fans and friends," Garrett told The Tri-City News. "Every time we play in PoCo, it's a party and this one will be no exception. It's going to be a nostalgic reunion, filled with memories and emotion as we say goodbye to the building that many of us grew up in or now have kids that grew up in."
Drummer Fraser McKean of Talk Nerdy to Me — the headliner that starts its act at 10 p.m. — said his bandmates also have close ties to the rec centre.
Their music program for the night? "Lotsa big '80s hits," he said. "We like to play live classic rock for people and performing in larger venues is always fun."
Tickets at $20 for the Last Dance at the Old Rec Centre are via tickettailor.com/events/pocoeventssociety/246821/. Tickets can also be purchased by the Port Coquitlam Events Society members and dance organizers: Coun. Dean Washington, Kayla Steele, Patrick McCarthy, Stephanie Setchel and Jackie Visser. The adults-only event runs from 7 p.m. to midnight.