Coquitlam has had its fair share of award-winning wrestlers and coaches over the years.
City councillor Chris Wilson represented Canada at the Olympic Games in Barcelona as did Chris Rinke in Los Angeles. Justina Di Stasio took gold medal in the 72-kg weight event at the World Wrestling Championships in Budapest.
And ECCW champion Lindsay Duncan — best known in the ring as Nicole Matthews — wrestles for Shimmer Women Athletes and the NWA: Extreme Canadian Championship Wrestling.
But the sport is deeply rooted in the city's history, and until next April, it's highlighted in a new display in the Coquitlam Sports Hall of Fame section at the Poirier Sport and Leisure Complex.
Organized by Tannis Koskela, exhibits manager for the Coquitlam Heritage Society, Gold Medals and Gimmicks showcases photos and paraphernalia from the various wrestling competitors and coaches.
Koskela singles out two prominent figures who raised generations of amateur grapplers in Coquitlam.
R.C. MacDonald, a Scottish-born merchant and politician who settled in the district of Coquitlam in 1907, won the 1915 title of heavyweight champion of the Pacific Northwest. The district reeve from 1924 to '41, MacDonald nurtured many young wrestlers, some of whom went on to compete at the agricultural hall on Austin Avenue, the Tremblay Social Hall in Maillardville and the legion hall on Begbie Street in New Westminster.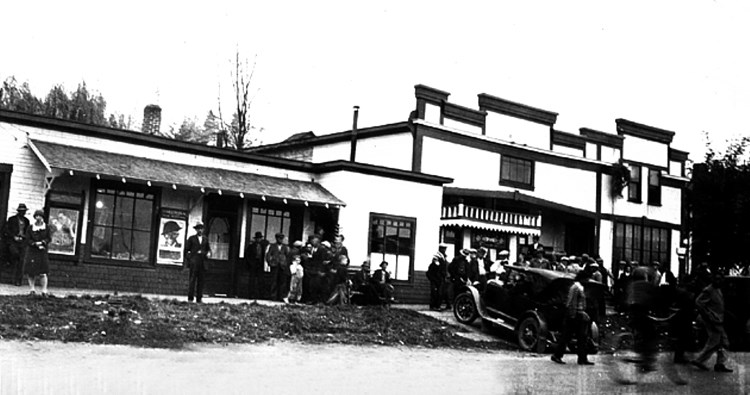 Tremblay Social Hall (courtesy of Coquitlam Heritage Society).
In her exhibit, Koskela also includes the types of wrestling styles popular back then with cultural traditions carried on from the homelands: Cumberland wrestling from Scotland, Devonshire wrestling from England, Ssireum wrestling from Korea and Pehlwani wrestling from India, to name a few.
However, it was during the Depression that wrestling became a form of cheap entertainment, too, with touring shows popping up at the PNE; admission was $1 and betting was allowed.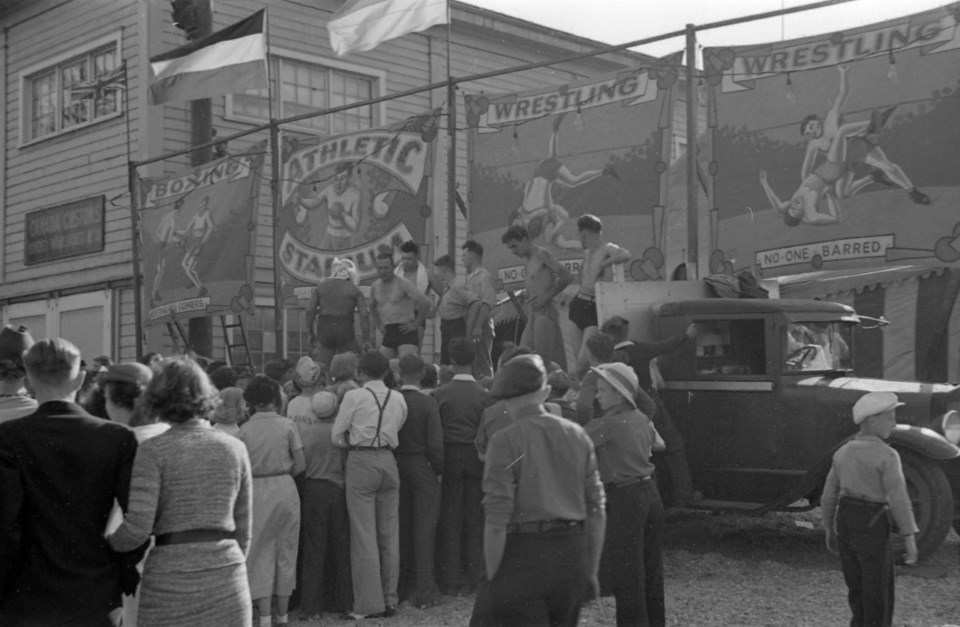 PNE side show (courtesy of Coquitlam Heritage Society).
Some 30 years later, Bill Mitchell lifted the sport to another height in Coquitlam.
A former CFL player, Mitchell was a teacher at Centennial secondary after he retired from the BC Lions in 1968.
Mitchell was initially encouraged by wrestling legend Paul Nemeth to start a high school wrestling program at Centennial as a feeder for the team at SFU, which had just opened.
Soon, Mitchell had junior high school students flocking to Centennial to sign up for the program, which was so successful that SD43 built a gym for wrestling training.
Among his protégés were Chris Gill (lacrosse); Dan Payne (football); Dean Shmyr (hockey); and John Tenta (sumo wrestling).
During his 28 years at Centennial, Mitchell also founded the BC-Japan Cultural Exchange Program and worked with the provincial and national teams. In 1988, he was the manager of the Canadian Olympic wrestling team that included star grappler Chris Wilson.
In 2014, Mitchell was inducted into the Coquitlam Sports Hall of Fame and, in August, his name was also added to the BC Sports Hall of Fame.
• Gold Medals and Gimmicks can be seen at the Poirier Sport and Leisure Complex (633 Poirier St., Coquitlam). Visit coquitlamheritage.ca.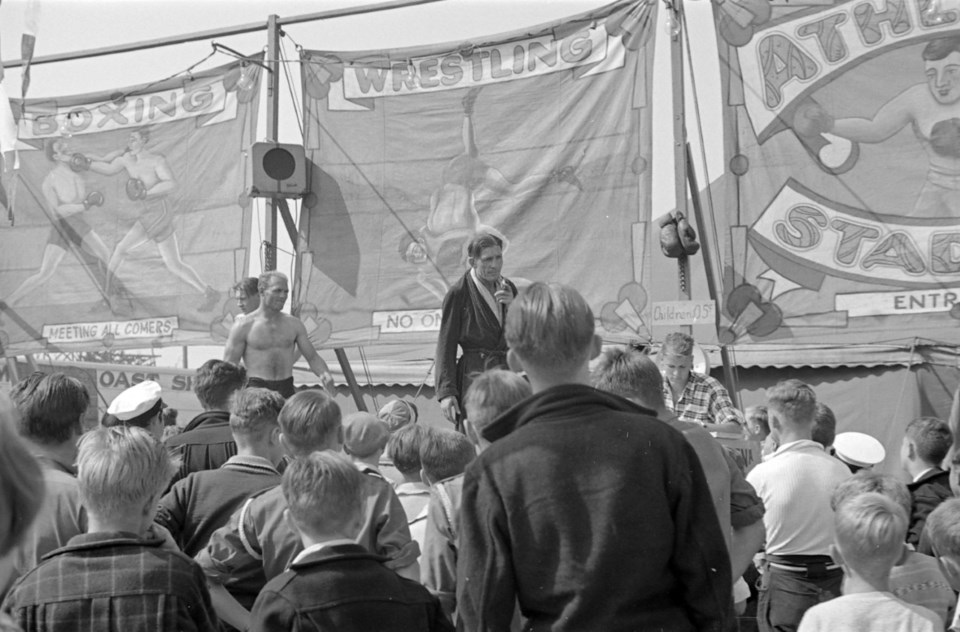 PNE side show (courtesy of Coquitlam Heritage Society).