Few people get to meet their heroes, let alone get their phone number.
But a unique connection with former Entertainment Tonight host turned composer John Tesh has culminated in a new album by Port Moody pianist Martin Mayer that is scheduled to be released early next year.
The album, entitled The Solo Piano Collection, is a compilation of the best pieces Mayer's written through his 25-year career as well as half a dozen new compositions he put together while riding out the COVID-19 pandemic in his Klahanie home that also contains a recording studio.
Mayer said his career never would have happened were it not for some idle channel surfing more than 20 years ago that landed him on a PBS presentation of Tesh in concert with the Colorado Symphony Orchestra at the Red Rocks Amphitheatre. 
It got a boost when he was able to enlist accompaniment from Grammy-winning violinist Charlie Bisharat, who played with Tesh as well as other renowned musicians like Lady Gaga, Elton John and Yanni. Then it got a golden endorsement when he was able to perform one of his new pieces for Tesh himself, after a show in a Seattle jazz club last November.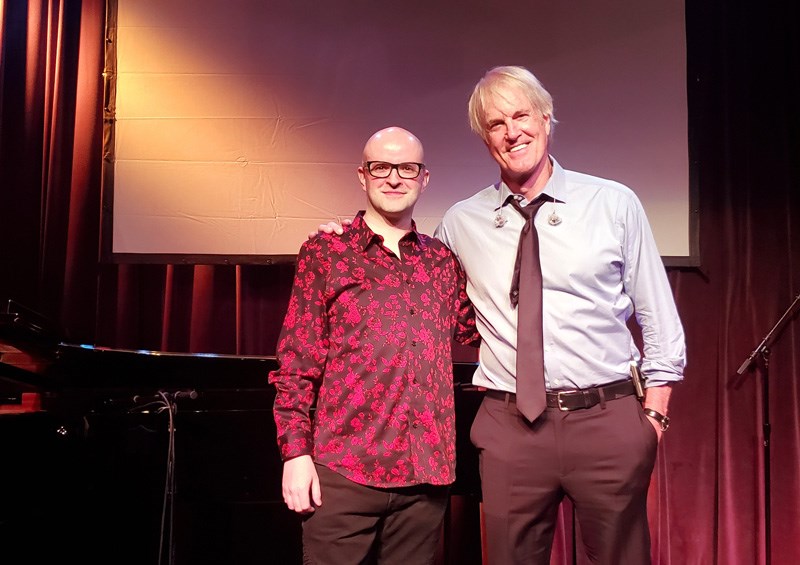 Mayer said the moment was "pivotal" and has blossomed into an ongoing professional relationship with the onetime TV personality.
"He's just been super great about it."
Mayer started playing piano when he was 11 years-old, but it wasn't until he stumbled upon Tesh presenting his own new-age keyboard compositions in the dramatic outdoor venue that he realized the direction his musical inclinations should take.
"I'm not going to be a classical pianist," said Mayer, who studied at the Royal Conservatory of Music as well as Grant MacEwan University in Edmonton.
He wrote a letter to Tesh, enquiring about the availability of his sheet music so he could learn to play the compositions that had captured his imagination. 
It was the TV announcer's ability to forge his own path by doing things like composing the themes for sports shows while working in front of the camera that made Mayer realize he'd have to create his own opportunity.
Mayer took out a $35,000 loan to hire a 20-piece orchestra, film and audio crew, as well as a venue, so he could produce his own live concert program that premiered on his website when he was 19 years-old. 
That led to an offer to tour in China, visiting 16 cities in six weeks. It's been a favoured destination ever since, although he's also played venues closer to home, like the Evergreen Cultural Centre in Coquitlam.
"Piano is huge in Asia," Mayer said, adding he was set to embark on another 20-date tour in China this fall until the global pandemic shut down much of the live entertainment industry.
Mayer hasn't been idle in his downtime, though. 
In addition to writing and recording, he had to navigate the creative and technical challenges of collaborating remotely with other musicians like Bisharat, who's based in Los Angeles. That meant communicating his intent for the pieces, but leaving enough room for each musician to add their own creative sparkle.
"It's a matter of having a conversation, providing good direction and then give the artist room to breathe," Mayer said.
The result, he added, is the story of his own musical journey, including a touching tribute to his mother, who had left the TV guide open to the listing of the Tesh concert on that fateful day so many years ago.
• To learn more about Martin Mayer's music, as well as his previous albums, go to www.martinmayermusic.com.