Tara McIntosh was pregnant with her second child when her husband made an announcement.
Tom, her husband of seven years, told her he would be pursuing his lifelong dream of becoming a firefighter.
Confused, McIntosh had a long talk with her partner. She had never heard him speak about a career switch before, and she was at Langara College as a communications student.
Tom encouraged her to continue but McIntosh didn't want to disrupt the family life so she withdrew for him to volunteer at the Coquitlam and Port Moody fire departments, and to study.
A few years later, he was hired by the Burnaby fire department while McIntosh "was doing a lot of things that I could do" such as raising the couple's boys, writing a newspaper column and public speaking at women empowerment events.
In the meantime, she also tried to figure out what being a fire wife meant.
This fall, after seven years of crafting her words, the Port Moody resident released her debut self-help book Fire Wife: Standing Strong In Your Relationship, Your Life, and Your Dreams. "I shelved it a lot of times," she laughed.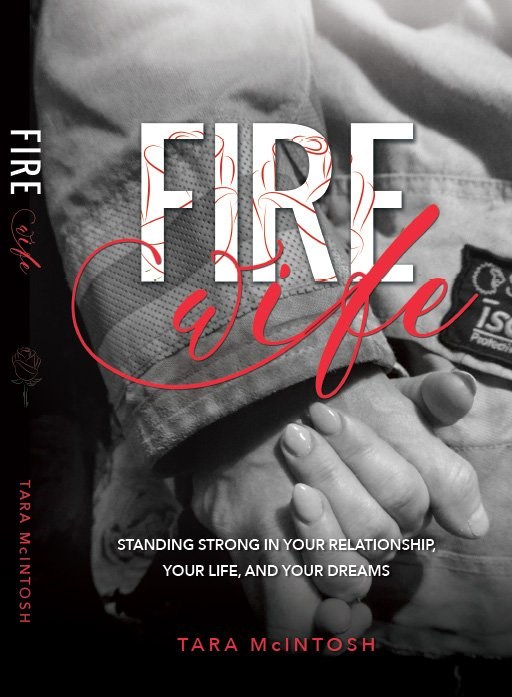 Being part of a fire department, she told the Tri-City News, "everything was so easy at first. We socialized with firefighters and their wives. It's a great support. But then my husband got sick and there were departmental dramas. It kind of shatters your rose-coloured glasses."
McIntosh said she had to learn to adjust to the ups and downs.
Her husband's days could involve serious challenges — helping a paraplegic off the floor, offering resources to a battered woman, crawling in smoke to locate a child in a burning home, for example — and he tried to decompress before returning home, she said.
But it was rarely smooth.
Through counselling and support, they learned to communicate better. And she learned to give him space when he came in from shifts: They went on walks, made pots of soup together, and set boundaries and goals.
Today, their bond "is great. We've been through the fire and we came out on the end," she said.
The book provides her story as well as practical coping solutions for other fire (and emergency services personnel) spouses.
Her inaugural publication is already catching attention. Last week, she was interviewed by Julie Pollock, a fire wife and life coach in Ontario who specializes in first responder care and is a well-known blogger.
McIntosh, whose eldest son, Brayden, is now applying to be a Port Moody fire department volunteer, said she also hopes her work will be of use to other fire wives as Canadian resources as scarce compared with the U.S.
"Firefighters see their profession as a calling. They're helping people, not a tragedy…. My writing is very raw and very real but there's also a lot of humour. I've learned to love what they do. They're such an honourable group."
• To pick up a copy of Fire Wife, visit firewifewise.com.