Lalainia Lindbjerg Strelau is loving her life-work balance.
The Port Coquitlam actress enjoys being a stay-at-home mom to her two children, now aged eight and 14, and, a couple of times a year, likes to dip her toe back in the theatre world.
Starting Friday, Lindbjerg Strelau will return to Malkin Bowl for the Theatre Under the Stars' production of Mary Poppins, where she will play — of course! — the mother, Mrs. Banks.
It's a dream job that allows Lindbjerg Strelau enough time to spend with her family but also still be active, with musical shows every other night this summer. "TUTS is very family friendly," she said of the Vancouver company. "My daughter can come to rehearsals with me and she loves the environment, too. It gives me space to be both performer and mother this season."
It's Lindbjerg Strelau's fifth time on the Stanley Park stage, having been cast as Sandy in Grease (which she also directed) as well as in Crazy for You, Big: The Musical and, most recently, Bye Bye Birdie. 
She also served as a TUTS board member from 2006 to 2012.
For Mary Poppins, which stars Ranae Miller as Mary, Lindbjerg Strelau will play mom to Lola Marshall (Jane) and Port Moody's Nolen Dubuc, a student at the Caulfield School of Dance.
Dubuc, a Grade 5 Aspenwood elementary student, clinched the part of Michael Banks in March. "I love musical theatre," the nine-year-old boy said, "and it's a good show. It's just magical."
"He's awesome," Lindbjerg Strelau raved. "The professionalism that he has is just amazing. He's willing to have fun and try new stuff when directed. He's a kid but he can hone it in and focus. Both the children are extremely gifted."
Meanwhile, on alternate nights, Coquitlam's Shannon Hanbury will star as Janet van de Graaff in The Drowsy Chaperone.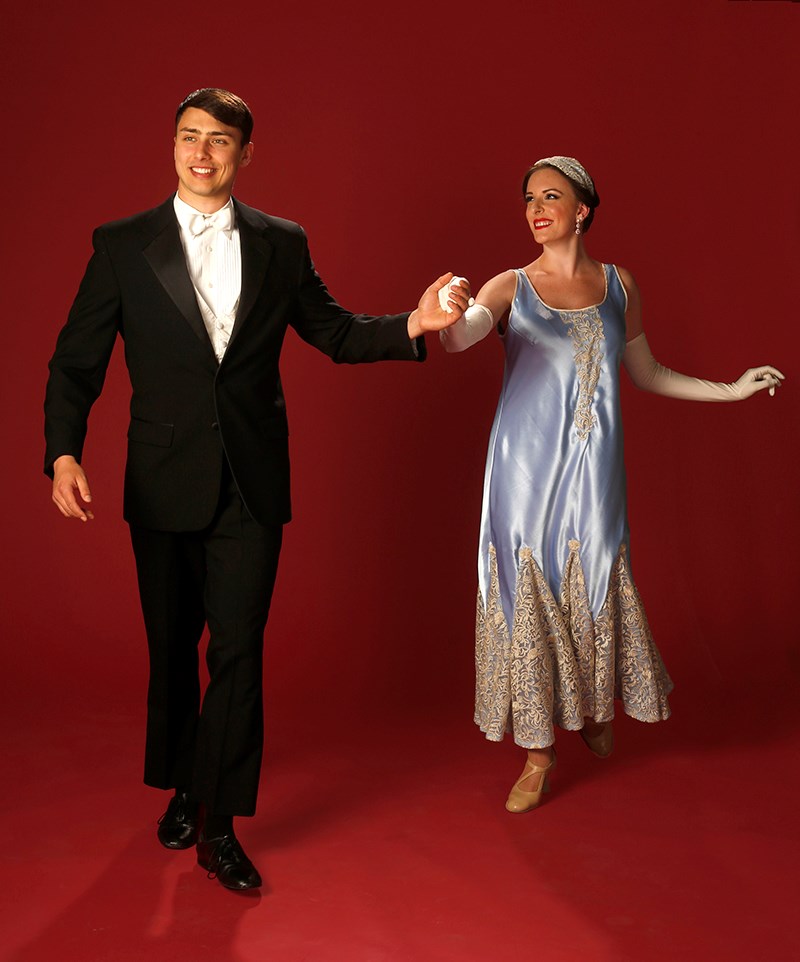 An Archbishop Carney regional secondary graduate, Hanbury was last seen at Massey Theatre portraying Hope Harcourt in the Royal City Musical Theatre production of Anything Goes.
Hanbury, who is  the great-great-granddaughter of William and Marion Malkin, for which the Malkin Bowl is named, and is a veteran TUTS performer (Drowsy is her ninth appearance).
She will be joined by Terry Fox secondary graduate Blake Sartin, a PoCo resident who recently obtained his musical theatre diploma from Capilano University.
Sartin is also returning to TUTS, having last appeared as Fender in Hairspray two years ago. 
This time around, however, he's George — the tap-dancing best man at the wedding.
Sartin, 21, said he'll be putting his feet to work this summer and making sure he stays in prime condition. "It's no different from an athlete," he said. "I'll be getting plenty of rest and drinking lots of water. You have to listen to your body when you're working out that much."
Sartin expects his family will be in the crowd on opening night. For Hairspray in 2015, "my parents brought out 20 friends and family, and they didn't tell me they were doing this until one hour before the show started. It was quite a surprise and made it a very special night."
• Mary Poppins and The Drowsy Chaperone run July 7 to Aug. 19 at the Malkin Bowl in Stanley Park (610 Pipeline Rd., Vancouver). Call 1-877-840-0457 or visit tuts.ca.
jcleugh@tricitynews.com
ALSO FROM THE TRI-CITIES:
The Drowsy Chaperone:
Devon Findlay - Ensemble (Coquitlam resident)
Jenna Testani - Understudy (grew up in Coquitlam, went to school in PoCo)
Peter Stainton - "Underling" (Coquitlam resident)
Rachel Theilade - Ensemble (grew up in Coquitlam)
Mary Poppins:
Alyson Vance - Ensemble  (PoCo resident)
Andrea Pizarro - Ensemble (Port Moody resident, attended high school in Coquitlam)
Callie Anderson - Ensemble (PoCo resident)
Jillian Perkins - Ensemble (Port Moody resident)
Joscelyne Tamburri - Ensemble (Coquitlam resident)
Nathan Piasecki - Ensemble (Port Moody)
And Sheryl Anne Wheaton, a dance teacher at Tri-City Dance, is appearing in both shows - she plays "Tottendale" in The Drowsy Chaperone, and "Mrs. Brill" in Mary Poppins.