They advertised it as the next Pittsburg.
When CP Rail moved its freight operations from Vancouver to Port Coquitlam in 1911, area officials seized the opportunity and marketed PoCo across North America.
After all, there was plenty of land to buy — especially for farming — and it was surrounded by mountains and water.
By the time Port Coquitlam was incorporated as a municipality — on March 7, 1913 — it boasted about 1,500 residents and dozens of businesses, with CP Rail as the main employer.
A year later, it had a three-storey city hall on Shaughnessy Street poised to handle the influx of property owners.
But five years on, Port Coquitlam suffered such devastation that it set the municipality back for decades.
That series of losses is described in a new PoCo Heritage exhibit that opens Saturday with a celebration from 1 to 3 p.m. to coincide with Heritage Week.
Titled Port Coquitlam's F Words, the show is unique as its storyline is told on panels with graphics (created by Brad Nickason with copy by Meg MacLaughlin) that hang around the display — a perfect way to draw in younger viewers, said society president Julie Schmidt during a tour last week.
It is told in the voice of Arthur Mars, who later became mayor, and starts by explaining how his brother, James, the city's first mayor, navigated the city's tough start.
The first havoc to hit Port Coquitlam was in October 1918, just before the First World War ended, when officers with the Siberian Expeditionary Force — on their way to Vladivostok, in Russia, to protect Allied interests — arrived by train; many of them carried the Spanish flu, a pandemic that killed about 50 million people worldwide.
PoCo Heritage represents this time with a patient in bed, attended to by a nurse.
The next F word arrived two years later when a fire took out the businesses along Kingsway Avenue. The 1920 blaze started at Kelly's Hall (which doubled as the fire station) when the stove pipe in the upstairs suite — occupied at the time by the fire chief — came apart. The fire prompted council to relocate the downtown to Shaughnessy.
The following year, Port Coquitlam property owners suffered yet another setback when the Coquitlam River flooded, destroying businesses on Dewdney Trunk Road. That flood scene is being re-created by Art Focus Artists Association, whose members will paint a mural at the museum over the course of the exhibit run.
And in 1923, the municipality faced financial ruin when it was sued for the fire losses. As well, because of the economic downtown, its aggressive promotion to invest in Port Coquitlam didn't pan out.
PoCo Heritage shows the 1924 assessment and collection rolls, with ledger markings of land owned by speculators from Chicago to the Queen Charlotte Islands. It also has some returned tax notices from 1915 to '22.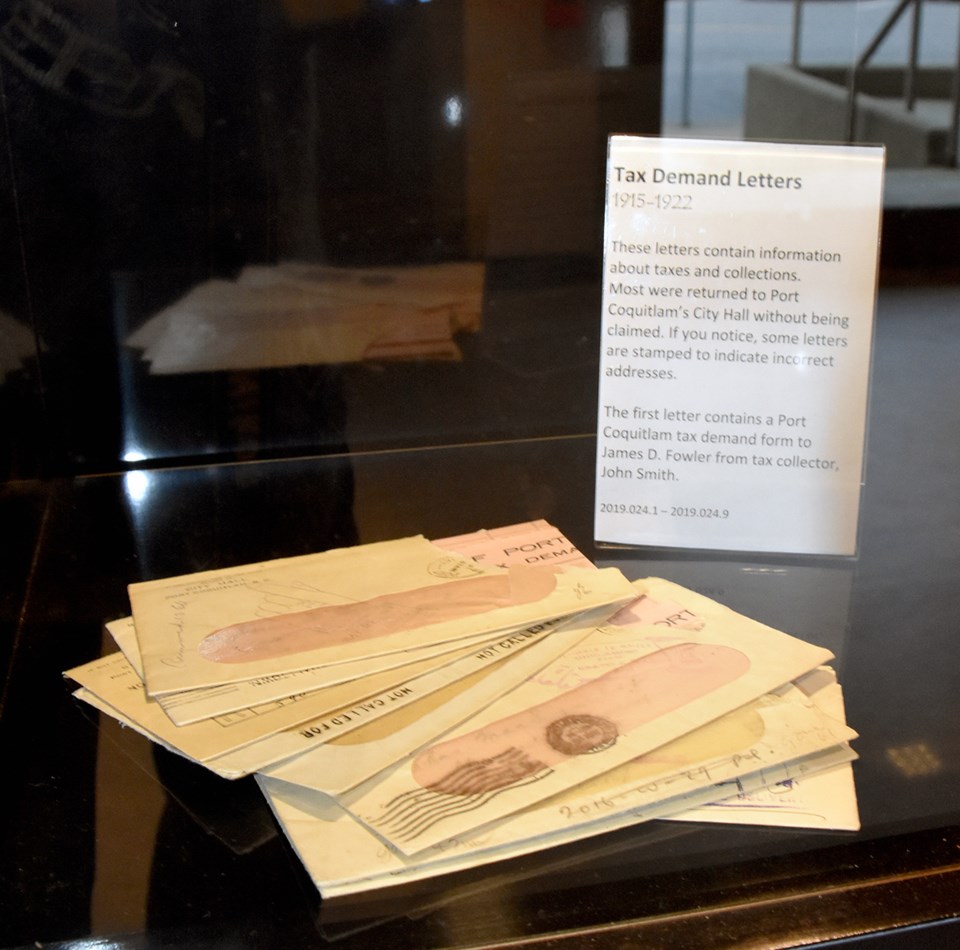 With so many property owners unable to pay their bills, the privately held land reverted to the city, which by then was so poor that it had to sell its fire truck to pay for municipal operations.
The society presents a number of historical items such as a pot belly stove from the Westminster Junction train station and a hose used by Port Coquitlam firefighters in the 1940s
There's also an original painting by ZenyDha Nielsen reimagining the view from new city hall; it looks through a window onto an old pool hall along Shaughnessy.