A 16-year-old Coquitlam singer-songwriter has raised more than $17,000 for the food bank in a socially-distanced pop concert over the weekend.
What began as an hour-long cul-de-sac concert to entertain her Coquitlam neighbours, transformed into an Internet event as Dani Black looked to entertain homebound families. 
"We had 40 of our neighbours show up and another 400 people online for the live streaming," said Black. 
"Together, we raised $17,385 which means the Food Bank will be able to buy $50,000 worth of food because they can turn one dollar into three. It was a really terrific day."
The funds will be divided between the Greater Vancouver food bank and the Tri-City-based SHARE Family and Community Services food bank roughly based on where donors came from.
In addition, the show prompted donors to pledge another $1,000 in donations to food banks in Langley, Kamloops and Richmond, and as far away as Manitoba, Ontario and the United Kingdom.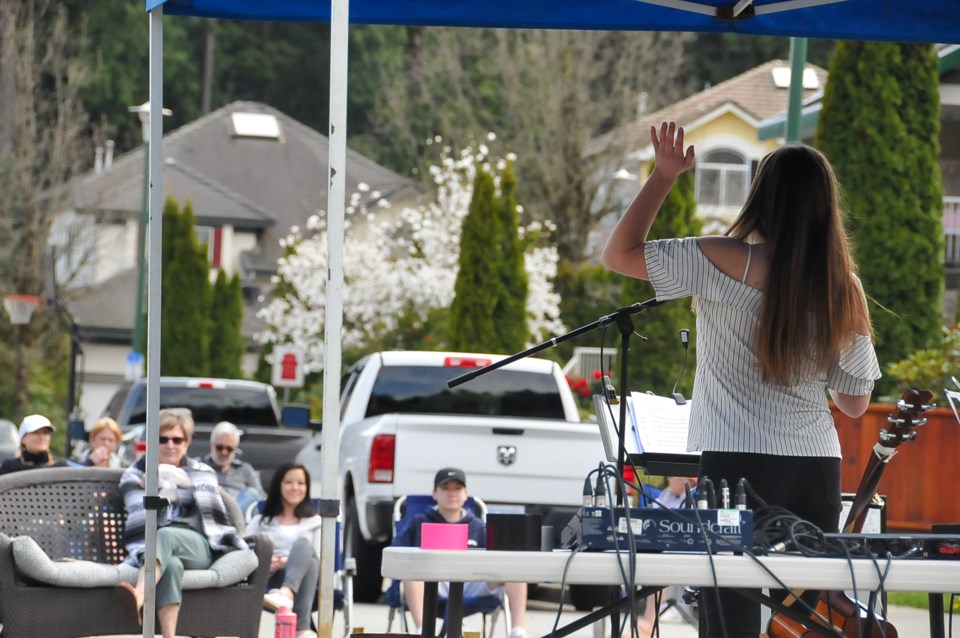 Her fans, which come from across North America and as far away as Asia, tuned in to the Instagram live-stream Saturday, April 18, after Black's father, Ian, warmed up the crowd with some folky classics. 
"I wanted to give our neighbourhood something to do for an hour that would be a bit of a reprieve during this stay-at-home period we're all in right now," said Dani Black, who placed second in the recent Youth Talent Search BC competition. 
"Then I started hearing about the growing number of people who were relying on our local food banks because of the virus, and that's when I thought if we live streamed the show we could turn it into a fundraiser."
Black, who played a mix of originals and some of her favourite covers, was joined by dozens of neighbours who came out with camping chairs and drinks to witness the concert — each household separated by pink chalk guidelines traced on the pavement.
Black usually plays live shows at several of the Lower Mainland eateries and bars. But with physical distancing measures in place, she's joined thousands of musicians across the world in taking to social media to share their music from home.
That's taken the form of stay-at-home concerts broadcast by major TV networks and featuring some of the world's most popular artists. Others, like the Barcelona trio STAY HOMAS, have turned isolation music into a sub-genre, bringing other musicians into the mix through video calls half way through a song. 
Black's show, while reaching an audience around the world, was ultimately focused on what she could do for her closest neighbours at a time when the food bank rushes to put meals on the tables of Tri-City residents.
Or as Black put it: "Staying home is tough enough, but staying home without enough to eat is hard for most of us to imagine, but it's happening right here and I hope this show can help out."