The Tri-Cities health delivery area has reported 171 cases of COVID-19 in the last week, according to the latest surveillance data from the BC Centre for Disease Control.
That represents a 78% spike from last week's 96 cases reported in Fraser North, which in addition to the Tri-Cities includes Burnaby, New Westminster and Maple Ridge. 
At over 30 cases per 100,000 residents, the new cases have pushed Fraser North back into the highest per-capita bracket mapped by the BCCDC. The health delivery region has now 1,677 cases of COVID-19 since the start of the year.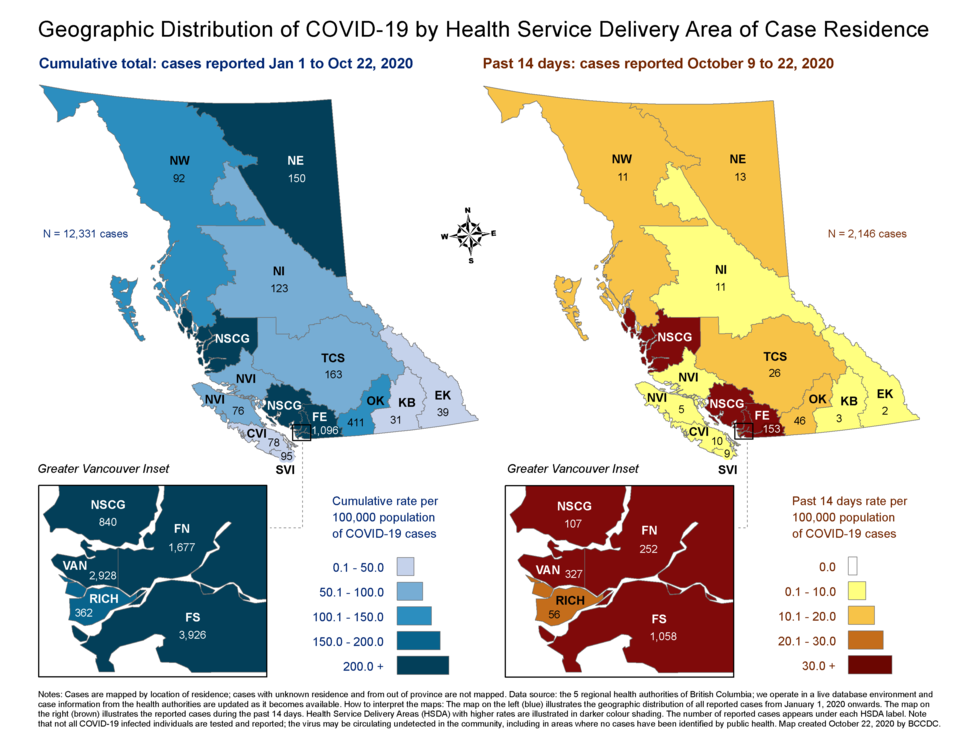 The regional uptick comes in a week the province has broken four daily caseload records in six days, including 274 new COVID-19 cases on Thursday, the most since the pandemic began.
The average new daily cases in October so far is more than 145, or more than six times that of July. At the same time, testing has been ramped up across the province. There were 10,398 tests conducted province-wide in the past 24 hours, for a positive-test rate of 2.63%, which is comparatively high for the past few weeks, although below the recent record of 3.14% on October 20. 
In recent days, a majority of the cases have come close to home for Tri-City residents.  Up to 70% of the 203 cases of COVID-19 reported on Wednesday were linked to Fraser Health, which serves a mostly urban population of 1.8 million people, stretching from Hope to Delta and including the Tri-Cities, Burnaby and Surrey. 
Speaking to reporters Thursday afternoon, Provincial Health Officer Dr. Bonnie Henry said public health teams have identified several cases linked to weddings, which started in small groups, but as the night went on, the revelry led to more hugging, dancing, singing and eating together. 
"While the intent might have been under 50, that changes as the night goes on," said Dr. Henry, noting party buses and limousines have also become problems again.
By Friday morning it became clear B.C.'s top doctor was in part referencing a wedding party which recently passed through a Port Moody restaurant and who are now being asked to self-monitor for symptoms.
Exposure events at another five schools across School District 43 are also included in the latest two week tally. To date, roughly 17% of SD43 schools and 36% of high schools have been hit by a COVID-19 exposure event.