Building a cheaper and smaller school board administrative building would be too much of a compromise and result in inadequate office and learning space, School District 43 trustees were told Tuesday.
Officials are defending the expenditure of $36 million for a new facility on the district's Winslow Centre Campus in Coquitlam, citing the need for space to consolidate staff working at five different buildings, the desire to establish a proper emergency command centre and the need for professional development space.
"What about a $25 million design?" suggested Craig Woods, president of the district parent advisory council, who suggested the district spend less on a new building.
But he was told anything smaller would be a compromise and couldn't be done on a $25 million budget.
The district already has $23.2 million in the bank, mostly from the sale of Coronation Park, plus another $4.8 million in accumulated operating surplus, mostly from international education fees.
But it needs more and that will have to come from savings over the next three years.
The province won't pay for board facilities so the district will need to raise an additional $8 million. It will do so by collecting over the next three years $3.5 million from leases of other closed schools and interest and $4.5 million from anticipated operational surpluses from international education fees.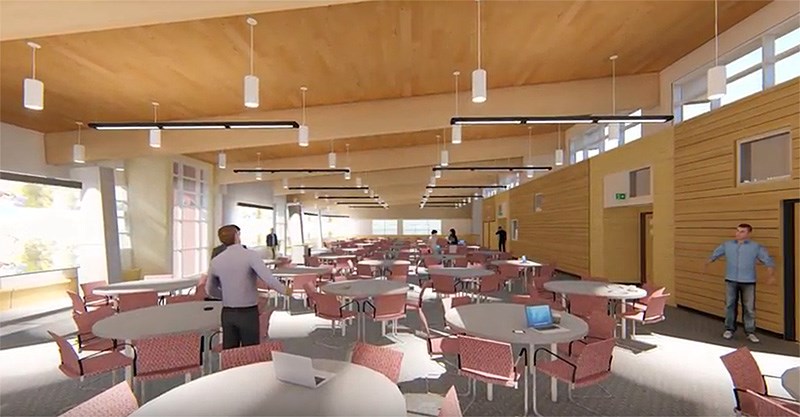 Although the plan was approved, other issues were raised during the board meeting.
One parent questioned why the district was proceeding with constructing a new administrative building when some schools have yet to be seismically upgraded and others have portables on site.
"If their building is not a safe place, they're going to be wondering why there is a new board office," said Jennifer Martin-Blatherwick.
She raised concerns that the former Millside elementary school, now the home of the Inquiry Hub and Suwa'lkh, hasn't been assessed for seismic safety because it was a closed school when seismic assessments were done.
However, at Tuesday's board meeting, trustees voted to ask the province to assess Millside and any other facilities not assessed to make sure they get on the seismic list if there is any risk.
The decision to approve the $36 million budget and move forward with design of the new education centre was also opposed by Port Moody trustee Lisa Park, who questioned why operational funds were being used to help pay for construction costs.
She was told that funds to be transferred from operating funds come from international education surpluses.
As well, it was noted that the current 61-year-old building needs to be removed to make way for parking for Centennial secondary, which was recently rebuilt.
A number of trustees said the new building is necessary because staff are working in poor conditions — one staff member is working out of a former closet — and professional office space is important for retaining workers.
"I think it's long overdue," Coquitlam trustee Barb Hobson noted.
According to a school district press release, the new building will be a "purposefully designed, multi-use facility for learning, operational and support services that offers space for operational departments, student support departments, meeting rooms and other flexible learning spaces. It will include several departments from multiple aged-out administrative facilities while consolidating functions to improve effectiveness and efficiency."
With approval, the project will now move forward into the design, drawing and permitting stages with a targeted completion date of 2020 or early 2021.