The Tri-Cities' health delivery area reported 719 new cases of COVID-19 in the week ending Nov. 26, marking a 13% growth in new cases from the previous week.
The new data for the Fraser North region of Fraser Health — which includes the Tri-Cities, Burnaby, New Westminster and Maple Ridge — is usually released on Thursdays, but was delayed due to a reporting error last week.
The 719 new cases represent a 13% increase week over week; new cases rose only 8% the previous reporting period. 
There have now been 4,351 cases of COVID-19 reported in the health delivery area since the start of the pandemic.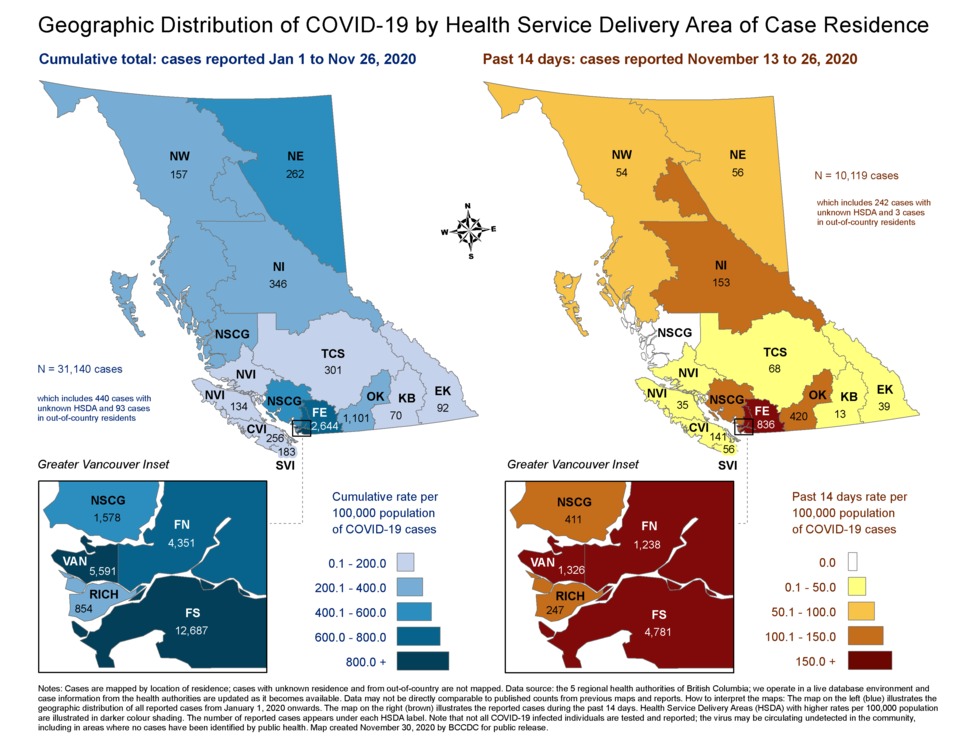 The growth in cases continues to place the Fraser Health authority at the epicentre of the virus in British Columbia. Of the 2,094 new cases reported between Friday and Sunday across the province, 1,370, or 65%, were found in people living in the Fraser Health region.
Death rates have also steadily ticked up with 46 people dying with the virus over the weekend, most residents of long-term care facilities. 
The prevalence of COVID-19 in B.C. has also crept ahead of several other major Canadian provinces on a per capita basis.
The rate of active COVID-19 cases in B.C. is now double that of Ontario, according to the latest epidemiological data from the Public Health Agency of Canada.
British Columbia is currently reporting 181 active cases of COVID-19 per 100,000 people, a figure that — as of Nov. 27 — shatters Ontario's 91 cases per 100,000 residents.
In fact, B.C. has overtaken the number of cases in Quebec as well, a province now reporting 135 cases per 100,000 residents. Only Manitoba, Nunavut, Alberta and Saskatchewan have a higher prevalence of COVID-19 than B.C.