Every year, the residents of Galiano Island band together to raise $70,000 to keep its health clinic running — a wine festival, plant sales, raffles, even a polar bear swim back what some experts have described as a shining model of health care in a small B.C. community.
Off a quiet road next to the local Lion's Club and skate park, the clinic offers a helicopter landing pad, part-time nurse practitioner, massage therapist and chiropractor, among other services.
But in the end, said Kendall Kyle, chair of the Galiano Health Care Society, "The whole idea of the health care centre was to have a place that would encourage a doctor to come."
Built three decades ago, for the last eight years, Dr. Erin Carlson has cared for the community, even as its population spiked by more than a third in the last national census.
"It was a great time for health care on Galiano," said Linda Ruedrich, who manages the clinic as executive director.
The model worked, at least for a while.
Now, Galiano's only doctor is scheduled to depart in August, throwing health care for the island's 1,400 residents into uncertainty — a primary care gap echoed in rural areas across the province.
But unlike other small communities in B.C., on Galiano, to seek medical assistance further afield means getting on a ferry, water taxi, or in the worst case, a medevac helicopter.
At the same time, Kyle says the island's ambulance service can no longer guarantee 24/7 coverage, meaning at some hours during the week, the community must rely on its volunteer firefighters in an emergency medical situation.
Despite thousands of dollars in recruitment incentives and relocation bonuses, the clinic still can't find a doctor to fill a void. According to Ruedrich, there are over 150 open positions for primary care doctors in the Island Health authority alone.
"It's a tough crowd that we're working against. And I know it's that way in many parts of the province, in many parts of Canada," said the clinic's manager. "It's a big crisis."
Nearly a million British Columbians without family doctors
B.C.'s family doctor shortage is not limited to rural communities like Galiano Island.
Roughly 900,000 British Columbians don't have a family doctor. Of those, two-thirds say it's because they "can't find one," and 19 per cent said they have lost their family doctor to closed practices, according to a recent poll from the BC College of Family Physicians.
More worrying, says the college, 40 per cent of patients who now have a family doctor said they are concerned their doctor will close their practice or retire in the future.
Retiring family doctors is a problem, but so is the job itself. For some, it has become unbearable.
Dr. Katrin Lovett says she spent 12 years working as a traditional family physician in Vancouver until the stress and workload became too much.
"We love it. That's why we do it," she said. "We want people to be able to access a family doctor and have a relationship."
"But it's a job with immense pressures. You have people's health and sometimes lives in your hands."
Multiple studies have shown putting patients' lives in the hands of family doctors improves health outcomes for an entire population, while boosting patient satisfaction and reducing hospitalizations and emergency room visits.
That's because family doctors have intimate knowledge of a patient's medical history, but also how they're coping with mental health challenges and problems at home.
In the past, Lovett says she once had an older patient come in with an injured arm, reluctant to talk about what happened. But because they had built up a relationship, she opened up to the doctor, admitting it was a fall and allowing Lovett to get her physiotherapy and refill her prescriptions.
"It's not something she would have told a stranger," said Lovett. "There's a good chance that prevented a fall that might have led to a hip fracture and the loss of her independence."
At walk-in clinics or hospitals, that kind of trust and understanding don't exist, says the doctor.
Balancing patient care with 'running a business'
In a normal day, Lovett would get her kids to school, and spend up to seven hours in face-to-face or virtual patient consultations, before rushing home to have a few minutes with her family.
The rest of the night would be spent working through two to three hours of paperwork — filling out patient charts, referring patients to specialists, or attending to dozens of emails detailing patients' bloodwork or the latest cancer results.
Like other family doctors interviewed for this story, Lovett says she does that unpaid administrative work at home.
"We do it because we need to do it," she said.
B.C.'s fee-for-service scheme pays doctors between roughly $31 to $45 per patient visit, depending on age. Those economic realities put pressure on family doctors to see as many patients as possible.
"There's a balance between seeing patients long enough versus seeing as many patients as you need to pay overhead, to pay rent," said Lovett. "It's a bit of a catch-22."
But the 12-hour days added up over time; until last year, Lovett says she couldn't maintain her health.
"I left my job, I left my patients," she said. "I just reached my personal breaking point. There's only so many times you can hear, 'Mommy, why can't you go to the park with us?' again."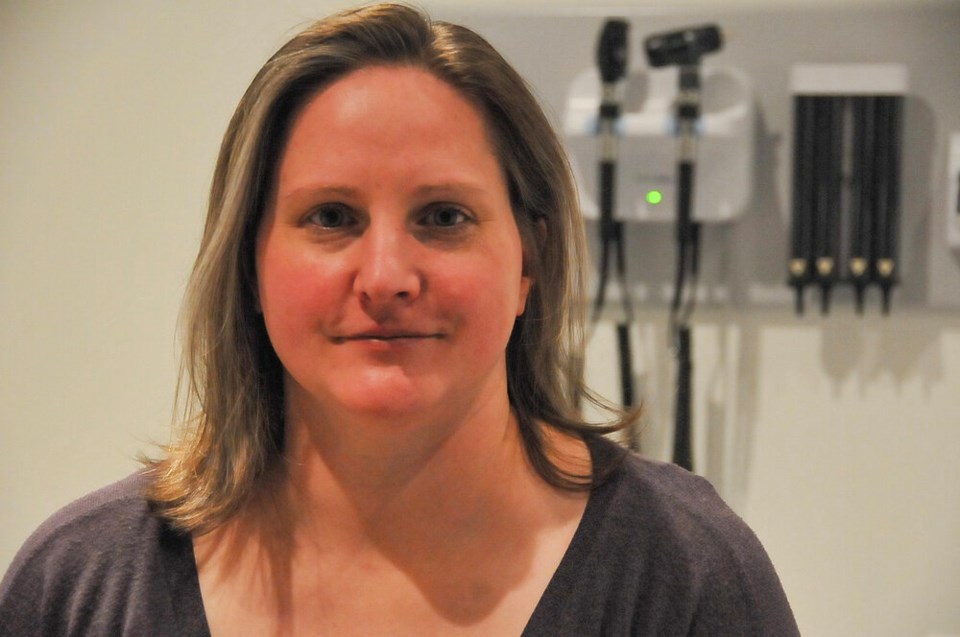 Lovett says she's not alone and that several of her colleagues continue to leave the profession. In her case, she remains at a family clinic where she sticks to specialized procedures and supervises resident students.
And while Lovett is confident B.C. is producing many family doctors, she says not a single resident she has supervised has chosen to work at a traditional family practice.
Instead, they go to work in a hospital or "new, shiny' Urgent and Primary Care Centres (UPCCs) set up by the province.
"Not a single one, and it breaks my heart, because they're all amazing physicians," Lovett said.
Government solution 'compounding the problem'
As part of a solution to the doctor shortage, the current B.C. government has moved to open nearly 30 UPCCs meant as an alternative to visiting an emergency department for non-emergency issues.
At their best, both Lovett and the management at the Galiano Island clinic say the well-funded clinics are a temporary fix; at their worst, they say UPCCs are compounding the doctor shortage by offering better pay and job opportunities for family doctors that could otherwise move into community-based clinics.
Like a "well-structured and well-funded walk-in clinic," UPCCs provide episodic care for single problems, says Lovett.
"They're not equivalent to a family doctor," she said.
As funding goes elsewhere, Lovett says the rise of UPCCs has also made her and other family doctors feel even more "devalued" and "unsupported" by the health-care system.
"That doesn't feel great from the position of a family doctor on the ground," she said.
No silver bullet
In the search for solutions to B.C.'s family doctor crisis, many have called for an overhaul of the province's fee-for-service model.
BC Family Doctors, which advocates on physicians' behalf, describes the scheme as "outdated and inequitable."
"Every hour that I see patients, there's an additional 15 to 30 minutes of work for charting — unpaid," said Dr. Rita McCracken, an East Vancouver family physician with 15 years of experience.
McCracken, who also works as an assistant professor in the University of British Columbia's Faculty of Medicine, says family practices require a funding scheme that recognizes everyone it takes to run a family clinic — from administrative staff to nurses to physiotherapists and family counsellors.
Pay them directly, says McCracken, and the provincial government will take a lot of pressure off doctors who would rather focus on practicing medicine than "running a business."
"We've up until now expected that family doctors do all of those roles," she said.
Unlike teachers in the public education system, McCracken says the health-care system is set up to survive in a world where family doctors never get sick, never have babies and never die.
"That's impossible," she said.
To truly overhaul primary care in B.C. will require a funding model that pays all specialists at a clinic without putting the onus on a family doctor to make ends meet, according to McCracken.
Make the prospect of being a family doctor all about the medicine, and you'll stop driving new doctors — who at times come out of 12 years of school hundreds of thousands dollars in debt — away from communities, goes the thinking.
"Most of us just want to be able to provide that kind of ongoing care," said Lovett. "But they see how hard it is."
"It's not appealing."
Long-term fix too slow for some communities
Simply ending the fee-for-service scheme is not enough for communities like Galiano Island. While the not-for-profit society that runs the island clinic took on the role of managers over a decade ago, that hasn't solved their own looming doctor crisis.
A week after the Minister of Health announced it was providing $3.46 million in "short-term stabilization" funding for five clinics on South Vancouver Island, the board overseeing the Galiano clinic sent a letter to Minister Adrian Dix calling for his office to close the funding gap between rural and urban areas.
Long-term, the letter urged the B.C. government to convene a provincial task force charged with creating a long-term strategy to enlarge and stabilize the family physician workforce across B.C.
"We have worked like Trojans for health care on Galiano without much assistance," said Ruedrich. "The only assistance we ask for is that they provide us with practitioners to actually provide the health care."
The latest census figures show Galiano's population has climbed 34 per cent since 2016. Over the past year, Kyle and Ruedrich estimate the COVID-19 pandemic has boosted the number of new residents to 50 per cent.
"People are moving here with young children," said Ruedrich. "And there's no increase in services."
Ruedrich says they are considering creating a "hotline" to nearby islands suffering similar doctor shortages and population pressures. Collectively, she says, maybe the government will listen.
Meanwhile, they are looking for an advanced care paramedic or a registered nurse — someone who can act as a stop-gap on an island inundated with summer visitors.
Without that, island residents, like many in the province, will be stuck with the province's unpredictable locum program — roving doctors that rarely sign on for more than five days at a time and struggle to find housing in the growing community.
"It's tough on staff. It's tough on the patients. They have to see someone new and tell their story every single time again," said Ruedrich.
Or as Dr. Elizabeth Whynot, former locum and now vice-chair of the Galiano Health Care Society put it: "It's just kind of collapsed on the head of the Minister of Health."
"This is just imploding."