Port Moody's Dan Gallant spends most of his weekdays battling Metro Vancouver traffic in a used cube van. When he's not navigating vehicular congestion, he's busy loading and unloading the truck and making travel arrangements.
But the retired TD Bank executive doesn't get paid for his patience, heavy lifting or organizational skills. Not a penny. He gets paid in other ways.
Gallant is the volunteer transportation master and warehouse manager for Rotary World Help (RWH), an organization that ships donated medical, dental and educational supplies to developing countries. He has been working out of an overflowing warehouse on the Riverview Hospital lands in Coquitlam for 15 years. 
"They offered me early retirement and I jumped at it," says Gallant as he sits amidst stacks of hospital beds, boxes of medical supplies, IV stands, examination beds and much more, most of which he has picked up. "I needed something to do and this fills that need."
Rotary World Helps began in 1992 after three Vancouver Rotarians went to the Ukraine to help get some Rotary clubs started there following the fall of communist rule. The trio realized there was a desperate need for medical supplies, so when they returned, they scrounged up enough to fill a shipping container and sent it to Kiev. That inspired the founding of RWH and the organization has been scrounging and shipping ever since.
Gallant said last week that when Rotarians seal the doors on a container bound for Siquijor Island in the Philippines (it was loaded Saturday), it would be the 390th container they've shipped to 60 countries. Just a few weeks ago, another container full of computers, books and medicals supplies made its way to Kenya.
Gallant, a native of Prince Edward Island, worked across Canada for TD for 35 years starting when he was 18 years old; his final stop was the Lower Mainland. He's been a Rotarian since 1980 and, after he retired at the age of 53, he learned about RWH through some friends in the club. He thought he could make a difference. He certainly has done that.
"The more I got involved, the more I got hooked and wanting to do more and give more of my time," says Gallant. "While I still volunteer my time for local [Port Moody] Rotary projects, this consumes a lot of my Rotary time because this has become a passion for me and how it benefits other people."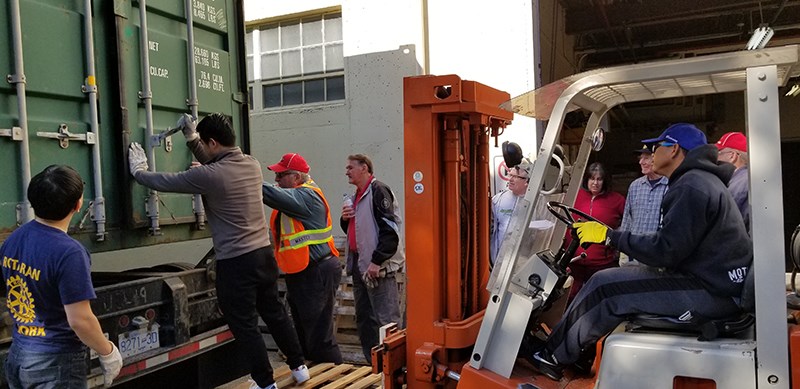 In the beginning, much of his time was spent making contacts with hospitals, health care facilities and seniors' homes searching for medical equipment and supplies. But as it evolved, opportunities to broaden into dental and school equipment and supplies emerged, although medical gear still makes up about 75 to 80% of the donations. There are also some interesting odds and ends, like the boxes of slightly used tennis balls donated by the Hollyburn Country Club in West Vancouver, hosts of a pro tournament every summer, and soccer gear from Tri-Cities clubs that is eagerly gobbled up in futbol-mad countries.
"All equipment that we accept is on the condition it is in good working order and reusable at the receiving end," says Gallant shortly before hopping in the van for pickups at Lions Gate Hospital in North Vancouver and St. Paul's in downtown Vancouver.
One of the rarest donations the organization received was about 60 specialty cribs of varying sizes from B.C. Children's Hospital after it recently moved into a new building with new equipment. It took two weeks and 20 truckloads to get the cribs to the Riverview warehouse and a secondary one in Richmond.
"We rarely ever get any [cribs]. This was an enormous windfall for us. We've put a few on each [shipment] since depending where they're going. We spread them around," he says.
The donors like RWH because it saves them from forking out pick-up and disposal fees.
"Nowadays, there's very rarely a need for us to be proactive contacting potential donors," Gallant says.
The organization shipped 19 containers in 2017 — the average is 15 — and RWH expects to ship up to 20 in 2018, including to Guatemala and Sierra Leone later this year.
Gallant says operational costs are low because the 40 Rotary clubs in RWH sponsor each shipment and the receiving clubs are responsible for clearing customs and distributing the shipment at the other end. The biggest costs are the warehouse lease, the truck and packing supplies.
"It's big bang for your buck — big time," says Gallant, who estimates the average shipment costs about $8,000 U.S., although it's a lot less if it's going to the Philippines.
His own big payoff comes on trips he has made to South Africa, the Philippines and Belize to see the results of his and his clubmates' work.
"I saw people using beds that we had sent, walkers, wheelchairs, medical supplies, eye examining equipment; libraries stocked with books where otherwise they wouldn't have had a library; computers to be used in the schools to help teach them to become more literate.
"I saw what we were filling them with — perfectly good stuff that was being disposed of in our system, yet it was given a second life for people in these developing countries."
His most recent sojourn was to Belize in April, shortly after RWH, under the sponsorship of the Port Moody Rotary Club, had sent a container there.
"We went to the warehouse and helped other local Rotarians sort the beds and the mattresses and the stretchers, and on and on and on, for the local organizations, who had been invited to come to the warehouse later that day to help themselves," recalls Gallant, 73. "It was like Christmas to them. It was unbelievable. They were hauling beds and mattresses out of there on little trucks. There was a nurse who came and was observing the boxed medical supplies and she said to one of our people, 'We never get any of this stuff.' She was delivering it to 11 clinics in her area."
Then the Belize Rotarians took him to see a young man who could only crawl and lived with his mother in a shack with no means to get around easily.
"We took one of the wheelchairs that we had sent, went around to his house and put him in his own wheelchair to give him some dignity and mobility. That's pretty powerful stuff," he says before grinning when asked how the young man reacted to his new wheelchair: "A big, big smile. He was a pretty happy young man."
There's also plenty of smiles to go around on loading day. They put out the word for volunteers and more than enough show up every time to pack the container in no time. That's when all of them, particularly Gallant, get paid. And last Saturday was pay day.
"It's pretty satisfying to shut that door and put the customs seal on it and get it on its way," he says Gallant with, of course, a smile.
• More information on RWH is available at rotaryworldhelp.com.
newsroom@tricitynews.com