With rapid redevelopment occurring all over Burquitlam, the future for tenants at 500 Foster Ave. was already uncertain. 
But after a fire tore through the 53-unit rental building early Tuesday morning, scorching the southwest side of the 38-year-old structure, the scramble for residents to find new housing has been thrust to the forefront.
"I don't know where I'm going to go," said Sharon Dumoulin, who has lived in the building since 2004. "We are stressed out and homeless."
She has been staying at the PoCo Inn and Suites since Wednesday, accommodations provided by the city of Coquitlam's Emergency Services Response Program. But that assistance runs out after 72 hours and while BC Housing is working to get her another night in the hotel, she said her long-term future is unclear.
Before the fire, Dumoulin, who is on disability and receives $1,200 a month, paid $870 for a one-bedroom at 500 Foster Ave. With Metro Vancouver's sky-high rental rates, she said it will be impossible to find a similar unit in her price range.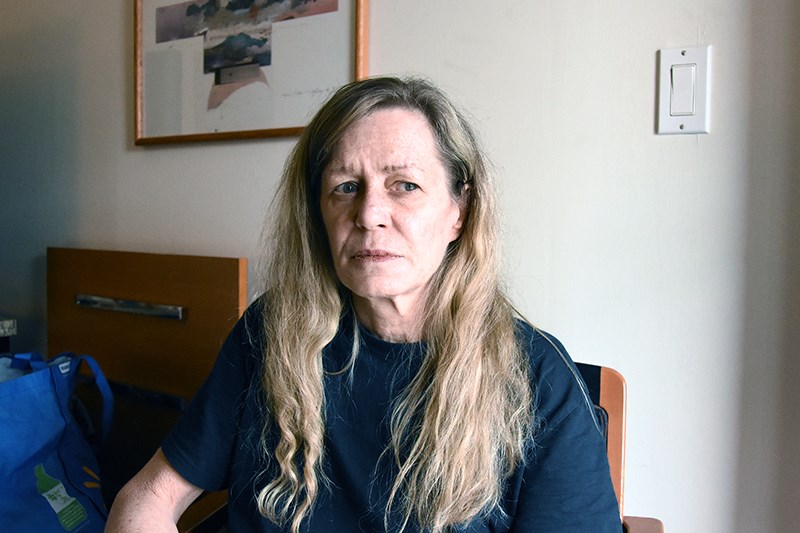 "I was able to make it work because I had low rent because I had been there for so long," she said, adding: "We knew our days were numbered. I have looked [for housing] every day. I have gone to the Island to look. I have gone to the Kootenays. Everything was just as unaffordable as it is in Vancouver."
Amacon, the building owner, said it is offering financial assistance to residents and may be able to relocate some people to another building on the site or to other properties the company owns in neighbouring municipalities. 
Still, there is significant mistrust between tenants and the landlord. 
When a company representative was handing out cheques to residents Wednesday, Dumoulin said she did not accept the offer because it did not come with documentation explaining what the money was for or what would happen next. 
"I didn't take it," she said, noting other people in the building also declined the offer. "I don't know if I did the wrong thing but there's no paperwork with it… I need a copy of something."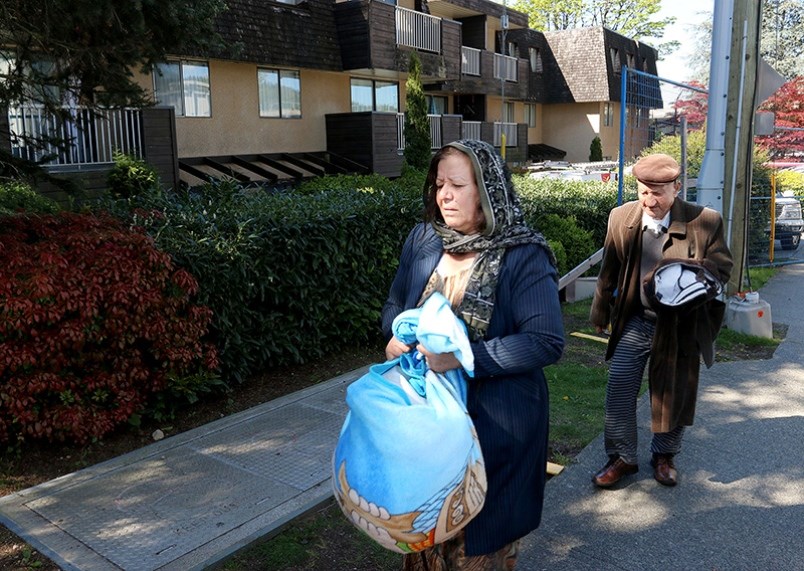 Claudia Almazan, who has lived at 500 Foster Ave. for three years with her father, Carlos, and her nine-year-old son, Eric, accepted a cheque totalling $4,075. 
Her unit was located on the southwest side of the building and was significantly damaged in the blaze. She said her family has nothing and were told they may not be able to get any of their possessions out of the suite. 
"I have my child to worry about," she said, noting he attends nearby Roy Stibbs elementary school. "I don't have relatives or people to lend me a hand. I have to look after my son."
Because she has a child, Almazan said she was told by an Amacon representative that she would be given priority for relocating to the neighbouring building at the price she was paying in her old unit.
"But none of this is written down," she said. "There is no agreement… Hopefully it is true."
Bahareh Hajarizadeh, a mother of a 16-month-old and resident of 500 Foster Ave. since 2011, said she was frustrated after learning people with children were being relocated. She and her husband were given a cheque but not offered a place to stay, she said. 
"I don't want the money," she said. "I just need a place."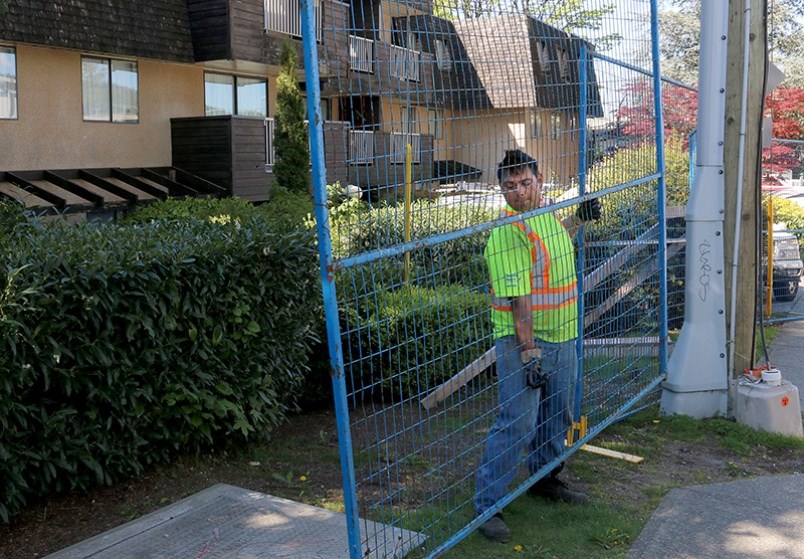 The acrimony between the tenants and Amacon stems from the company's attempt to redevelop the site last year.
Residents only learned of the proposal when it went to city council and the company ended up rescinding its application after running into significant opposition during the public hearing process. 
Chris Quigley, the company's senior development manager, admitted this week communication between Amacon and tenants was poor and the company has learned from the experience. The company is about to re-submit its proposal to the city and it will now include below-market rental units as part of a partnership with the YWCA.
Stepan Vdovine, Amacon's director of business development, told The Tri-City News Friday the company is making every effort to accommodate tenants affected by this week's fire. He said each resident will receive $1,000 plus a number of months rent depending on how long the person has lived in the building. On average, each tenant will receive somewhere between $4,000 and $7,000, he said. 
"Our priority as a company has been to assist tenants who are obviously in very difficult circumstances," Vdovine said. "The priority has been about getting money into people's hands."
An Amacon spokesperson stated in an email to The Tri-City News that compensation being offered to tenants is not an end of tenancy payment and that a resident will not formally end their tenancy by accepting the cheque.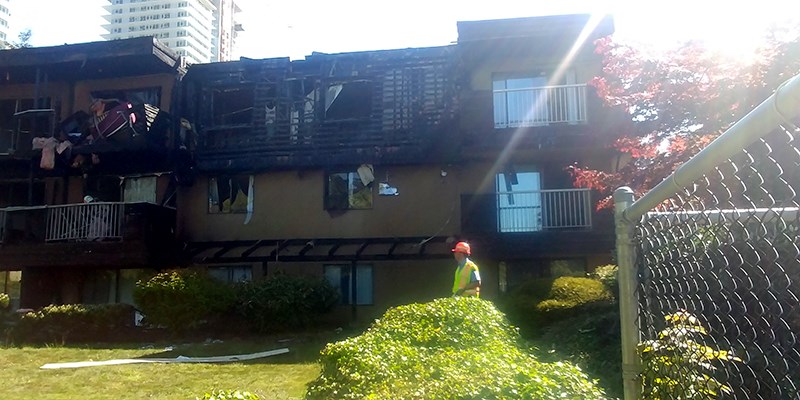 If a unit cannot be found in the neighbouring building on Foster Avenue, Vdovine said there could be opportunities to move to other Amacon buildings outside of Coquitlam. For example, a new building is coming online in Maple Ridge and some units could be available in other parts of the region. Residents who were relocated to other Amacon properties would only be charged rents at their existing rates, he said. 
"There are absolutely no increases," he said. "This is about making sure people are being supported."
Vdovine acknowledged that several tenants had declined to accept the company's offer. He said the cheques are still available and that if any tenant has not been in contact with Amacon, they should get in touch quickly.
"I understand the stress and pressure people are in," he said. "Our entire company is deeply sympathetic… We continue to assess what the concerns are that we are hearing and continue to adjust our response."