A BC Hydro report has found that British Columbians are overestimating their swimming abilities and putting themselves at serious risk as a result. 
A public survey completed between June 18 to 22 on behalf of the public utility found 30% of British Columbians say they've had a "near-death drowning experience" and 53% have seen another person in water in distress.
The long-awaited report stems from two drownings at Anmore's Buntzen Lake, the public utility's most popular recreation destination, which receives over 700,000 visitors every year. 
Both incidents paint a vivid picture about the dangers of entering the water unprepared, something echoed throughout the province-wide survey.
In July 2018, Mounties and Coquitlam Search and Rescue were called out to the scene when a group on the beach reported a friend missing. He was not a strong swimmer and had ventured some distance from shore, relying on nothing more than a novelty floaty rather than a certified personal floatation device to keep him above the water. The 19-year-old Surrey man was later found drowned 100 metres from shore in about 40 metres of water. 
About a month later, the body of a 47-year-old Burnaby man, a non-swimmer, was recovered by the RCMP's underwater recovery team after he disappeared under the surface of the water in the late afternoon.
The two incidents at Buntzen Lake were the first in over a decade, notes the report.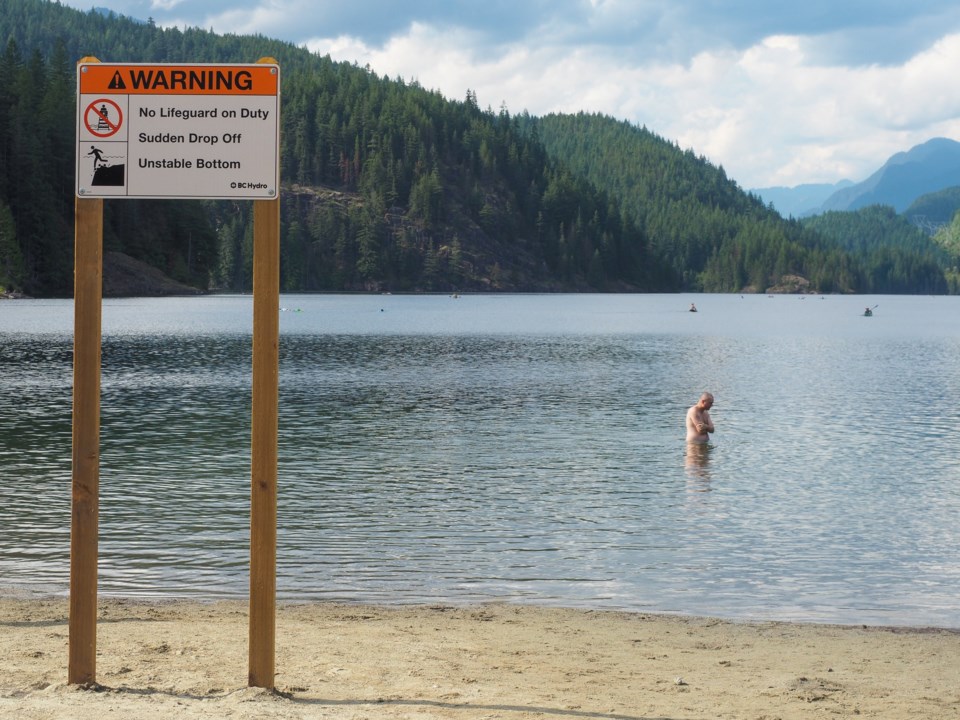 Surveying a sample of 600 people, the report found several reasons why people may be putting themselves at unnecessary risk in the water, including swimming under the influence of drugs or alcohol (50% of respondents confessed to going into the water under the influence of marijuana or alcohol) and lack of experience.
The survey found 85% of British Columbians count themselves as experienced swimmers, though most don't swim often and a full 63% end up in the water only a few times each summer. Another 85% have not completed formal swimming lessons in the past decade and 10% said they've never done so.
Another 20% said they break the rules and swim in areas marked off-limits to swimming. More than 40% of parents said they were "somewhat distracted" when they should have been watching their children in the water, and when it comes to personal flotation devices, 24% of boaters, 27% of kayakers, 28% of canoers and 58% of tubers said they didn't use a personal flotation device.
According to the Lifesaving Society of Canada, an average of 258 people drown in Canada every year, of which more than three quarters are men. More than a third of victims succumb in lakes and ponds — more than any other water body — and more than two-thirds of drownings occur between May and September.
In an effort to warn beachgoers, Hydro installed several signs at the beach in June 2019 to warn swimmers of a steep underwater drop-off and the lack of an on-duty lifeguard. The company has also marked hazards such as sandbars and rocks around the swimming area and created a designated swimming area on the south shore of the lake.
BC Hydro now says it has brought in life guards at some of the more popular of its 19 reservoirs open for recreation, including Buntzen Lake.
The comes as BC Hydro found 70% of British Columbians are planning a staycation or trips within provincial borders.