It appears a number of coyotes are camping out in Coquitlam's Maillardville neighbourhood.
The city is urging local residents and visitors to be aware of their surroundings after sightings of the animal around Laurentian Park, as recent as 8 a.m. this morning (July 27), and are reportedly being aggressive towards pets.
The park is just west of Montgomery Middle School (1900 Edgewood Ave.), where a handful of coyotes have also been spotted this month.
While they're naturally shy, coyotes are said to be more aggressive if exposed to unnatural food sources and become too familiar with human behaviour.
Coqutilam environment manager Caresse Selk explains it's important to keep the animals in a state of shyness "for the safety of people, pets and coyotes themselves."
She warns it's illegal to feed coyotes, or any other wildlife, and to call the BC Conservation Officer Service (BCCOS) if they continue to be aggressive towards people and pets, or causing property damage.
By the numbers
WildSafeBC's Wildlife Alert Reporting Program (WARP) confirms Coquitlam's alert today with five coyote sightings in the last three weeks in the Laurentian Park/Montgomery Middle area.
The data says it's not known what attracted them to the neighbourhood, but four of them were encountered before 10 a.m. on their respective days since July 7.
In Coquitlam alone, there have been 28 reports of coyotes roaming the city since Jan. 1, 2022.
Seven have been reported since the official start of summer (June 21) — all in the Maillardville area and one in the industrial sector south of Highway 1.
In total, 71 coyotes have been spotted across the Tri-Cities since the start of the year, per WildSafeBC, including a region-high 32 in Port Moody.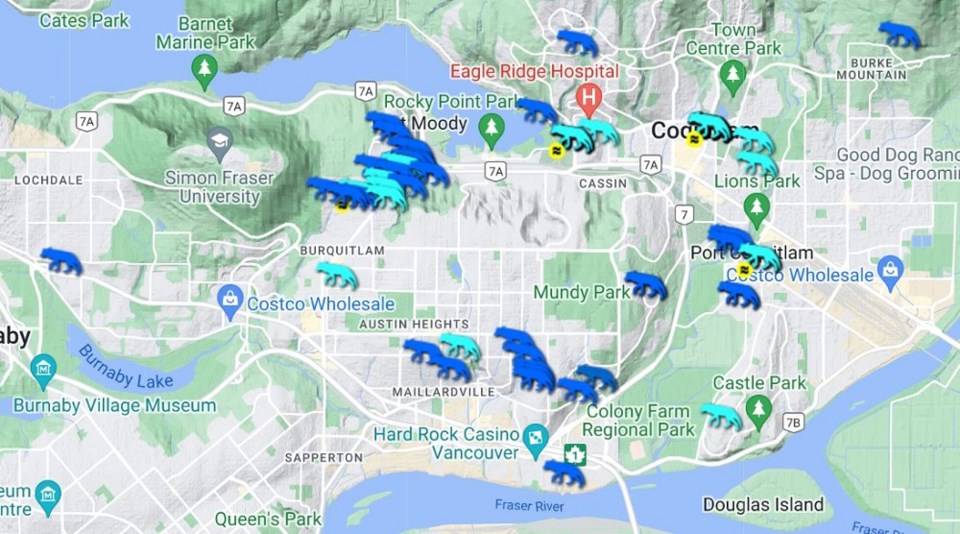 I've encountered a coyote. What do I do?
The City of Coquitlam has provided several tips on how to properly handle a coyote encounter, such as raising your arms above your head to make yourself look big, and to make loud noises.
As well, it's important to not turn your back towards them as this puts you in a vulnerable state.
Residents are also recommended to throw small rocks or objects near the animal to try and scare it off, and to pick up children and small pets off the ground as coyotes are known to prey on smaller animals.
Tips to protect pets include:
Keep cats indoors
Walk dogs on a short-leash
Supervise your dog while off-leash in a designated off-leash area
Walk dogs in high-pedestrian areas and avoid densely vegetated areas
Feed pets indoors
Tips on removing food and other attractants from your home include:
Freeze meat and strong smelling food scraps and only place in your Green Cart on the morning of collection day
Store Garbage Carts, Green Carts and recycling bins in an area inaccessible to wildlife
Place Carts and recycling at the curbside after 5:30 a.m. on collection day
Suspend bird feeders and clean up fallen bird seed
Practice responsible backyard composting
Make areas in the yard less inviting for rodent habitat and coyote burrowing (maintain vegetation and seal off decks, sheds and porches)
Avoid leaving small pets outside unsupervised and keep pet food inside
Keep barbeques clean
You can also call the city (604-927-3500) to report wildlife attractants in your neighbourhood.