Candidates from Coquitlam-Burke Mountain took to the debate stage for the first time Wednesday night to flash their track-records and throw barbs in what's predicted to be one of the closest races in the upcoming provincial election.
The debate — the last of four organized by the Tri-City Chamber of Commerce and sponsored by the Tri-City News — featured a few hostile moments, as when BC Liberal incumbent Joan Isaacs went after BC NDP challenger Fin Donnelly's party record on distributing pandemic financial aid to small businesses and for adding another step to an approval process for a new school on Burke Mountain. 
"It's a little rich coming from the BC liberals. They waited for years to build," Donnelly  shot back in one particularly heated exchange.
Donnelly, for his part, offered a direct indictment of how the BC Liberals 16 years in power led to "skyrocketing" costs of living and the privatization of staff at hospitals and seniors care homes, often repeating some version of "Don't go back, go forward."
Donnelly also leaned heavily on the BC NDP's record over the last three and a half years in power, pointing to the expansion of Eagle Ridge Hospital, the planned opening of a Tri-Cities Urgent and Primary Care Centre this winter and pledged to see through the promised middle-secondary school on Burke Mountain. 
But it was when both candidates laid out how they'd help British Columbians through COVID-19 where the two parties world views began to diverge along familiar lines.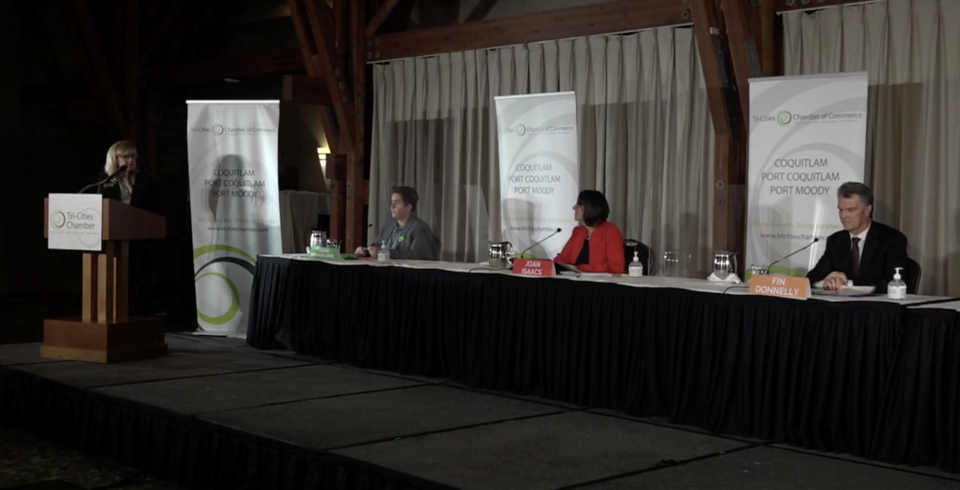 Beyond the direct aid the BC NDP's have granted British Columbians over the last seven months, Donnelly highlighted his party's reduction in hydro rates and elimination of bridge tolls and monthly Medical Service Plan fees. 
"These are steps that will help small businesses in our community by allowing people to have more money in their pockets to purchase the products and the services that they need," said Donnelly.
Isaacs shot back describing the Employer Health Tax as "absolutely crippling for business" and pointed to a Globe and Mail report indicating that by calling an election, the government had delayed the disbursement of hundreds of millions of dollars in pandemic economic recovery aid.
"There's only one reason why we're here tonight and one reason only: John Horgan has called an unnecessary election in the middle of a pandemic for self-serving and political reasons," said Isaacs in a direct attack repeated by both BC Greens and BC Liberals throughout the campaign. 
Political newcomer Adam Bremner-Akins piled on in an unusual dynamic where both the BC Green candidate and BC Liberal incumbent attacked Donnelly for being part of a party that called the snap election.
"If the NDP wanted to help small businesses they wouldn't have collapsed our government. That's where we can get funds to small businesses, that's where we can see regulations," said Bremner-Akins.
Bremner-Akins, 18, is the second youngest candidate in the province this election. But that did not appear to dampen the SFU political science student's appetite to challenge the other candidates and outline his parties bold policy proposals in education and the environment. 
Bremner-Akins clearly articulated the BC Green plan to eliminate university tuition, ban fracking, slash corporate subsidies to the fossil fuel industry, re-direct $500 million towards the development of renewable energy and the re-training of fossil fuel industry workers, and offer $300 million in grants to help small businesses manage 50% of their rental costs.
On several issues, he painted a picture of a competent if inexperienced candidate, who entered politics for the right reasons. In one challenge that hung in the empty hall, Bremner-Akins asked, "Are you willing to commit to banning fossil fuel subsidies, taxpayer money that is funding the destruction of our planet?"
Neither Donnelly nor Isaacs responded. 
Instead, Donnelly highlighted his years in public service and how he twice swam 1,400 kilometres of the Fraser River as evidence of his commitment to protecting water. And in a preview to Friday's debate on the environment, which Isaacs will not attend, he committed to expanding campgrounds and trails in BC Parks.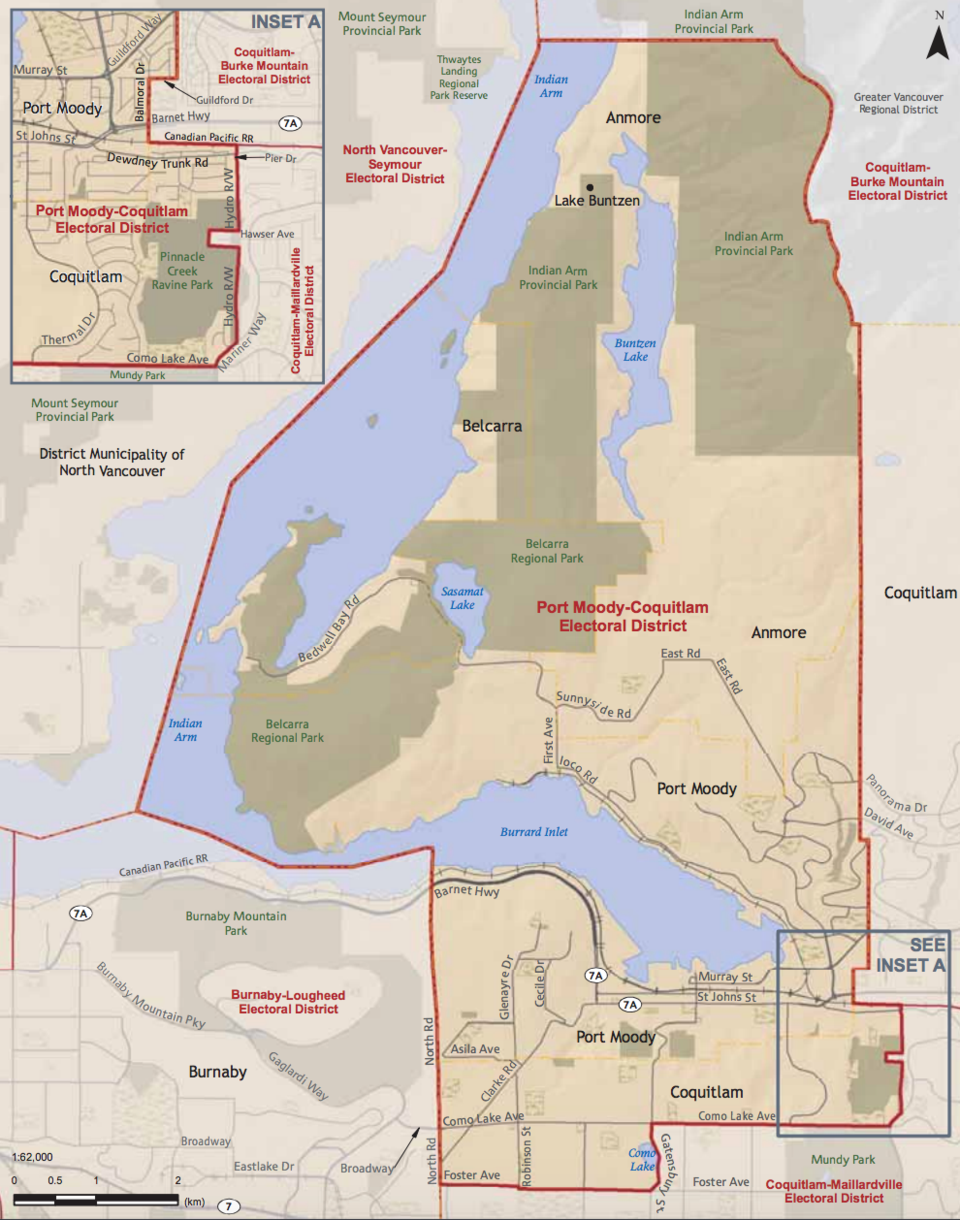 But when Donnelly leaned on the NDP's Clean BC plan and called for environmental oversight in the resource sector, he was attacked by Bremner-Atkins over the party's "shell of a plan," as tax dollars continue to flow to fossil fuel ventures. 
Isaacs, in responding to questions on how she would address climate change, pointed to the province's "abundance of natural resources" and the BC Liberal plan to shape B.C. with a competitive tax regime that would attract companies while getting natural resources to market in a "safe way." (The BC Liberals recently announced they would push for the construction of a second LNG plant). 
In one of her pivots, Isaacs honed in on her party's plan to eliminate the Provincial Sales Tax (PST) for a year before bringing it back in at 3% for another year. 
When asked about how the candidates would work to end homelessness, Isaacs spent her time laying out examples of how different people can become homeless in different ways, at the end declaring, "We have to treat the root cause of the problem… We can't put people who have different needs and require different supports all under the same roof."
That's when she attacked the BC NDP's decision to move homeless encampments into hotels, linking it with rising crime rates and stating "this exact same thing happened in Coquitlam… and crime has increased significantly in family neighbourhoods."
"[There are] people who don't feel safe in their own neighbourhoods because of the aggressive behaviour and street disorder."
Crime data, in fact, paints a very different picture. While total crime was up 3.2% across the province in 2018 — the last year crime statistics are available — the numbers dropped 4.5% in Coquitlam, 13.9% in Port Coquitlam and 10.6% in Port Moody. Further, according to Coquitlam RCMP, property crime fell 12% in the first four months of 2020, a statistic police are attributing to the public health crisis.
And in what is perhaps no surprise for a city with a growing population living the condo life, the soaring cost of condo insurance paved the way for a lull in partisan bickering. 
"I agree with Adam," said Donnelly in response to Bremner-Akins's call to convene a task force address the rising costs.
"We should work across the aisle. All parties should be working together on this."
Watch the full debate here: