Today, it is acres of parking lots nestled around an intersection where two highways meet.
But over the next 25 years, Coquitlam's City Centre is expected to transition from a suburban shopping hub to an urban downtown, serving residents beyond the municipal borders and acting as a focal point for Metro Vancouver's northeast sector.
According to a draft area plan, which was presented to Coquitlam council last week, the growth will dramatically change the city's skyline while increasing employment opportunities and service offerings for the neighbourhood.
"As cities evolve, much like any evolution, it doesn't occur in a straight line," said Andrew Merrill, Coquitlam's manager of community planning. "Occasionally, there are big steps up and, right now, our City Centre is on the cusp of taking one of those big steps forward."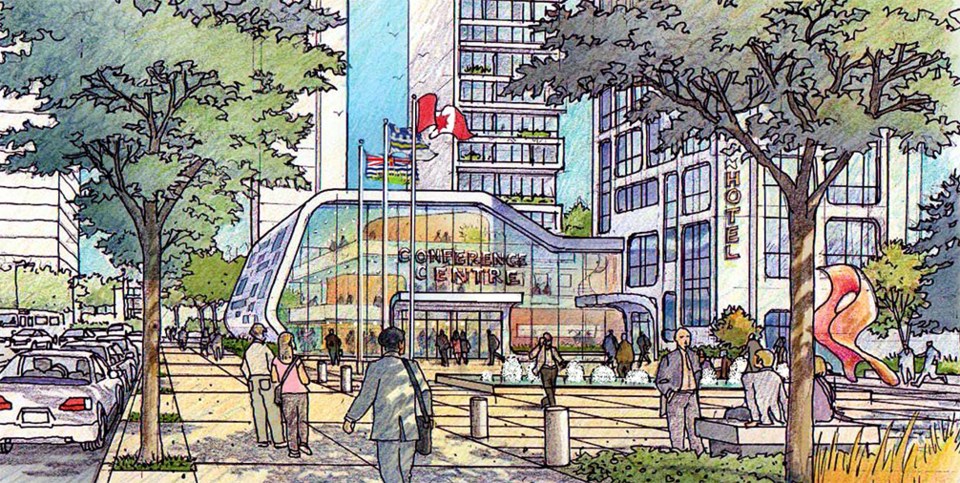 The draft plan covers a 1,789-acre area and is built around a handful of what city staff are calling "big moves."
First, an entertainment district with bars, restaurants and theatres is proposed along an extended version of The High Street that will continue south over what is now the Coquitlam Centre mall parking lot. The city would also like to see a hotel near Lougheed Highway and Pinetree Way.
The district is expected to anchor the downtown core, where the city intends to double the current minimum commercial density to provide a strong employment base, one of the central planks in the draft plan. Office districts are slated for the areas next to the Lincoln and Coquitlam Central SkyTrain stations while most of the new streets will have mandatory commercial frontages.
Maps show a network of new parks and public spaces peppered throughout the area along with civic amenities, including an elementary school on Lougheed Highway between Pinetree Way and Johnson Street. A range of housing options have also been outlined to meet the goal of creating a "family-friendly downtown," according to a staff report. 
"To meet the varying needs of households of all types and at all stages of life, a variety of housing choices, tenures and price levels will be provided across City Centre," said the report. "This will be achieved by respecting established neighbourhoods and directing new high-density residential development to the commercial downtown core."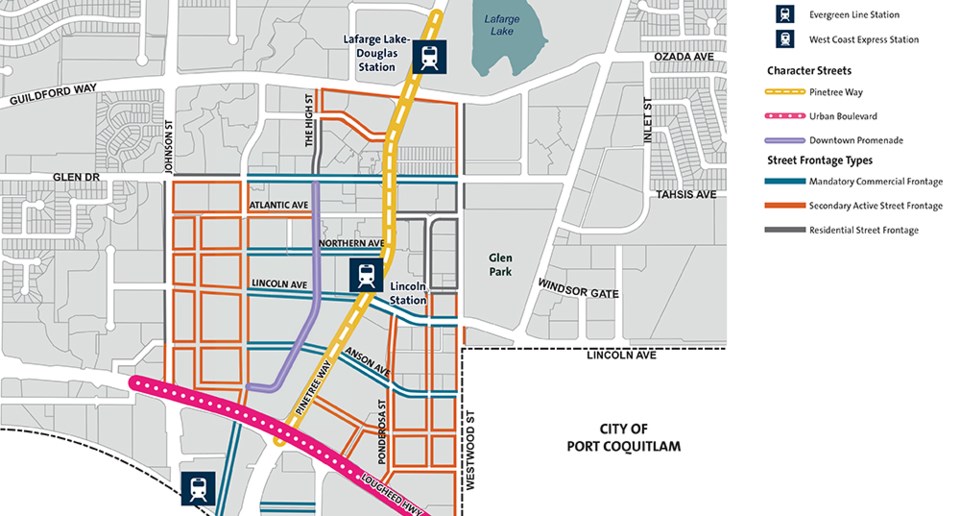 The plan also outlines dramatic changes to the City Centre's road network.
Gone are the large swaths of concrete parking lots, replaced with new streets and the extension of existing roads, including Pacific Street and Anson Avenue, which currently hit a dead end at the mall. The finer street grid is necessary to make the neighbourhood more walkable and pedestrian-friendly, according to the report.
With the completion of the draft plan, staff will now take the document out to the public for consultation. Information sessions, public surveys, pop-up kiosks — and even a virtual reality tour (see story next week) — are being used to engage with people, according to a staff report.
After residents have had an opportunity to provide feedback, staff said the draft plan will be back before council in early 2020 for bylaw readings and a referral to a public hearing.