People should put their energy into removing garbage and animal attractants from their homes instead of preventing conservation officers (CO) from doing their job.
That's the advice from a veteran CO who has worked in the Tri-Cities for several years and recently witnessed vandalism to a bear trap meant to capture a problem bear and had to face down an angry homeowner during a yard search.
"We want to remind people that we have the authority to enter the backyards in some of those instances," Sgt.Todd Hunter told The Tri-City News.
He said his officers were prevented from entering a yard to search for a bear that had entered a Seymour Drive home to steal food. 
The man had to be threatened with charges before he backed down.
And in June, officers had set a trap in Anmore for a bear that was getting into garbage, but someone took a sledge hammer to the trap triggering device, requiring repairs and a delay to the operation.
"It distracts us from our duty. It's obstruction. We can't afford to have that, especially when we are trying to make the area safe," said Hunter, speculating that the same bear is now believed to be the one trying to enter vehicles in the area to steal food.
Hunter said he understands peoples' reluctance to help conservation officers because they are worried that doing so will lead to a bear's death.
But he said their anger is misdirected and should be positively redirected towards efforts to clean up their neighbourhood or business so bears aren't attracted to the area.
In recent days, there have been plenty of scofflaws ignoring advice to get rid of attractants.
Near Mundy Park, where a family of bears is stealing food, officers found garbage being set out early, which is against city bylaws, and near Coquitlam Centre, where a bear was seen wandering outside the mall, a number of restaurants and even a condo had open bins with food in them. 
All can expect warnings and even fines if they don't clean up their act, Hunter said.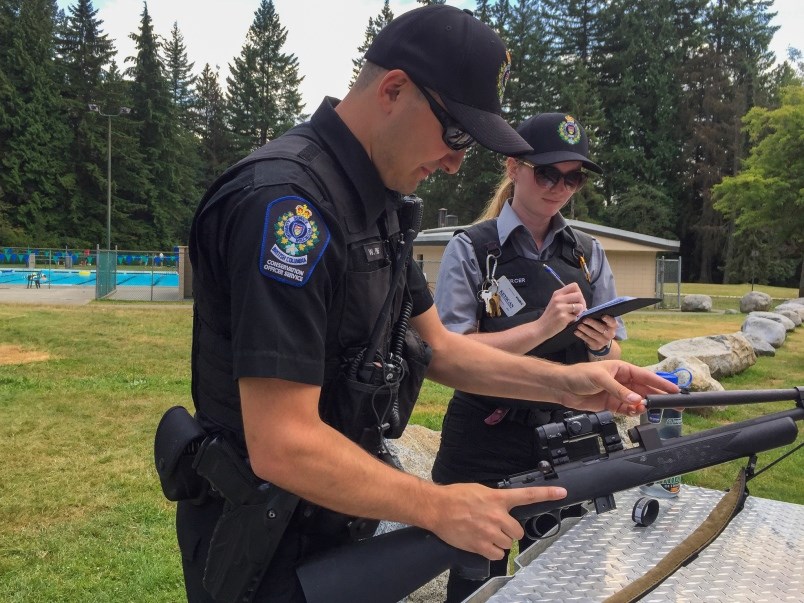 "A lot of people are refusing to step up," he added. "They just stuff [food] in a garbage bin and leave it."
While relocation is preferred to euthanasia, it's not always the solution if bears are already habituated to food, Hunter said.
Officers are required to do a history search on each bear and if it's found to be habituated and food conditioned, the bear will need to be euthanized.
However, fewer bears are killed than most people realize, according to the CO service. In fact, less than half of one per cent of bears involved in reported conflicts are euthanized.
Bear deaths also take a toll on conservation officers who have to destroy them, said Hunter.
"It's wrenching to all of us that we have to put an animal down. We love wildlife and we got in it [the CO service] to protect the wildlife. But we also have a duty to protect people and at the end of the day these issues are quite significant. It's absolutely necessary to ensure safety."