Dressed in a purple tank top and pink shorts, her blond ponytails shining in the August sun, three-year-old Beth Steiger moves between dropping fish food into a tiny pond at Ronald McDonald House on Heather Street and popping Cheerios into her mouth.
On occasion, Beth stopped to admire her fingernails, painted in a clear coat of sparkles, the perfect accessory to the pink glasses with flowered arms perched on her tiny nose. Running out of fish food, Beth went to plan B and began sharing her beloved Cheerios with the hungry orange and white koi gathered below.
The only visible sign of the lifelong struggle Beth has gone through to not only survive, but also to thrive, was the strip of white surgical fabric holding a tracheostomy breathing tube in place in the centre of her throat.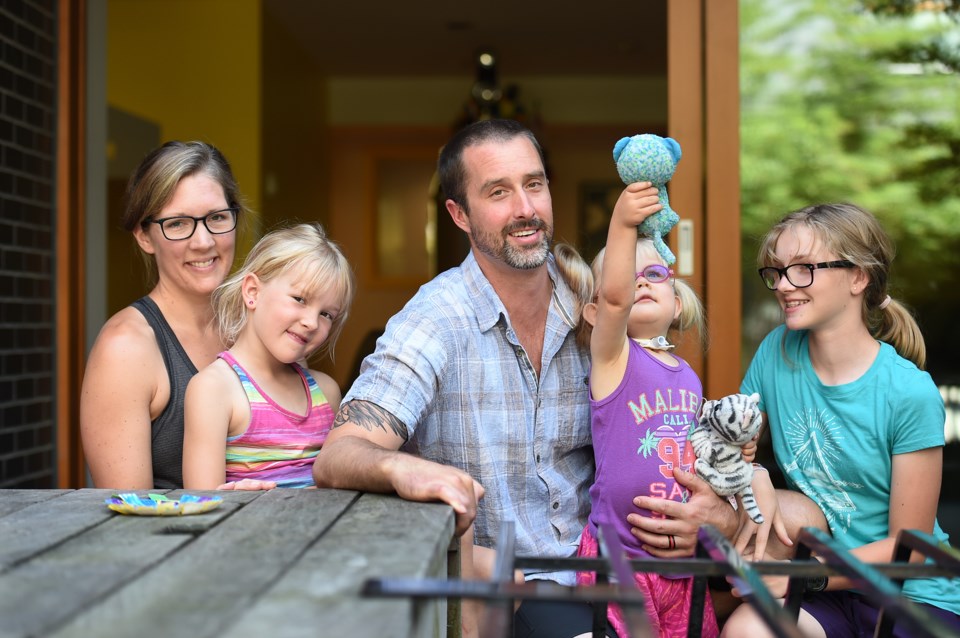 "There are a lot of complications that come with bad kidneys," Beth's dad Jared Steiger explained. "The tracheotomy is there because her lungs were underdeveloped. Beth got the flu and couldn't recover, so she got a trach. But it should be coming out next year."
Beth underwent a kidney transplant June 13, just weeks before her third birthday. Knowing since birth that Beth would need a kidney transplant, both Jared and mom Erin Steiger offered to act as donor, but it was Jared who went under the knife at St. Paul's Hospital. Despite Beth's tiny size, when an adult donates a kidney to a child the entire organ is removed, so at the time of this interview, Jared was just two months past the invasive surgery.
"Beth's kidneys were very low functioning so we always knew if she made it, she'd have to have a transplant," said Erin.
If she made it?
"Before her surgery, Beth spent 150 days in ICU," said Erin.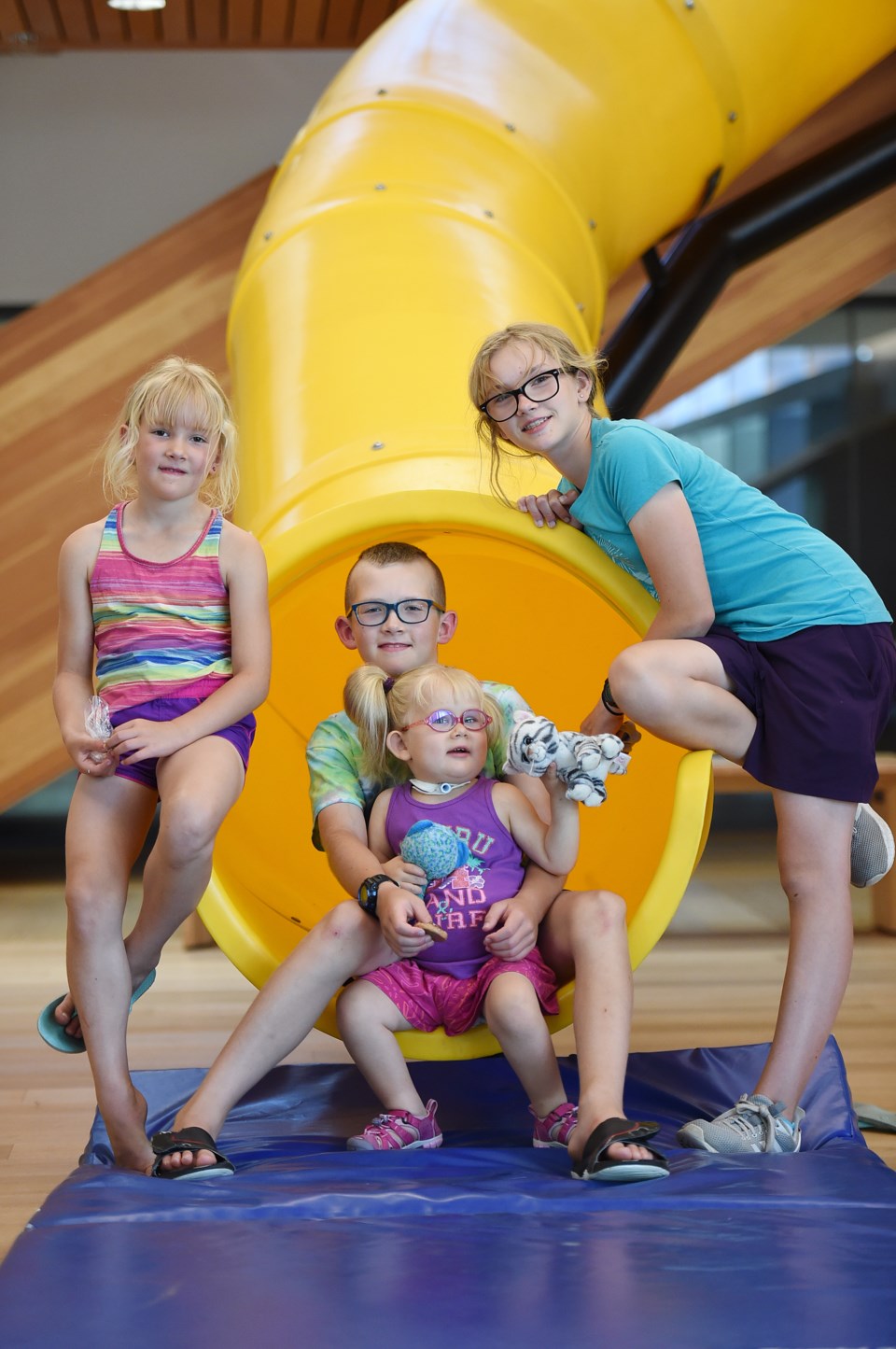 The entire Steiger family, including Beth's older siblings Alandra, 11, Dawson, eight, and Claire, six, had been living at Ronald McDonald House B.C. and Yukon on Heather Street since the beginning of June. But this is not their first stay at the house, which provides accommodation for seriously ill children and their families when they have to be in Vancouver for their child's major treatment.
Beth was just three-months old when her health took a dramatic turn for the worse and she was rushed to B.C. Children's Hospital by helicopter after spending the night in hospital in Prince George. While Erin flew with Beth, Jared, a fireman by trade, drove home at 6 a.m. that same day, grabbed the rest of the kids and drove down from Prince George, where the couple moved 12-years ago.
"And we didn't leave for five months," said Erin. "We just ended up staying [at Ronald McDonald House] the whole time."
Jared explained that when a family arrives because of an emergency situation, the basics, including diapers and toothbrushes, are already in place.
The kitchens are also well stocked with plenty of essentials compliments of Save-on-Foods, including eggs, milk and much needed coffee, so parents don't have to worry about immediately getting to the grocery store after they arrive. Parents at Ronald McDonald House cook the majority their family's meals, but community groups cook dinner at least four nights per week for families and volunteers bake cookies, make smoothies and other delicious treats every week.
"If you have a critically ill child, they cook for you," said Jared. "You don't have time to think of that stuff when your kid is in ICU and things are going on."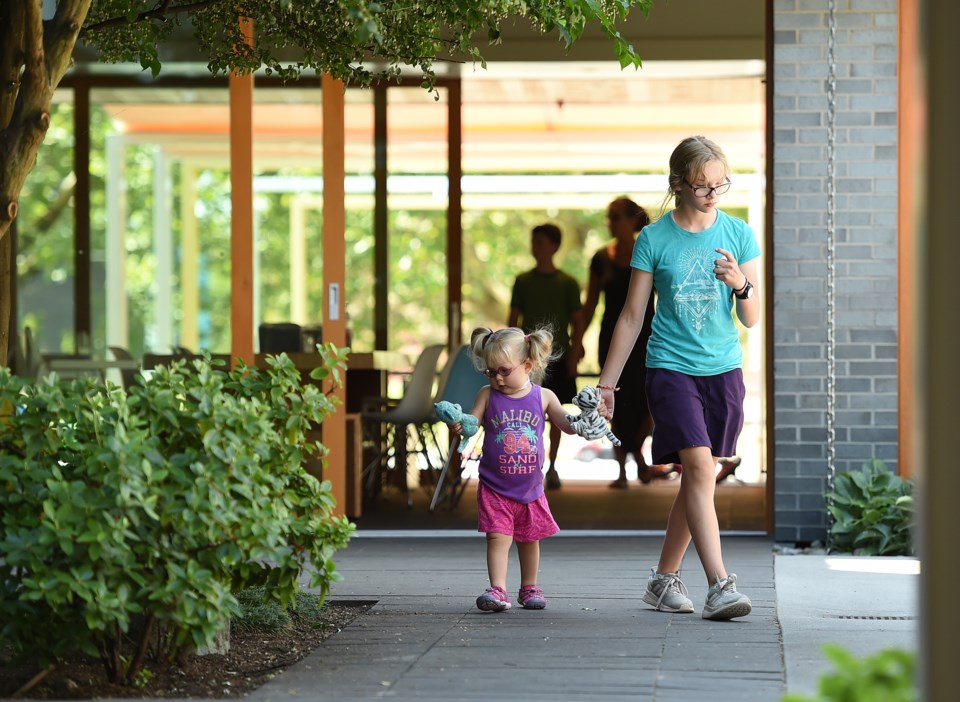 The couple is more than grateful for the "home-away-from-home" they've found at the house. Over the past several years, they've gotten to know other parents of sick or injured children and have found much-needed support from staff members of the house.
"If you're going to be anywhere with a sick child, this is the place to be," said Jared. "And it's a five minute walk from the hospital so if you need anything, it's right there."
It's not just the parents who are cared for. By the time they were set to go home, the family would have been at the house three months. The older Steiger kids had no problem with the lengthy stay, which is a good thing because in total Beth has spent 330 nights at the house.
"Have you seen the LEGO room?" Dawson asked excitedly. Meanwhile Alandra has been taking part in cooking classes and Claire has been enjoying crafts. The day of the interview, the YMCA was scheduled to arrive and offer activities for the kid.
The night before, the Vancouver TheatreSports Improv Comedy group had been in to entertain the families with some hilarious improv, and the next day, the Steigers, minus Beth and Jared, were off to the Abbotsford International Air Show, where they were going to be given the VIP treatment. Other field trips the family had already enjoyed, included Telus World of Science and Playland. 
The house also has bikes and helmets families can sign out, as well as Compass Cards so parents and kids can take transit to go shopping or simply get out of the house for a couple of hours.
Jared describes the house as a lifeline, one they'll continue to grasp for years to come as they return to the hospital for Beth's checkups and ongoing tests. He noted it's the support of other parents that can help families get through tough times.
"It's good to be able to talk to other parents going through similar things," said Jared. "Families here are going to be changed forever, but when you go back home people empathize with you, but don't fully understand what we've gone through. But a lot of people here, they do understand. You come here and they get it."
Ronald McDonald House B.C. and Yukon is hosting its annual fundraiser, A Night to Dream gala and cocktail reception Oct. 4 at the Fairmont Pacific Rim. Read more about Ronald McDonald House B.C. and Yukon here.
@sthomas10