If you've tromped through the wetlands of Colony Farm, jogged along the shores of the Pitt River or careened down Mary Hill Bypass, you just might have seen them — but odds are, they weren't looking back at you.
Their eyes darted from soaring cottonwood trees to naked blackberry brambles, tracking the flutter of an Anna's hummingbird, following the tap of a hairy woodpecker or tallying one of 1,647 Northwestern crows spied across the Tri-Cities that day.
"Oh, just saw red! ruby-crowned kinglets!" shouted Coquitlam's Mark Merry, cracking with barely hushed excitement.
Gary Novosel swivelled his spotting scope in blind pursuit. Ian MacArthur snatched the pencil taped to a string around his neck and took note. 
Then, without a word, they left the Coquitlam River behind along a well-trodden path strewn with roadside flotsam: cigarette packs, a Tostitos bag and fragments of styrofoam packing.
"Wildlife can exist beside the highway," said MacArthur, barely audible through the hum of nearby traffic.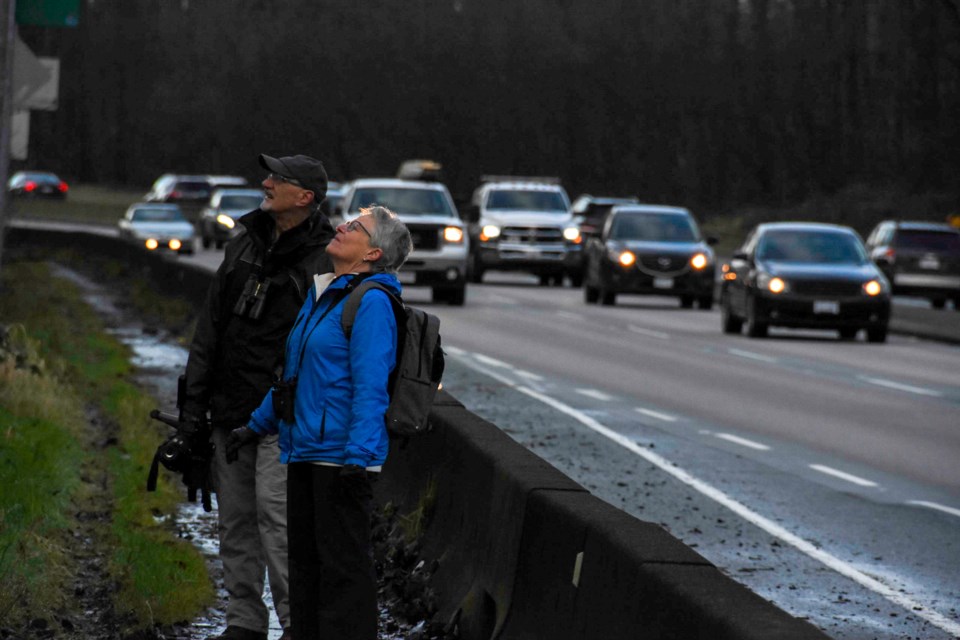 These are the birders of the annual Audubon Christmas Bird Count, the longest-running community science project across the Americas. From its beginning in 1901, when it first set out to document a snapshot of avian life "For the People, For Education, For Science," thousands of birders of all stripes have gathered one day, once a year in January or February to take stock of which species are flourishing, which are struggling and which have been pushed to the brink of extinction.
Avid — though often entirely amateur — naturalists, set out to document as many of Earth's nearly 10,000 bird species in their little corner of that world.
This year, on the first Saturday of 2020, 105 Tri-City birders in 14 groups walked more than 110 km to tally over 8,800 birds and 73 species — that's about 1,000 individual birds and 10 species below the yearly average.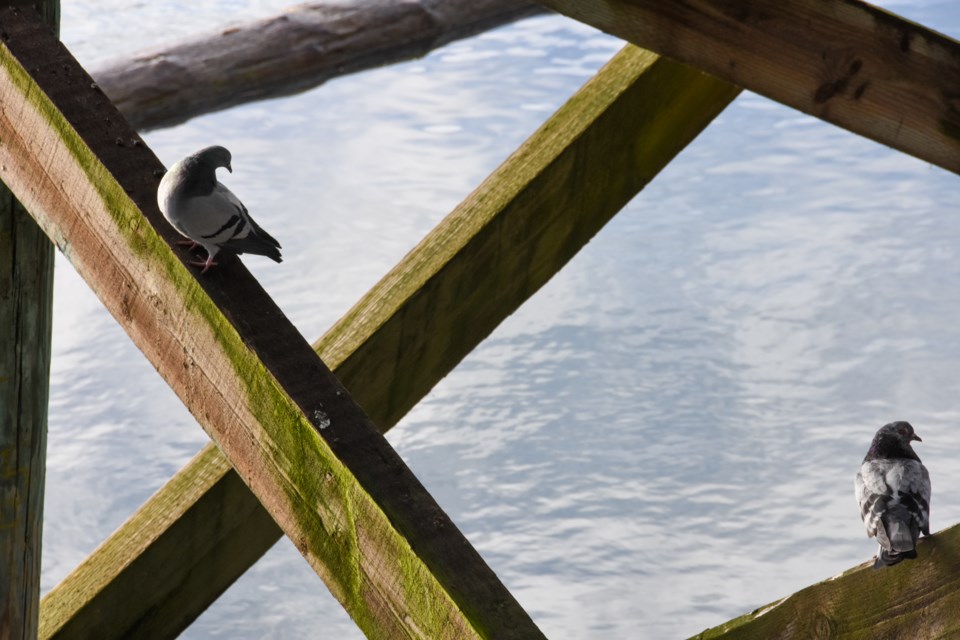 And while some of those local low numbers can be attributed to such variables as inclement weather or regional movement, the wider trend across the continent tells a frightening story. 
Over the last 50 years, one third of all North American birds — that's nearly three billion birds — have been snuffed out, according to a study published in the journal Science last fall. Much of that loss has been attributed to the destruction of critical habitat, coastal stopover sites where migratory birds fuel up on their way to Brazil.  
"Here in the Lower Mainland, we have a huge responsibility to maintain stopover sites for birds that come from Alaska," said John Reynolds, a professor of aquatic conservation at SFU who says he's "crazy for birds." 
Reynolds said the Lower Fraser River has lost about 90% of its wetlands in the past 100 years. Draining and diking so many watersheds has had a major impact on salmon but it has also removed the nesting grounds for water and marsh species.
This year, Reynolds led a Christmas Bird Count team to Widgeon Marsh, the largest and most important remaining marsh habitat in Metro Vancouver. Reynolds said his group spotted at least 30 species, including the only Trumpeter swan in the Tri-Cities.
"It underscores how important these areas are," he said.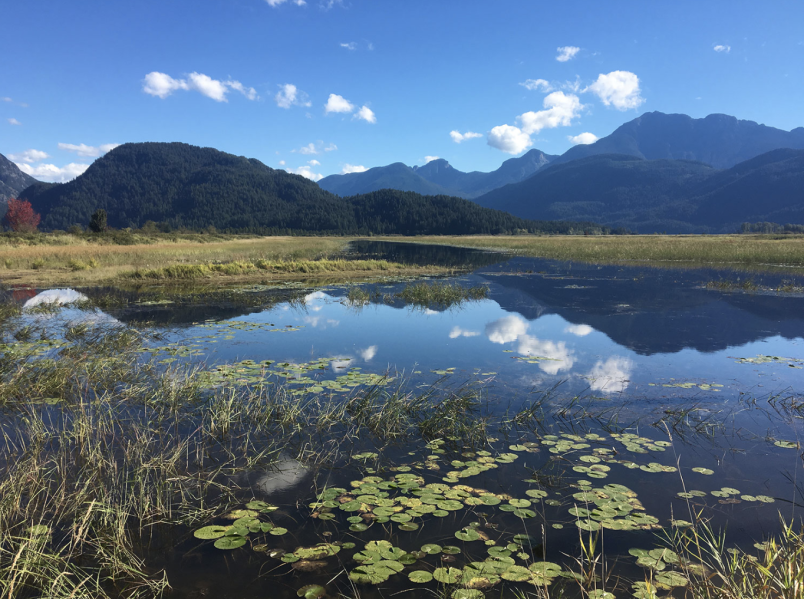 SCIENCE & PLAY
For many, the annual avian tally blurs the line between science and play. On the one hand, it offers scientists a massive, 120-year data set to spot trends. On the other, it's a window into the rest of the outdoors.
Or, as Reynolds puts it, "It's a great walk, with a purpose. Before they know it, everyone is staring at a mushroom." 
Ian MacArthur, who led this year's bird count team along the Pitt River, said he finds people drawn to birding for all sorts of reasons, each eventually gripped at different points along a spectrum shaded by obsession. 
Some hardcore birders have life lists, buying passage on cruises just to scratch off puffins. Some can't help it. Reynolds is notorious among the Burke Mountain Naturalists for counting 43 species just based on chirps, songs and tweet — all while running the Vancouver Marathon. 
"Anywhere he goes, he's birding," MacArthur said.
To count, document and catalogue birds may appear quaint in an era where a few taps on a screen can bring up a world of information. But when MacArthur looks at birders, he said, he sees something more atavistic playing out: humans trying to make sense of the natural world and somehow leave their mark on it. 
"You can only stare so much into your brain. So you want to capture what you see, in a photograph or on a page," he said. "If you have a passion for something, you record it."
PLENTY OF WORRY
Birds have long played an important role in signalling pending doom. Whether it was the "canary in a coal mine" or the mass die-offs that warned of the dangers of DDT and other pesticides in the 1960s, birds fill in as frontline bellwethers signalling nature out of whack. 
The average bird lover has plenty to be worried about: the impacts of a changing climate, recently scrapped regulations on habitat offsetting in the U.S. or last summer's deforestation by fire of large swaths of the Amazon rainforest and Australian bush.
But just as birds can act as sentinels for endangered ecosystems, they can also be indicators of what's going right.
Back in 1995, when the Burke Mountain Naturalists joined the count, no one predicted they would be spotting 120 hummingbirds in the middle of winter. But as Victoria Otton — environmental toxicologist and active member of the group — often reminds people, "Since 2008, these birds have appeared every year on our checklist."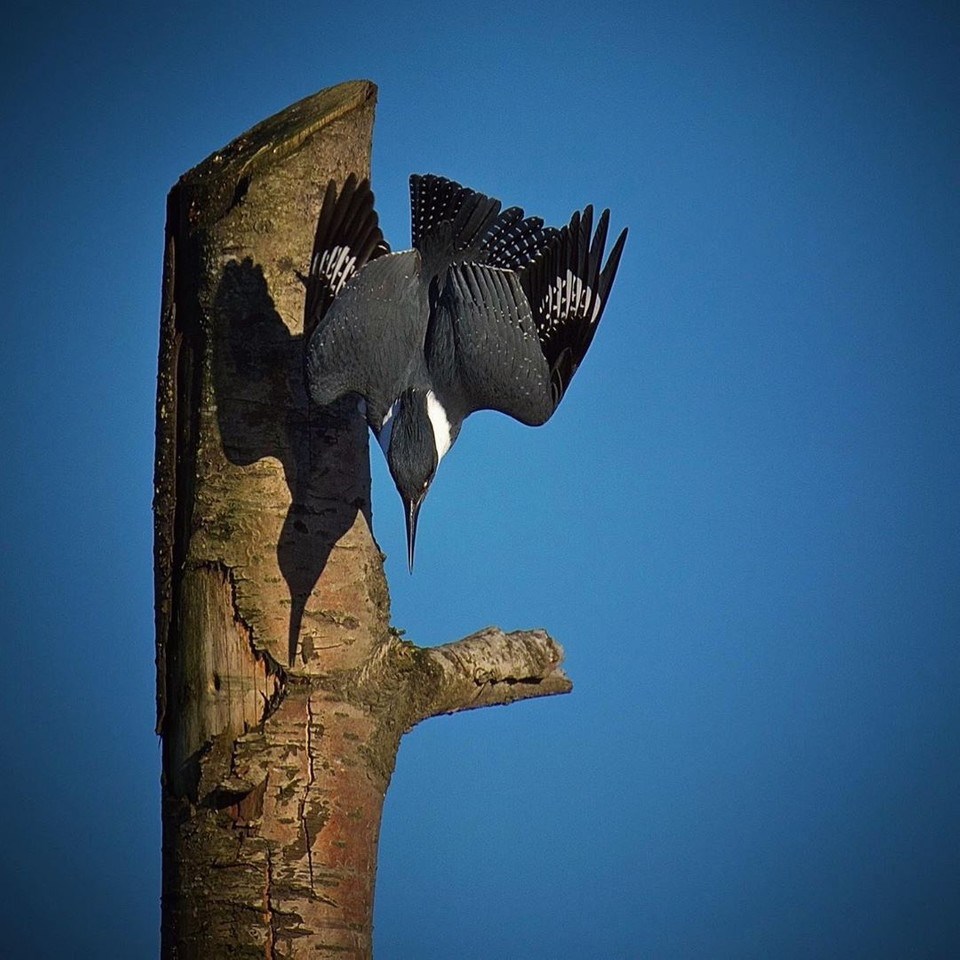 Raptors have also seen a massive resurgence. Peregrine falcons, for example, were wiped out east of the Mississippi River by the mid-1960s. It wasn't until DDT and certain pesticides were eliminated in the early '70s that several of the continent's raptor populations began to rebound.
More recently in the Tri-Cities, eliminating toxic effluence has also proved to help the recovery of several species. In the 1990s, tests at Port Coquitlam's Blakeburn Lagoons found high levels of fecal coliform, copper and mercury in the water. After 40 years fenced off to the public, the waters were reported to emanate foul odours and created a potential health risk to surrounding residents.
But in recent years, a $3-million project transformed the lagoons. The planting of more than 100,000 indigenous shrubs and plants, 1,300 indigenous trees and two acres of native grasses recast the site's two decommissioned waste settling ponds into a 27-acre avian oasis.
"Well over 100 species have been recorded there," said Reynolds. "They basically made something out of nothing."