TransLink has announced that starting tomorrow it will be suspending fare collection and asking passengers to board buses by the rear doors.
The measures are being taken as a precaution to allow for greater social distancing and to protect bus operators, the transit authority said in a statement. 
"Given TransLink cannot collect cash fares at the rear doors, and some buses aren't equipped with Compass Card readers at that entrance, we are also suspending fare collection on the bus system," TransLink said in a statement, later adding: "Customers requiring mobility assistance can continue to use the front doors if needed. Regular fares still apply on other TransLink modes."
TransLink added that it will be closing off seats close to operators on certain buses and accelerating the installation of operator protection barriers. Passengers on the SeaBus will also be prohibited from sitting near the crew and an education campaign promoting hygiene on transit will be launching shortly, TransLink said. 
"As extraordinary social distancing measures are being put into place across the region, TransLink has also seen a commensurate and significant decline in ridership," the statement said. "This means there are far fewer passengers using the system, which allows for greater social distancing."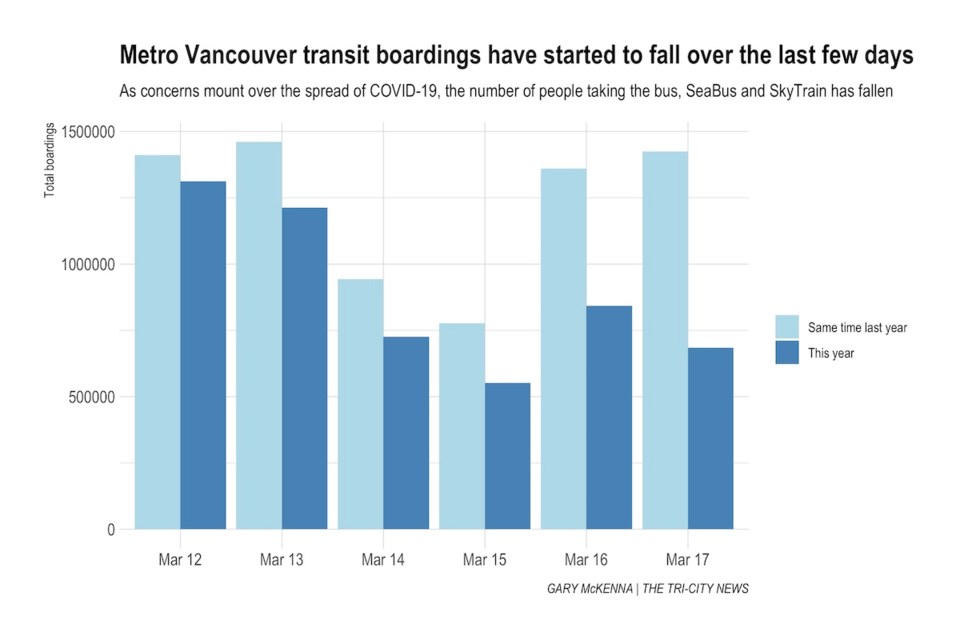 On Tuesday, 684,000 people took public transit, down 52% from the same day one year ago. Monday saw a similar decrease, with 843,000 boardings, down 38% from the same day in 2019.
Expo/Millennium Line boardings also fell 54% on Tuesday, while Canada Line boardings dropped 59% and SeaBus boardings fell 69%. The number of passengers taking the West Coast Express also dropped significantly on Tuesday, falling 70%.
Read more of our COVID-19 coverage here. Send us your news tips and personal stories to newsroom@tricitynews.com.