Tri-City patients requiring heart monitoring and diagnostics are now being treated in a new cardiology department at Eagle Ridge Hospital, thanks to a $1-million donation from a Coquitlam family.
On Nov. 6, the state-of-the-art facility was officially named Bruce Kehler Cardiology, during a small naming and ribbon-cutting ceremony attended by the Kehler family.
"My dad would be so proud," said Coquitlam resident Sharon Perry, a daughter of Bruce Kehler, who attended the event along with her mom Georgina Kehler.
The new facility modernizes cardiac care for the community and will increase the efficiency of testing with new equipment as well as provide a larger space. Patients will also notice the murals of ocean and forest scenes reminiscent of Port Moody's natural environment.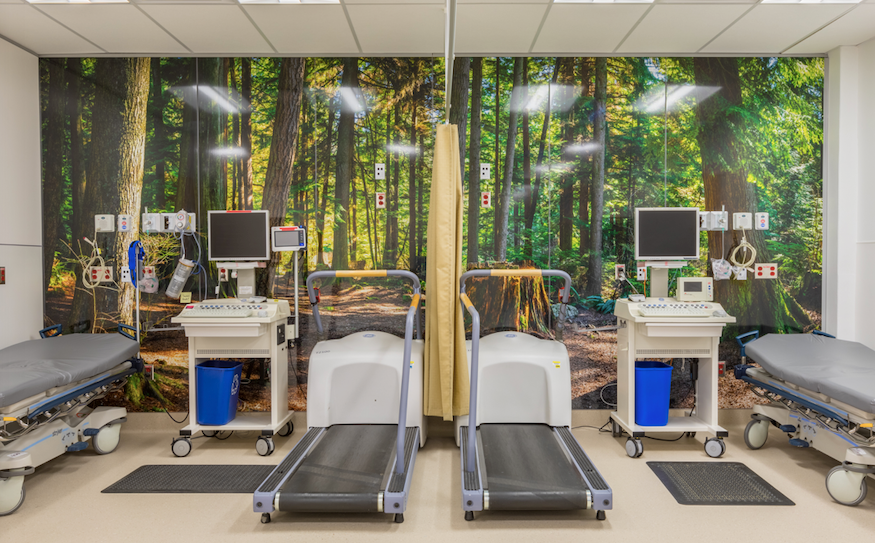 "We now have a beautiful space to work in, three new state-of-the-art echo ultrasound machines, doubled stress test capacity, and Holter and cardiac event monitoring services. We've added staff and have opened a new pacemaker clinic," stated Dr. Vaneet Bhan, cardiologist at ERH, in a press release.
"All of this translates into shorter wait times and earlier diagnosis and treatment," added Dr. Bhan.
It was the family's commitment in 2017 that kick-started fundraising for the new cardiology department. The Kehler/Perry family donated the funds in the name of the late Bruce Kehler, who had a heart attack and was treated at Eagle Ridge Hospital.
The new department opened in June of this year and is part of the $37.5-million Eagle Ridge hospital expansion project, championed by the Eagle Ridge Hospital Foundation.
In addition to the new Bruce Kehler Cardiology, there is a new community outpatient services area while construction is ongoing for a new emergency department.
The contribution of the Kehler family was noted by foundation executive director Charlene Giovanetti-King, who said the donation will help to improve health outcomes for the entire community.
Meanwhile, the foundation is seeking the remaining $300,000 toward a $5-million commitment to the new emergency department, which will provide three times the current space and the latest technology to serve the Tri-Cities' growing population.
The new emergency department is expected to open in September 2021.