Efforts to help people social distance with one-way trails and heavy signage warning people to stay two metres apart aren't meeting with compliance, as people flock to the great outdoors to get some much needed relief during the COVID-19 pandemic.
From Lafarge Lake to Buntzen Lake, people are complaining on social media that trails are crowded, people aren't following signage and worry that close walking will lead to a boost in coronavirus case numbers.
One woman posted on Facebook that the pier at Buntzen Lake was over-crowded, while another said people weren't sticking to the one-way route along the lake trail.
"Social distancing - FAIL," Brianne Cordick wrote on the Anmore Conversations page, after posting a photo of people packed on the Buntzen Lake pier.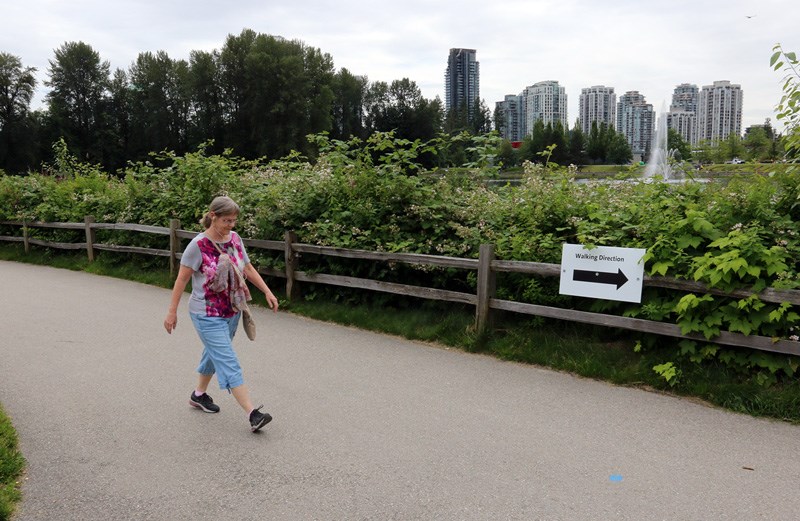 Others, meanwhile, say Lafarge Lake is too busy, despite efforts to ensure people social distance and travel in one direction.
The concerns come as mobility data shows people are spending less time at home and more time outdoors but as yet there has been no appreciable jump in COVID-19 cases.
Still, for people needing to get outdoors, local trails are the best way to get some fresh air, even if it means being extra careful and choosing to wear a courtesy mask.
BC Hydro, which operates Buntzen Lake and recently opened a dog park and swimming area there, is refining signage to ensure people social distance, according to spokesperson Susie Reider.
But for the most part, Reider said people are following the new restrictions.
"In order to ensure proper physical distancing in accordance with recommendations from the Provincial Health Officer, we have limited Buntzen Lake trails to one direction of travel for the time being," Reider stated in an email to the Tri-City News. 
"We have put up signage informing visitors of this change along the trails, and the vast majority of people have respected our signs, which we greatly appreciate," she added.
Still, those who start out on the Buntzen Lake Loop Trail might find they are in over the heads on the eight kilometre, round-trip loop, which takes four to five hours, according to BC Hydro.
"There are places to turn back, however, according to BC Hydro which added this information: "For those that want to travel around the lake on the Buntzen Loop Trail, they can do so starting on the east trail. For those that want to turn back on the Buntzen Lake Loop Trail, there are a number of clearly marked "turn back" paths along the east side of the lake that direct people to the service road for a shorter return route. This route ensures no one is 'at odds with one-way directional signage.' "
Those wanting to take a walk are advised to check out their route before they go as they'll find a number of shorter walks in the Tri-Cities, most now one-directional because of COVID-19. Check out these spots around the Tri-Cities: 
Port Moody
• Bert Flinn Park and Shoreline Park both have one-way loop trails and the pier at Rocky Point Park also has a one way circuit. As well, the Westhill Park pathway around the sports field is one-way and the North Shore Community Park (near Heritage Woods secondary) has a running track that is one-way.
• Port Coquitlam
There are no one-way circulation trails but the city has posted signs to remind people to social distance and is monitoring the situation.
• Coquitlam
Coquitlam Crunch and Town Centre Park Lake Loop Trail as well as the Como Lake trail are all one-way. Watch for directional signage.
• Regional parks
Currently there are no trail restrictions at Colony Farm, Minnekhada or Belcarra regional parks but people are asked to social distance and to stay away if sick.
Some Metro Vancouver regional park trails are all one-way. You'll find them located in Campbell Valley, Derby Reach, Grouse Mountain, Iona Beach and Kanaka Creek. For more information, visit here.