A new report assessing the safety of 200 countries and regions across the world amid the COVID-19 pandemic has found Canada to be among the safest. 
The study, designed to "classify, analyze and rank" the stability of each country's economy, society and health, used roughly 11,400 data points drawn from such areas as mortality and infection rates, emergency preparedness, monitoring and tracing, as well as the efficiency of quarantine measures and government response.
Ranked into four groups with "Tier 1" being the safest, Deep Knowledge Group — a consortium of commercial and non-profit organizations working in such areas as artificial intelligence and longevity — found Canada to be the 12th safest country in the world, the only part of the Americas to fall within the top tier. 
Nearly half of those in first tier were found in the Asia Pacific region, 35% in Europe and 15% in the Middle East and Africa.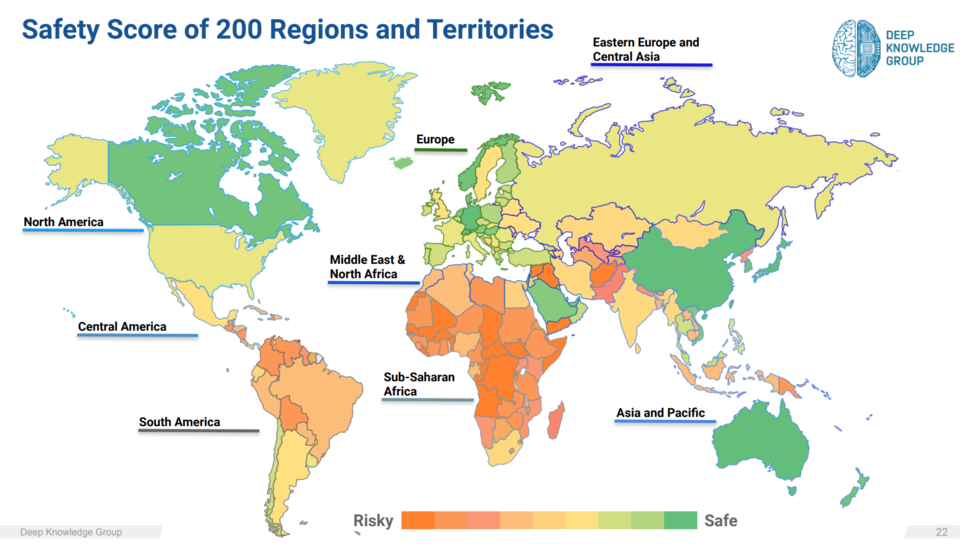 Switzerland, Germany and Israel occupied the top three spots, but their ranking has shifted significantly since the pandemic has progressed from Asia to Europe and on to North America. Today, the areas with the highest risks are in South America and Sub-Saharan Africa, according to the report, though it should be noted risk can significantly vary across state, provincial and municipal borders as well.
"As the rates of mortality and new cases continue to decline in these territories, and as they begin to relax lockdown measures and reinitiate economic activity, it is clear that they survived and surpassed a very critical stress-test," wrote the authors of the top tier countries.
Countries like Switzerland and Germany occupied the top spots because they quickly and efficiently triggered quarantine measures, detection and tracking of the virus, and managed sick patients without overwhelming their health care systems. 
But the safest countries also scored higher because of their successful easing of lockdowns and reactivation of their economies and social life.
In this way, the study characterized Canada as an "exceptional outlier" within North America.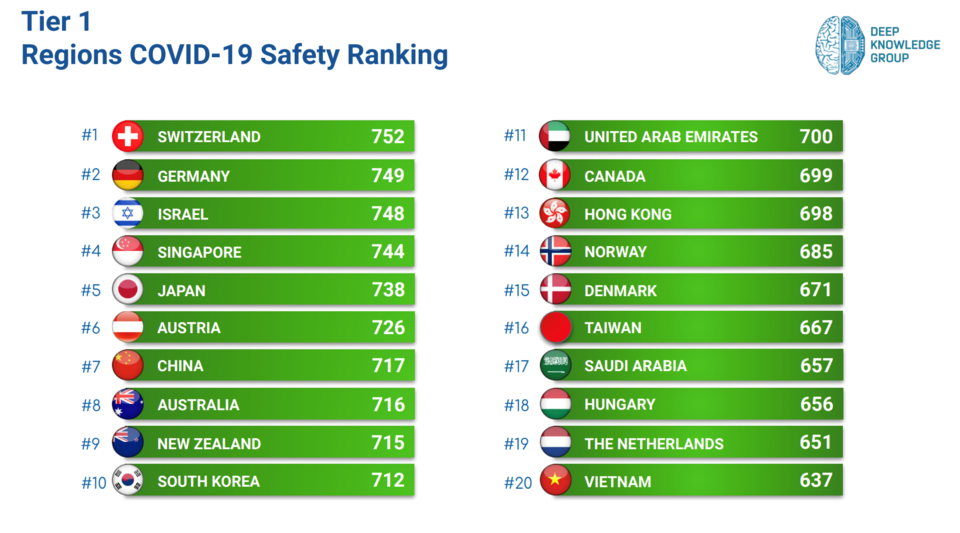 And whereas in the U.S. (59th overall), the government imposed lockdown measures and testing "fairly late in the overall pandemic timeline" and is already easing state quarantine measures though infections continue to rise in many areas, Canada has moved much more gradually. 
Of the six categories each country was ranked, Canada scored 8th in quarantine efficiency, 6th in monitoring and detection, 37th in healthcare readiness, 12th in regional resiliency, 17th in emergency preparedness and 11th in government efficiency.
The results are meant to help leaders reduce collateral damage and manage the recovery of health care systems and economies around the world.