Canadians' opinion of China has significantly deteriorated since the COVID-19 pandemic began, with now just a fraction of the country saying they have a positive view of the Chinese government. 
That's according to a recent poll by the Angus Reid Institute, which found 14% of adults surveyed express a favourable opinion of China, less than half the level of support found six months earlier and deepening a downward slide in public opinion stretching back 2017.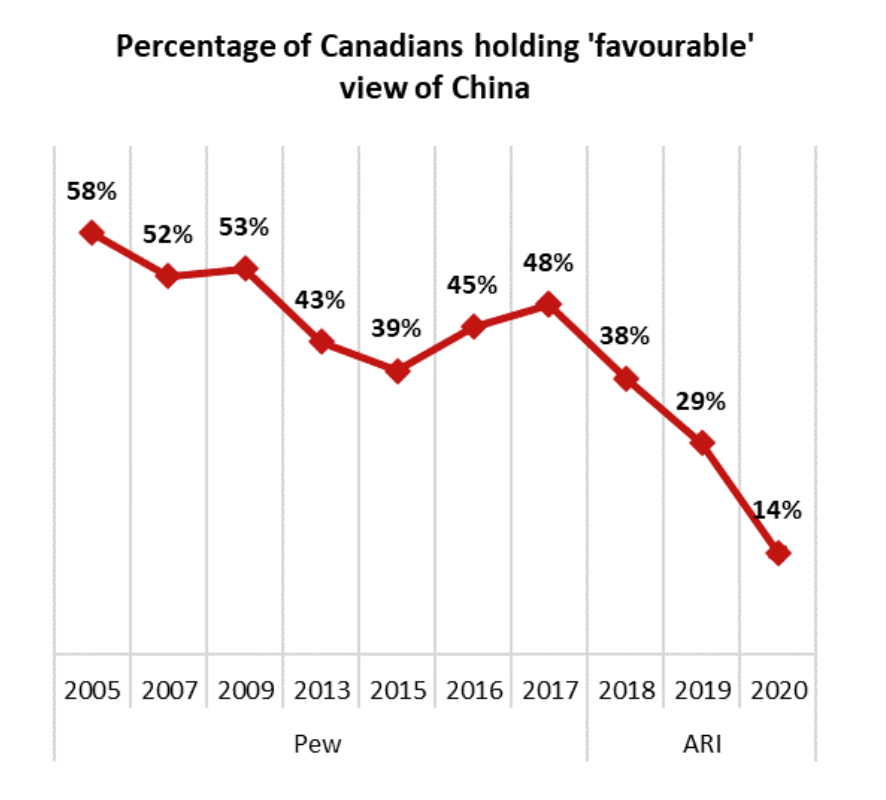 The pollster found 85% of Canadians feel the Chinese government has not been honest about how the COVID-19 pandemic has played out in its country.
The poll comes amid an upswing in reports of anti-Asian racism across major Canadian cities, including and handful of what appear to be racially-motivated violent assaults.
And while the line between racial discrimination and antipathy towards the Chinese government is often blurred, real world diplomatic spats have further hurt relations, not least of which involves the tit-for-tat involving the arrest of two Canadians in China and Huawei executive Men Wanzhou in Vancouver.
The construction of new 5G infrastructure has also swung against the Asian superpower, with four-in-five Canadians saying it should be barred from taking part, according to the survey.
Of those polled, 11% said Canada should focus on efforts to improve trade with China. That's down from 40% in 2015. Instead of focusing on economic opportunity, 76% of those polled said Canada should prioritize human rights and the rule of law.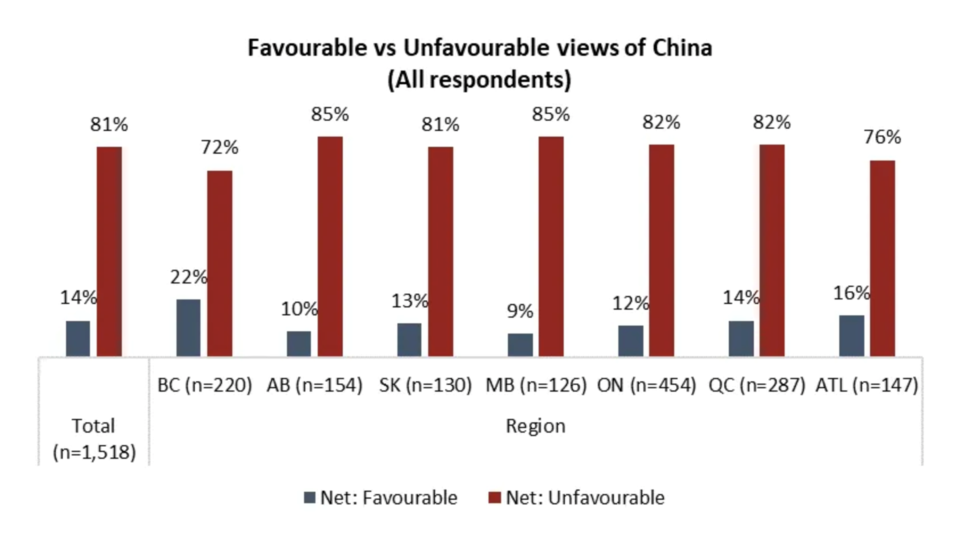 Across the country, 22% of those polled in B.C. expressed a positive view of China, the highest in the country. At 9%, Manitobans were the least likely to have a positive view of China.
Other major Canadian partners have also lost favour among many Canadians, according to the survey. Public opinion towards the United States has dropped to a 20-year low, with only 38% of Canadians viewing the country favourably, according to the survey.
Of Canada's major trading partners, the European Union was seen as the country's preferred choice, with 52% supporting a move towards closer ties.