On the eve of Black Friday a new study has found that the notorious pre-Christmas shopping weekend has overtaken Boxing Day as the most important Canadian shopping event of the year.
The poll, conducted by the Retail Council of Canada, found that 43% of Canadian consumers plan to shop on Black Friday compared to 34% on Boxing Day and 32% on Cyber Monday.
By province, British Columbians are most likely to ramp up their shopping this Black Friday to an average of $733 per person in intended spending. That's still shy of the Canadian average of $792 but marks a more than 7% spike from last year's average of $688.
"We started to see this shift about 10 or 12 years ago," said Michael Leblanc, senior retail advisor at the Retail Council of Canada. 
At that time, Leblanc said, merchants saw both risk and opportunity. On the one hand, the then near par exchange rate between the U.S. and Canadian dollars meant Canuck merchants were losing out as shoppers decided to spend their money on Black Friday deals south of the border. But if they could replicate a shopping zeitgeist that in the U.S. had become as much as a national tradition as the Thursday turkey dinner, businesses could lure Canadian shoppers back to spend in their own communities.
A decade later, that transition is all but complete, according to the latest poll. About 85% of respondents say they shop with the understanding that it's important to spend money with local businesses, a number that has remained steady since last year. 
Part of the draw is Black Friday's — and Cyber Monday's — timing. Falling in the weeks leading up to Christmas, the shopping bender of a weekend offers what Leblanc calls a "gifting holiday" as opposed to a retail event like Boxing Day, which falls after Christmas. 
"Canadians are connecting the dots that spending money in their own community helps pay taxes, creates job," Leblanc said.
But while higher spending means bigger margins for merchants, it can also mean blowing through budgets for individuals and families.
About 65% of Canadians said they have a firm holiday budget for their 2019 holiday shopping, according to the poll. But last year, nearly a third (27%) said they spent more than they intended. This comes at a time when Canadian household debt has reached a point where nearly half of Canadians are $200 away from insolvency at the end of each month.
Still, there appears to be little decline in the appetite for consumer spending. And while more Canadian shoppers prefer to spend on Black Friday (43%), another third (34%) still shop on Boxing Day, a shopping event Leblanc says won't be going away anytime soon as merchants look to clear inventory following Christmas.
Popular convention would have you believe the increased popularity of online shopping has played a significant role in how stores roll out their sales throughout the holiday shopping season. Yet a full 72% of people still spend their money in stores, according to the Retail Council study, down 3% from last year. 
The push towards e-commerce has retailers redesigning stores with easy return areas for online shoppers and "no-friction" options for shoppers to buy online and pick up in store. Others are integrating technology directly into stores to blend the in-person and digital shopping experiences.
Taken together, the holiday shopping season is more like a marathon than a series of sprints, Leblanc noted. And with Black Friday falling six days later this year, merchants will be closely monitoring the compressed number of shopping days, including Dec. 23, which remains the biggest shopping day as people rush to buy last-minute gifts and pick up food.
Perusing the latest gadgets discounted over Black Friday and Cyber Monday from the comfort of one's phone has become predictably popular. But like the days before Christmas, food and beverages tend to buck the online trend: More than 98% of shoppers still prefer an in-person experience. Of the less than 2% of shoppers choosing to buy food through services like UberEats or Save-On-Foods' online shopping portal, competition remains fierce and is only expected to grow, said Leblanc.
"These things all compete for a share of our appetite," he said.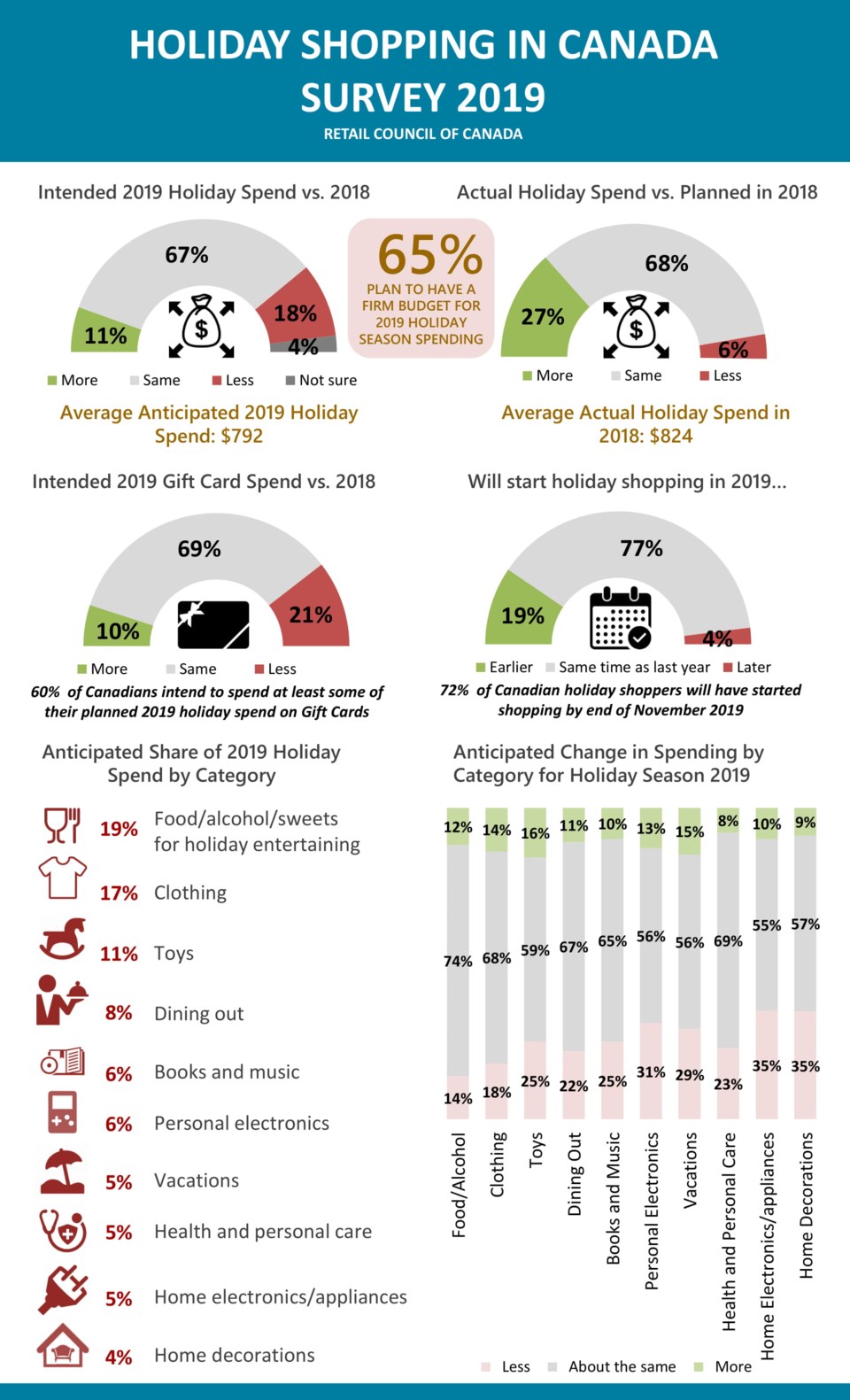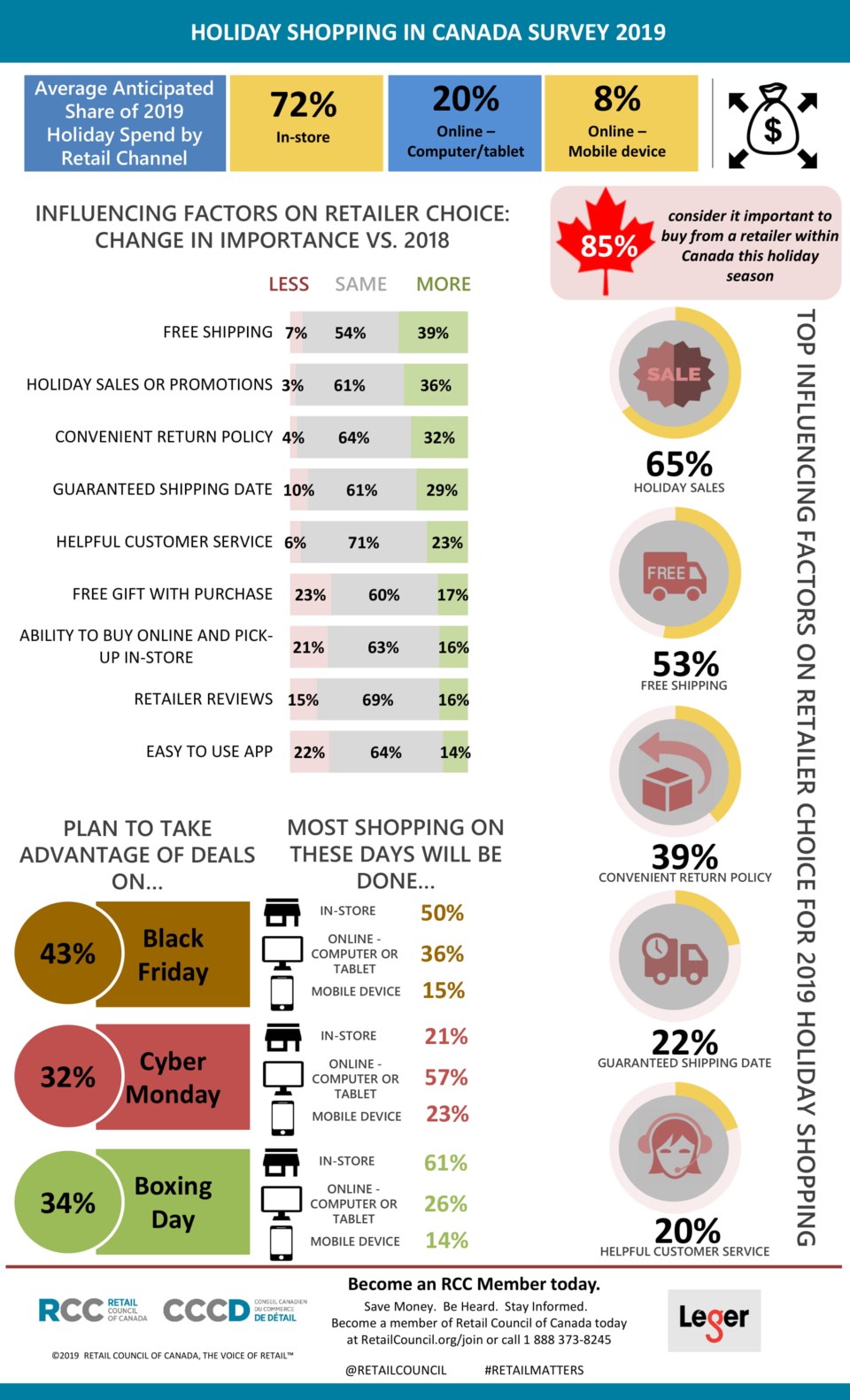 While Black Friday has overtaken Boxing Day among Canadian shoppers, in the United States Cyber Monday has supplanted Black Friday as the country's biggest shopping holiday.