Sandra Ireland would normally be preparing seedlings for planting in her greenhouse next to her Coquitlam home.
But instead she's picking up shards of glass from her yard and patio after a car plowed through her fence off Chilko Drive on Easter Sunday, April 22, and broke her greenhouse into pieces.
"He ruined our yard," said Ireland, as she gingerly walks through the wreckage of her fence that was damaged by a Dodge Journey whose driver careened off the road.
The early morning accident has left Ireland, and her husband, Gerry, shaken because it's the second time this year a car has driven into their yard, knocking down their fence, and destroying a large cedar hedge and juniper bushes.
Another crash could kill, they say, because their master bedroom is less than 40 feet from the busy thoroughfare.
"We spend a lot of time worrying out here," Ireland said.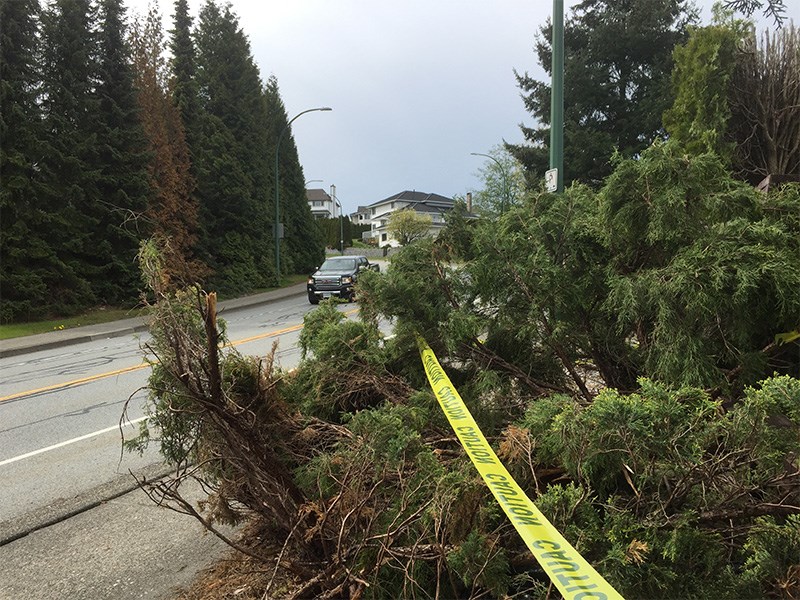 They're not alone, a number of homes whose addresses are on Tabor Place, and other streets that back on to Chilko, have sustained damage from cars speeding up the road from Lougheed Highway on route to Mariner Way, according to Ireland.
Police say Chilko Drive is not the worst street in the city for speeding, but accidents do happen on the stretch of road and the man who hit the Ireland's greenhouse was fined for driving without due care and attention.
But Ireland says there have been a dozen similar accidents over the years where drivers lose control on the tight corner and land in someone's yard. She would like to see some traffic calming measures on the street and concrete barriers on the boulevard to protect her property.
Even the city agrees there are accidents on Chilko, with seven recorded over the years, four at Tatla Place, where curb bump outs were installed, and three at Mara, where there is a crosswalk.
Chilko has been on the city's radar for years, according to Jozsef Dioszeghy, Coquitlam's general manager of engineering and public works, but concrete barriers are not a solution because they could be dangerous if hit.
And while Coquitlam has worked with ICBC and the RCMP to determine whether more measures are needed to slow traffic on Chilko, for now there are no plans to put more traffic calming measures on the street.
Speeds are high, approximately 60 to 70 km/h downhill and 50 to 60 km/h uphill, but they are not outrageously so, Dioszeghy said.
"I don't have a date for this speed survey, but because of these recent incidents, we will be doing the survey again to see if there is a substantial change from our records," said Dioszeghy.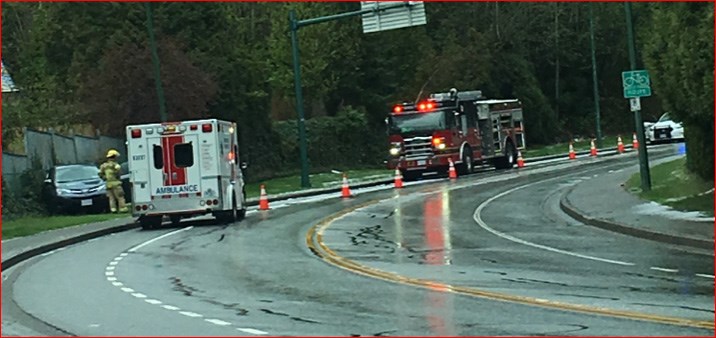 Still the residents would like to see some action to protect their property.
Bonnie Bordignon and her husband, Vito, who live near the Irelands, are also worried about dangerous drivers on Chilko Drive.
"My husband and I will be out back or in the kitchen, and we hear the squealing tires, and you wait for a few seconds, (and, you wonder), are they losing control or did they lose control?"
Among the improvements the residents are calling for are more signs recommending people slow down, traffic calming measures at the crosswalk at Mara Drive to prevent a pedestrian injury, and concrete barriers to protect property.
"Those cement barricades (are needed) on the curve," Bordignon said, "That's where people seem to lose control."
Cpl. Michael McLaughlin said police are constantly responding to complaints about speeders in both Port Coquitlam and Coquitlam; the same night of the Easter Sunday crash were handing out tickets to speeders on Lougheed Highway. In fact, two drivers had their cars impounded for driving more than 42km/h over the speed limit on a stretch of road near Chilko Drive.
"We are sympathetic," McLaughlin said, "and we are out there enforcing it. As a community we need to somehow change our behaviour so that we drive more safely. That's going to take a lot of effort."